James and I are very, very spoiled in Los Angeles: we are surrounded by and constantly patronize amazing restaurant. At first it was overwhelming–then it quickly became euphoric. We have our favorites… we have our regular haunts… but the first question on our minds when we decide to go out and grab food isn't "What good food can we dig up around here?" but "Do we want to eat something we know is delicious, or discover something delicious today?" And chain restaurants? Yeah, they don't usually fit in either category–especially with the amount of selection out here.
(I know I sound absolutely insufferable, but stay with me! I'm almost there.)
However, there are times in which we miss the things we grew up with–that we were so comfortable with when we didn't have the options we have now. And during those times, I try to bypass eating at said chain restaurants by making them myself. James loved eating at Chili's because he loved their steak fajitas–so I make them with fresh homemade tortillas and a jalapeno-lime marinade. We both can't get enough of movie-theater popcorn, laden with untold amounts of trans-fat, fat and… more fat! So we pop and flavor the popcorn ourselves. And sometimes, we crave Olive Garden… so I make their trademark zuppa toscana soup and breadsticks.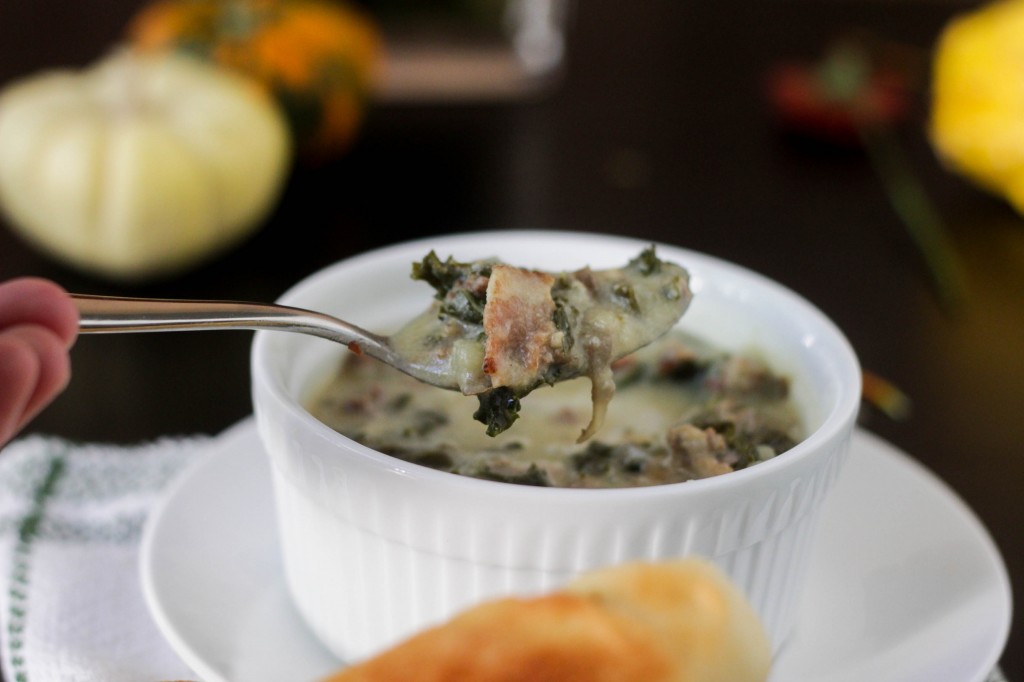 Obviously the true recipe is secret and well-guarded so this is my copycat version of it, tweaked and adapted from a comment on a copycat recipe page. I haven't had Olive Garden in a long time so I can't speak to its 100% authenticity–but I do know that it is very tasty, and on our rotation for fall/winter fare. Even a friend of mine that popped by for dinner last night who normally turns up his nose at chains in general (and Olive Garden especially!) was won over by the rich, meaty and creamy flavor of this soup.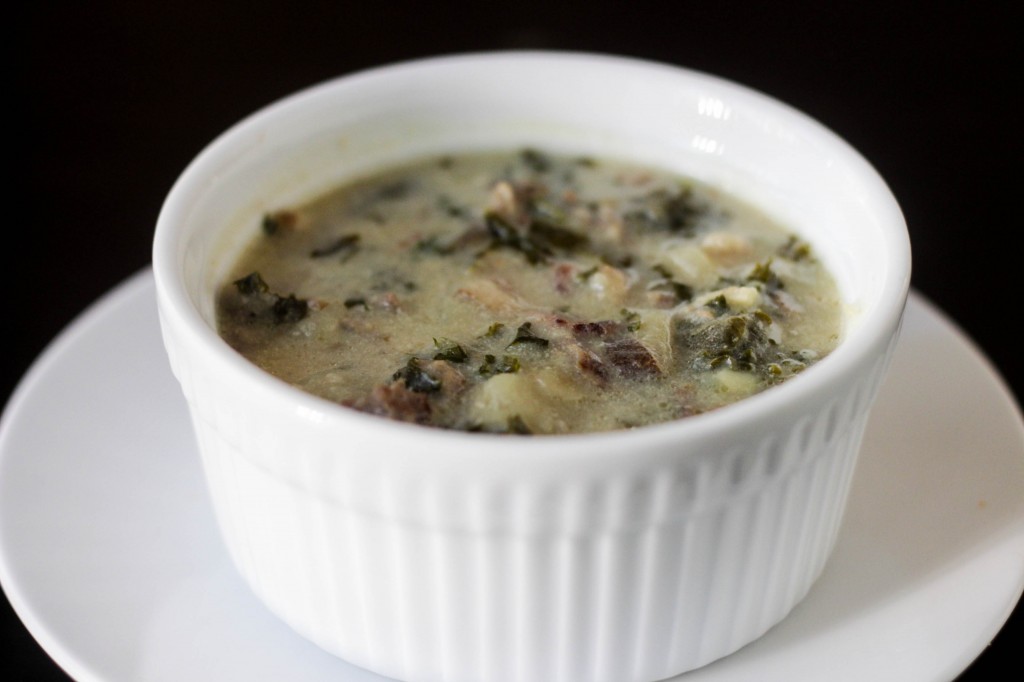 I'm not going to speak to the Italian authenticity of the soup, either–I mean, in my mind, Olive Garden is to Italian food as Panda Express is the Chinese food. But I guarantee that this soup will hit the spot if you're looking for something filling on a cold night. The best part is that it gets better as it sits for longer–so you can make it a day ahead of time and heat it up for an even richer broth.
Lastly, I've made a separate page for the breadsticks recipe that you can find here. Can't beat the combo of soup & breadsticks, right? Enjoy!
Recipe adapted from the top comment here at food.com.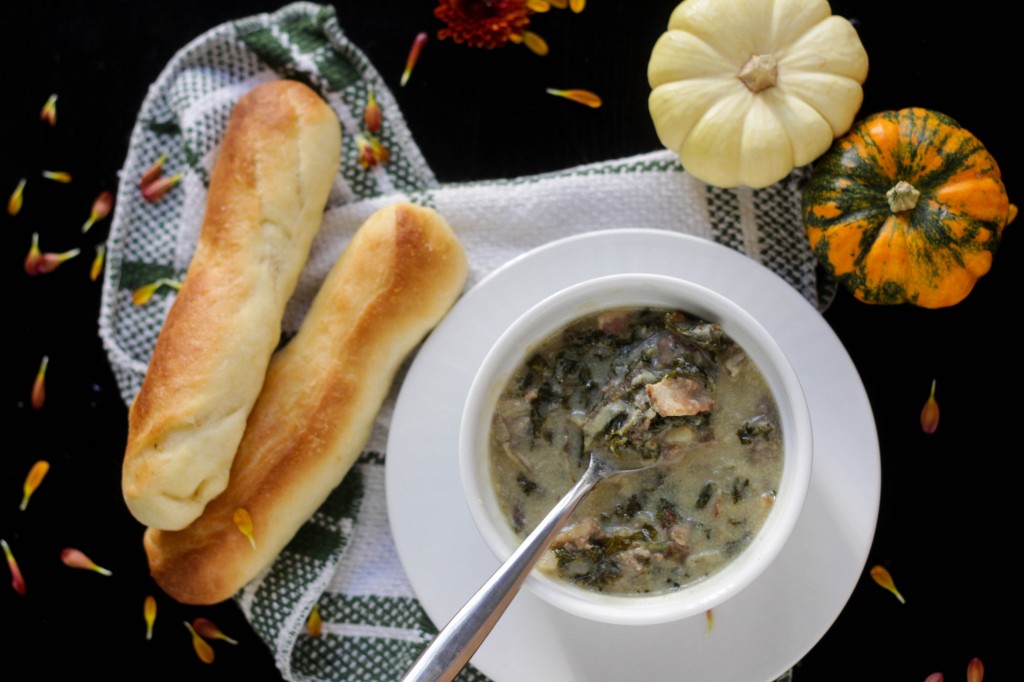 Copycat Zuppa Toscana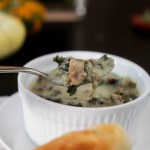 Prep time:
Cook time:
Total time:
Yield:

10

Difficulty:

easy

Recipe type:

soup
Ingredients:
3/4 lbs. pork sausage (preferably sage or herb flavored, no casing)

1 tsp. red pepper flakes

3 slices of thick-cut bacon, sliced into 1-inch pieces

1 small onion (or 1/2 large onion), diced

2 large russet potatoes, scrubbed with skin on

4 c. chicken broth

2½ c. water

1 bunch kale (curly)

1 1/4 c. half & half

cooking oil, if necessary

salt & pepper, to taste

freshly-shredded Parmesan cheese (optional)
Directions:
Heat a soup or stock pot on medium high and fry the sausage, making sure that the sausage is out of its casing before placing it in the pot. Break up the sausage into smaller chunks while browning.
When the sausage is almost fully browned, throw in the 1 tsp. of red pepper flakes and mix well. Turn the heat to low to keep warm.
Heat a sauté or frying pan to medium and throw in the bacon pieces, allowing the fat to liquefy a little before tossing in the diced onions. (If the bacon starts sticking to the pan, toss in some cooking oil and/or turn the heat down a little.) Sauté the bacon and onions until the onions are translucent, then turn off the heat for the pan and empty its contents into the soup pot.
Slice the potatoes thinly (no more than 1/4 inch, less if possible) and with the skins on. Cut these thin slices in half, then throw them into the pot.
Pour the chicken broth and water into the pot and turn the heat up to medium-high and stir a few times to distribute the contents of the pot evenly. Wait until the soup starts simmering, then turn the heat down to medium and allow the potatoes to cook thoroughly and get soft. (20 minutes for me, possibly more or less for you!) Stir once in a while to make sure nothing sticks to the bottom.
While the pot is simmering, wash your kale then de-stem it (get rid of the hard, lighter-green stem in the center). Chop the remaining leaves into small ribbons, no larger than ½ inch. Set aside for now.
When the potatoes are soft and easily mashed with a spoon, add the kale to the pot and stir to mix.
Add the half & half and stir again, then allow the pot to boil for an additional 10-15 minutes so the kale has time to soften.
Salt and pepper to taste (I didn't add either, as I found the soup was pretty flavorful on its own!).
Serve immediately. If you want, you can top it with freshly-shredded Parmesan like they do at the restaurant–but I think it tastes just fine without it, too!
Soup will keep for a week if stored in an airtight container.
Published on by admin