This entry is linked to my Copycat Zuppa Toscana recipe. Don't get me wrong–these breadsticks are delicious with just about anything. But man, are they good with this particular soup!
Bread is one of my absolute favorite things to bake, in no small part because of the transcendent aroma the wafts in the air while in the oven. I've joked many a time that I could easily subsist on bread & butter alone, if I weren't so worried about carb intake all the dang time! So believe me when I say that these breadsticks are divine, and very forgiving. They are definitely more work than the frozen-ready stuff at your grocery, but when you smell them baking and bite into a piping-hot fresh stick–you will totally know it was worth the effort!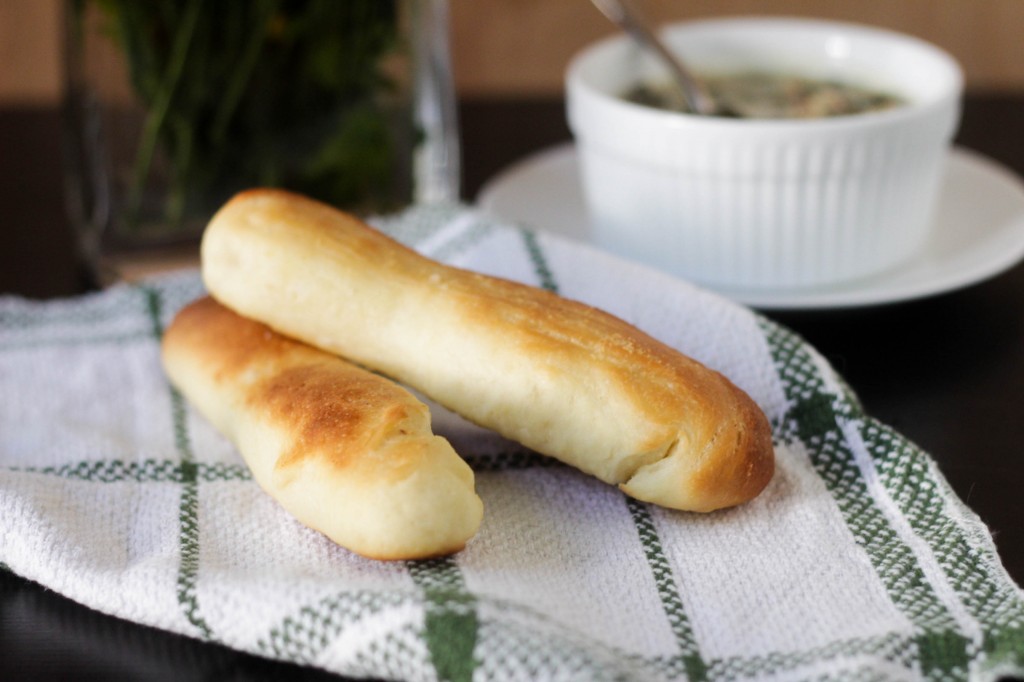 In the midst of following the recipe I found, I realized that these breadsticks are more or less mini-French bread loafs. I applied the techniques I usually utilize for French bread and found these breadsticks to be just like the Olive Garden breadsticks in consistency and rise–but with better flavor! (I promise, I'm not bluffing!) I try to keep the steps to recipes a little simple, but please follow the way I work with the dough closely to achieve the same result. It's just a little nitpicky, but I believe the payoff is worth the trouble.
Also, I want to emphasize that you should take care to NOT OVERKNEAD THE BREAD. The breadsticks will end up kind of ugly and won't rise as well, making them dense. Not that this happened to me, or anything…
If you want to use these for something other than Italian or don't prefer garlic, just leave the garlic out of the final basting and you'll be set. Also–you can store these in a sealed plastic bag for a few days at room temperature, or freeze them for up to 6 months and bake them at the same temperature listed below (except for a few minutes longer of course). If you want to freeze them for later or bake them fresh at a later time, I would suggest taking them out during the initial baking period a few minutes early–before they brown. This is par-baking–and will allow you to brown the bread to a crispier, less well-done consistency when you finally to bake and serve them.
This recipe yields 20 breadsticks–enjoy!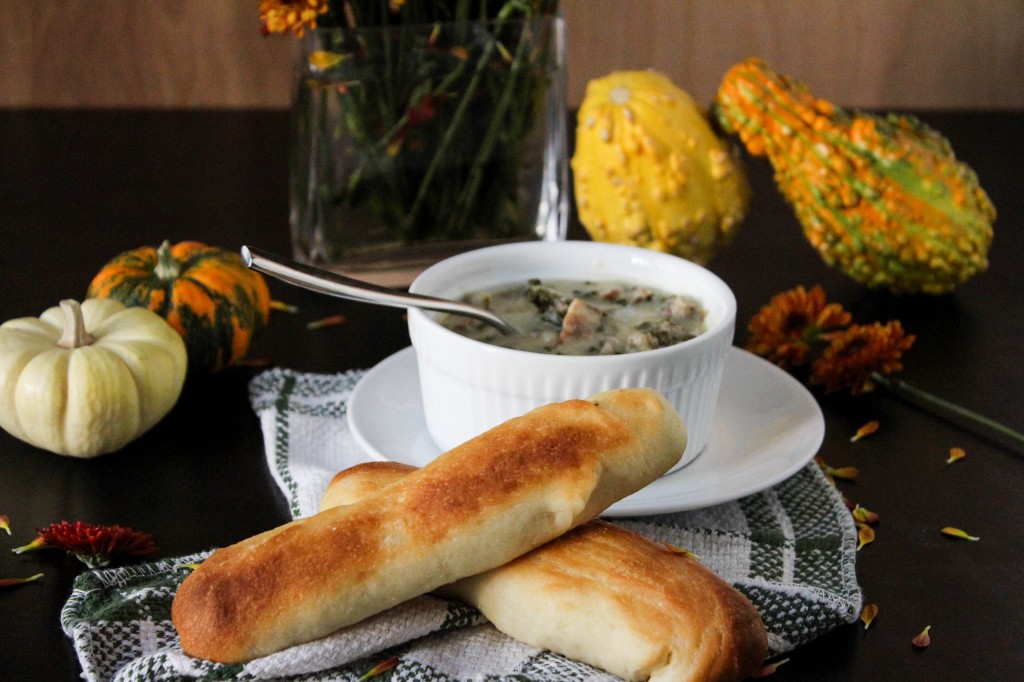 Recipe adapted from Readable Eatables.
Copycat Garlic Breadsticks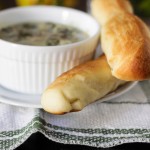 Prep time:
Cook time:
Total time:
Yield:

10

Difficulty:

easy

Recipe type:

bread
Ingredients:
1½ c. warm water (not hot!)

2 Tbsp. sugar

1 Tbsp. active-dry yeast

1 Tbsp. salt

2 Tbsp. butter, room temperature

4 c. bread flour

3 Tbsp. butter, melted

1 tsp. garlic powder

salt or sea salt, to taste

cooking spray
Directions:
Combine water, sugar and yeast in a mixing bowl and allow to sit (calling "proofing the yeast") for 10 minutes.
Add the salt & butter as well as 2 c. of flour and mix with a paddle attachment on low until all of the ingredients are incorporated. If you don't have a stand mixer, you can do it by hand instead with a wooden spoon.
Add the next 2 cups of bread flour by ½ cup increments, allowing the dough to mix thoroughly before adding more flour. When the dough starts to take shape (around 3½ cups of flour in), switch to a dough hook. If you're making these by hand, lightly flour your work surface and place the dough onto it, then add the last ½ cup of flour and knead it into the dough.
When the dough scrapes the sides of the bowl clean without sticking to them, it is finished kneading (with the mixer). When the dough is smooth and slightly shiny, it is finished kneading by hand. Place the dough in a well-oiled or sprayed bowl and cover with a kitchen towel. Let it sit and double in size, ~ 1 hour.
After the dough has doubled in size, punch the dough down and turn out onto an unfloured work surface.
Preheat the oven to 400ºF.
Separate the dough into 20 pieces, being sure to keep whatever dough you are not immediately working with covered loosely with a kitchen towel or plastic wrap. (We need to keep it from drying out.)
Roll each piece into a log that is ~6 inches long. Make sure that any creases or openings created by the yeast "burping" are pinched shut. These keeps the gas produced by the yeast in the bread, creating a fluffier and lighter bread.
Place each piece onto a parchment or silpat-lined baking sheet, 1-2 inches apart from each other. (I needed two separate sheets to fit everything and baked the sheets separately.)
Give the breadsticks another 20-30 minutes to double in size/rise again.
Brush melted butter onto each breadstick, then sprinkle lightly with salt.
Place in the oven for 12-14 minutes.
While the breadsticks are in the oven, mix 1 tsp. garlic powder into the remaining amount of melted butter and mix well. Add salt to taste.
Remove the breadsticks from the oven when they are golden-brown, then wait a minute or two before brushing them with the garlic butter mixture.
Serve immediately.
Published on by admin
Tagged: baking, bread, garlic, Italian, vegetarian