Every ethnic cuisine has at least one signature dish that exemplifies the nuances and flavor profile of its country or people. Quick–what is the first dish that comes to mind when I mention Japan? England? France? Argentina?
I'm not saying that I speak for most, but I'm sure a large amount of you thought of sushi, fish & chips, baguettes, and empanadas, respectively. And if I were to ask you about Filipino cuisine, I'm sure that most (if familiar with it) would answer lumpia or pancit (egg rolls or fried noodles, for the uninitiated). But for me, as a kid that was weened and raised on Filipino dishes, that definitive food would be adobo.
Adobo, if you've never had it before, is kind of tough to describe; every region in the Philippines has a version that plays fast and loose with the ingredients. Some include more sour than salt, others are more of a stew than a pan-fried preparation. The protein component varies from shrimp to fish to chicken–and so on. At the heart of every version, however, is a harmonious combination of salty soy sauce and sour vinegar–with enough garlic to satisfy any Filipino palate.
I have an emotional response to adobo: I reminisce as the aroma wafts from the wok to my nose; when close my eyes, I'm sitting on the couch while my grandmother cooks adobo for dinner. Adobo was the first Filipino food I ever cooked away from home. It was also the first food I was able to cook by taste and not by recipe. I may be expanding my culinary horizons with each new recipe I attempt or master, but adobo will always be home–the dish that will bring a mushy smile to my face upon first bite.
Because the dish is so personal for me, I never order it at restaurants–I always make adobo for myself at home. I mentioned before that adobo preparation can vastly differ from one person to the next, and so I prefer to make it using my family's recipe. My grandmother usually mixed chicken thighs and legs with country-style pork ribs, but I prefer the ease and juicy texture of chicken thighs. The rest of the recipe is pretty bare-bones, with minimal preparation and common ingredients–but that's what makes it so accessible.
If you've never given Filipino food a try before, this is a great and budget-friendly introduction. I hope that this will become a signature Filipino dish for you, just as it is for me.
Chicken Adobo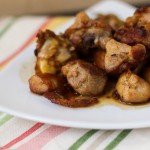 Prep time:
Cook time:
Total time:
Yield:

4

Difficulty:

easy

Recipe type:

main dish
Ingredients:
2 lbs. chicken thighs, chopped into 1-2 inch pieces

1/3 cup soy sauce

1/3 cup white vinegar

1/4 tsp. whole peppercorns

4 dried bay leaves

8 cloves garlic, crushed

cooking oil
Directions:
Combine the soy sauce, vinegar, peppercorns, bay leaves and garlic in a large sauté pan or wok.
Place the chicken pieces in the wok and stir to coat the chicken in the sauce. Distribute evenly.
Bring the heat to medium high and allow the sauce to reach boiling before stirring again. Don't stir before the boil or the chicken will taste too sour.
Cook for a few minutes or until no more pink flesh is visible.
While the chicken is still cooking, place a frying pan on another burner with a few tablespoons of cooking oil on medium high heat.
Strain the chicken from the sauce over the wok, then transfer to the frying pan. Be careful about your garlic cloves ending up in the frying pan–that is, unless you like fried garlic. (It's actually pretty good!)
Fry the chicken, stirring every few minutes to get an even brown crispy coat on most sides.
While the chicken is frying, you can choose to boil the sauce in the wok down to make the flavor a little more concentrated and the consistency a little thicker.
After the chicken is fried and browned, transfer to a serving plate or bowl. Pour the sauce in the wok over the chicken (however much you would like, there is a lot of sauce leftover!) and serve immediately–preferably with fresh white rice.
Chicken adobo will keep for up to a week in the fridge and makes a fantastic fried rice the next day, especially if you have a castiron pan!
Published on by admin
Tagged: Asian, budget, carb-free, chicken, easy peasy, Filipino, main dish