James never fails to bring up how fickle I used to be about food–as if his entrance into my life introduced me to a world of new, exciting flavors. I suppose he wouldn't be far from the truth; it is very helpful to have a constant companion to push you out of your comfort zone despite your misgivings. Over the years, we've made a lot of progress with my palate: I can manage lamb, peppers, spicy foods, raw onions… even stinky tofu! (But only if I hold my nose while eating it.) I still refuse to eat raw celery and cilantro tastes more like soap than the "fragrant green" it is known to be in Mandarin… but hey, I'll take it.
The most marked difference in my tastes is in regards to Mexican or Mexican-influenced food. The only exposure I had to Mexican food when I was growing up in Delaware was the occasional taco night  (ground beef, hard taco shells, cheese & sour cream). When I went to college in Boulder, that limited vision widened to include 3AM Taco Bell and giant Colorado burritos. But the true Mexican Renaissance for my palate happened in the aftermath of our move to Los Angeles in 2011. How did no one tell me about al pastor tacos before? About the amazing mulitas and molés and what salsa roja really tasted like? And as I delved further into satiating my cravings, I fell in love with the cuisine and anything influenced by its combination of flavors.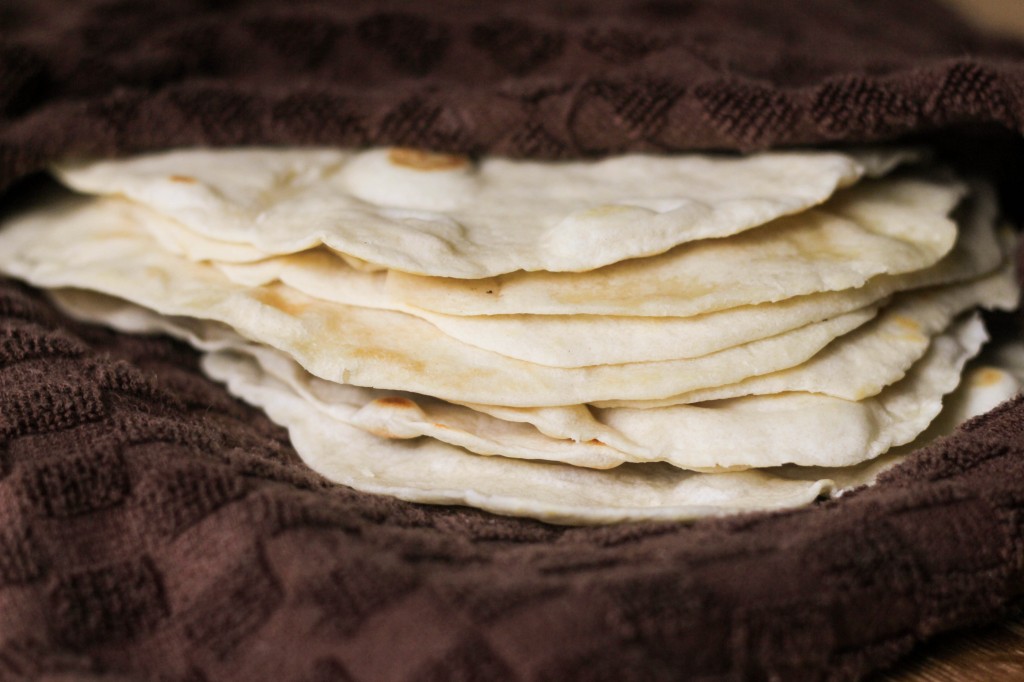 Fajitas are not traditional or authentic Mexican food–they're a Tex-Mex classic that came into prominence in the 1970's. One only needs to look as far as their local chain restaurant Chili's to see how popular this dish has become, and how ingrained the term itself is in the American lexicon. Even though the preparation itself is distinctly American, I enjoy using more traditional flavors and components–no bacon or Swiss cheese here, thank you. Wheat tortillas? Get out of here, only flour tortillas kneaded with lard have any place in this kitchen. Strong flavors, homemade components… one delicious dish.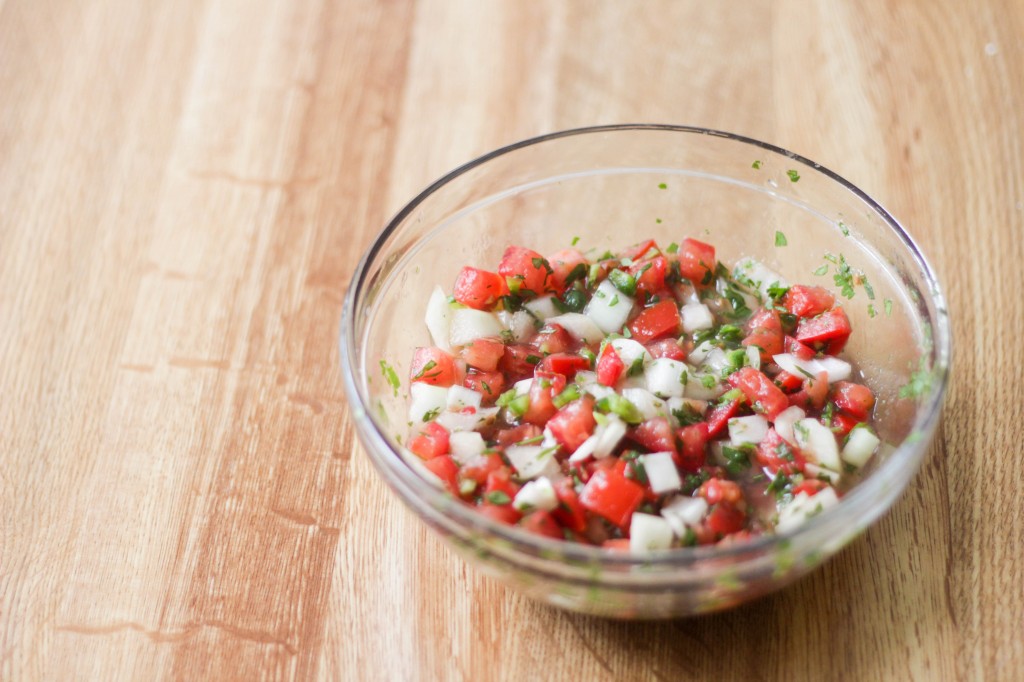 We really enjoyed eating the fajitas with fresh pico de gallo and, as I mentioned before, homemade flour tortillas. I imagine that the marinade for the chicken would be even more delicious if using chicken thighs or dark meat instead of chicken breast–but for the health-conscious (or for those that want to stay true to the origins of fajitas) breast is best. Two important things to keep in mind for this recipe:
Try to use a sandwich bag or gloves when de-seeding and chopping the jalapeno if you have a habit of rubbing at your eyes (or if you use contact lenses). The pepper residue, or capsaicin, is hard to wash off and tends to aggregate underneath your fingernails; this will cause your eyes to burn like crazy if you come into contact with them. Also, particularly strong peppers will cause your fingers to burn and be more sensitive to heat or rough cloth–so be careful!
It's okay if your chicken breast is a very light pink in the center when you remove it from the pan and check for doneness–just make sure to wrap the chicken breast pieces stacked together in aluminum foil while cooking everything else. The chicken continues to cook when off the pan, and wrapping the chicken pieces together in foil insulates the heat. Please be careful though; the center of the breast should no longer be dark pink or slimy and should have the same consistency as the cooked meat on the edges. After a few pieces, you'll learn the timing required for the right doneness and you won't need to check!
Okay, enough spiel from me. Widen your horizons and make these tasty fajitas for yourself!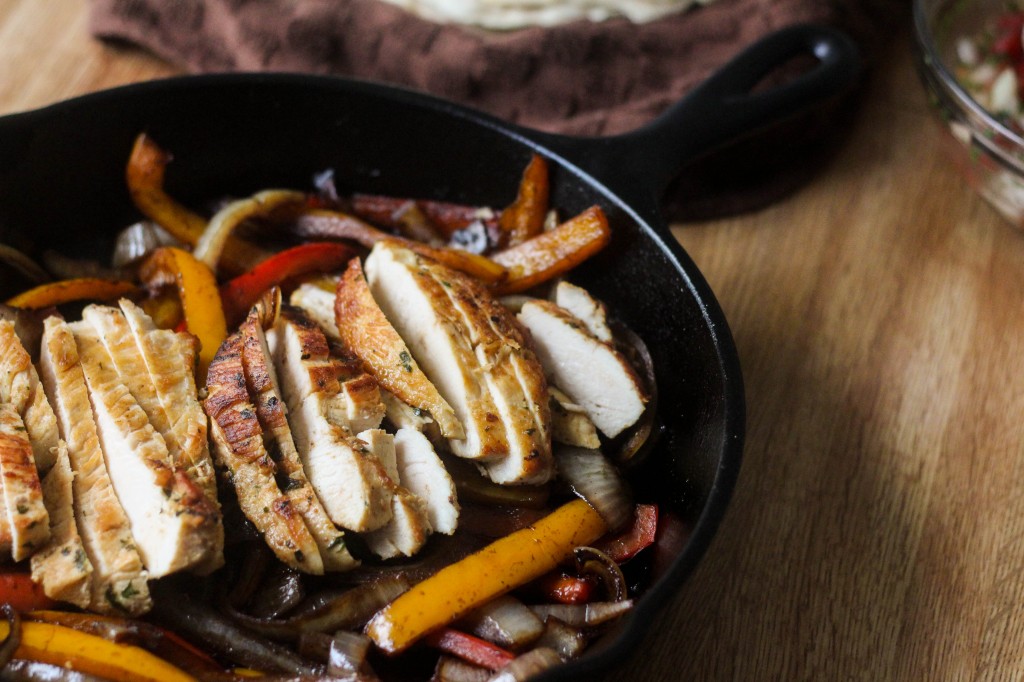 Recipe adapted from Simply Recipes.
Chicken Fajitas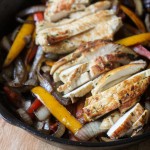 Prep time:
Cook time:
Total time:
Yield:

4-6

Difficulty:

easy

Recipe type:

entree
Ingredients:
2 lbs. chicken breast, ½ in. thick

4 bell peppers, sliced into thin strips

2 onions, sliced into thin strips

½ lime (3 Tbsp lime juice)

3 Tbsp. olive oil

¼ c. chopped cilantro

1 jalapeno pepper, diced and seeded

3 garlic cloves, minced

½ tsp. ground cumin

½ tsp. chili powder

½ tsp. salt

salt to taste

high smoking point oil, such as canola or vegetable oil for cooking
Directions:
Make sure your chicken breast is ½ in. thick or less. If necessary, slice through the center of the chicken breast horizontally.
Place the meat in a large bowl and mix with the lime juice, olive oil, cilantro, jalapeno, cloves, cumin, chili powder and salt. Mix well with your hands and allow to sit at room temperature for 1 hour minimum. If you'd like to marinate the meat in advance, place the mixture and meat in a large plastic sealed bag and leave in the fridge for up to 8 hours. (If you refrigerate the chicken first, make sure you set the chicken out for an hour before cooking to allow the meat to come to room temperature.)
Heat a cast-iron pan (or frying pan, if you don't have cast-iron) to medium high and pour ~ 2 Tbsp. oil to heat up on the pan.
Remove the chicken breast from the marinade and wipe to remove excess marinade. (It's okay if the cilantro sticks to the meat!)
Place the meat on the pan–meat should immediately sizzle. Sprinkle salt on the pieces and allow the meat to sear on one side, ~3 minutes, before flipping over to sear the other side.
After flipping, allow the meat to sear for another 2-3 minutes. If you're nervous about the doneness of the meat, you can cut a small incision into the center of the meat and check.
Once the meat is finished cooking, stack the chicken breasts together in loosely-wrapped aluminum foil to keep warm.
After all of the meat has cooked, turn the heat to medium and pour another 1-2 Tbsp. of oil into the pan. Allow the oil to heat up for a few minutes.
Toss the bell peppers and the onion onto the pan and stir vigorously–the vegetables will pick up the char from the seared chicken. [You'll likely have to cook the peppers and onions in two batches.] Once the oil has evenly coated the vegetables, allow the vegetables to cook without stirring for a few minutes.
After the onions have been cooked to your preferred doneness, place in a serving dish and cook the second batch of vegetables. Once these are complete, stir all of the vegetables together in the serving dish to mix the char evenly.
Unwrap the chicken from the aluminum foil and slice in ½ in. pieces against the grain and plate on top of the vegetables.
Serve with tortillas if you wish, as well as with other condiments such as salsa, pico de gallo, hot sauce, cheese, avocados, etc.
Published on by admin
Tagged: carb-free, chicken, entree, healthy, main dish, Mexican