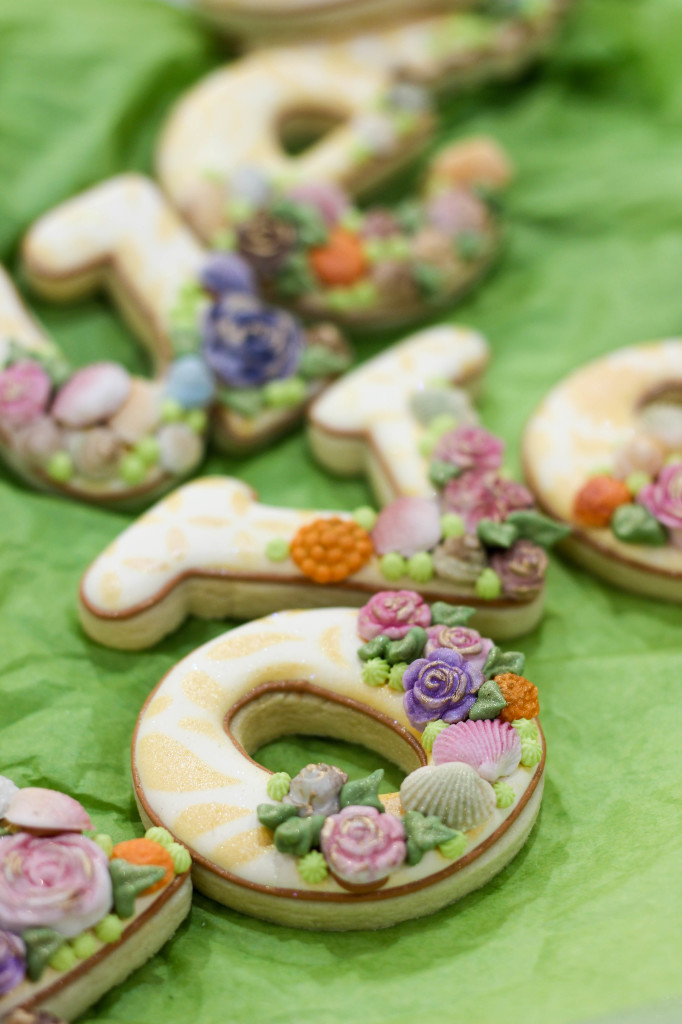 I first heard about the LA Cookie Con & Sweets Show on the Food Bloggers of LA (FBLA) mailing list in September of last year… and to be honest, my curiosity was piqued, but it wasn't something that I felt I absolutely couldn't miss. I do love baking–very much so–but as I've said on here multiple times, I'm not overly fond of eating baked goods. One of the main draws on the initial emails mentioned a lot of free samples, and I figured that it was something my waistline probably didn't need.
Another reason that initially held me back from attending was the convention's newness. I've been to first annual events before (626 Night Market comes to mind) and–through no fault of their own–tend to be disorganized and overwhelmed with logistics they cannot anticipate prior to the date. This is not a new phenomenon, nor is it one that I unreasonably expect new organizations to avoid. There are no soft openings, no practice runs for conventions or expos. I still remember the vitriol spewed on the Yelp event page for 626 Night Market's first year, and cringe.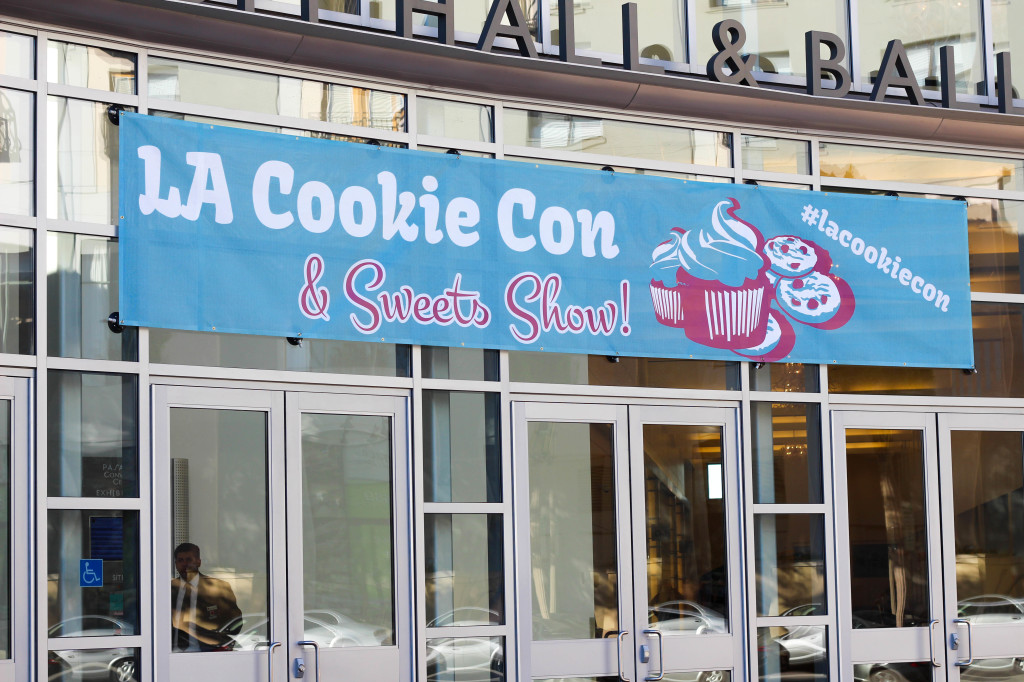 With all of that said, I slowly came to see the light over the next few months–my coworkers at the bakery were attending (and excited to do so), and I continued to check on the website for updated information. And now that I've attended, I'm so very glad I did! Not only did I have a blast with my friends, but I also got to talk to a lot of the bakeries and businesses with booths. The experience was fun, educational and completely worthwhile. It was a little hairy at times–and I'll get into that further below–but overall, I do think it was a great event and I already anticipate an even better con next year.
Before I begin: A Full Disclosure! I did get a VIP Press & Media pass for the event, so my experience is probably a little different than con attendees with regular passes.
A Sheepish Note: I tried to get business cards for every booth I took pictures of, but lost one of my bags with cards (and a cookie! Geez!) at the convention… so please let me know if I haven't credited your booth and I will happily do so.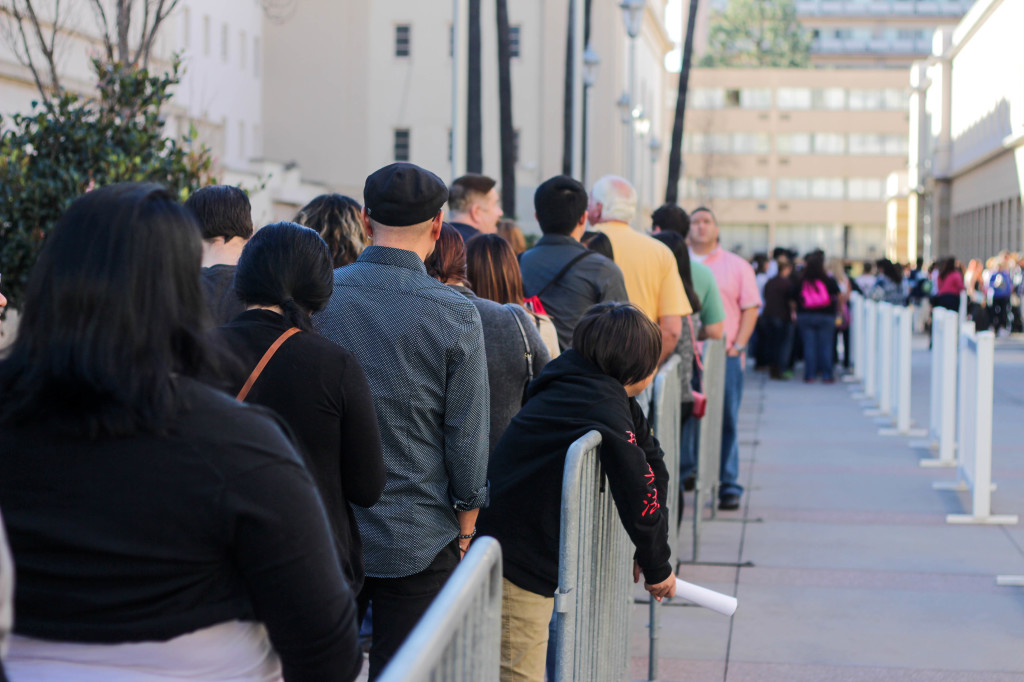 The Line Stops Here: We arrived at 9am anticipating a line–but had no idea that the line would wrap around the block an hour before the ribbon-cutting ceremony! The VIP/Press line was much shorter (it's the line on the right), but since one of my friends had a regular pass we decided to wait in the longer line until we got close to the front. Once people were let into the convention center to register, they were then funneled back out through another door to the holding area to wait for the ribbon-cutting ceremony and subsequent start of the con.
Things were much more lax for VIP/Press passholders, or at least that was my experience. Once we were given our wristbands, we were more or less allowed to wait inside while awaiting the ribbon-cutting. There was a bit of confusion with the official staff  for the event and the Le Cordon Bleu students helping the event–when I asked if I needed to wait outside with the rest of the regular passholders, I heard 2-3 different things. My friend and I decided to wait indoors until the ceremony began, in fear of being herded into the back of the crowd. It looks like a lot of other VIP/Press passholders had the same idea, as there were a lot of people lounging around the registration area.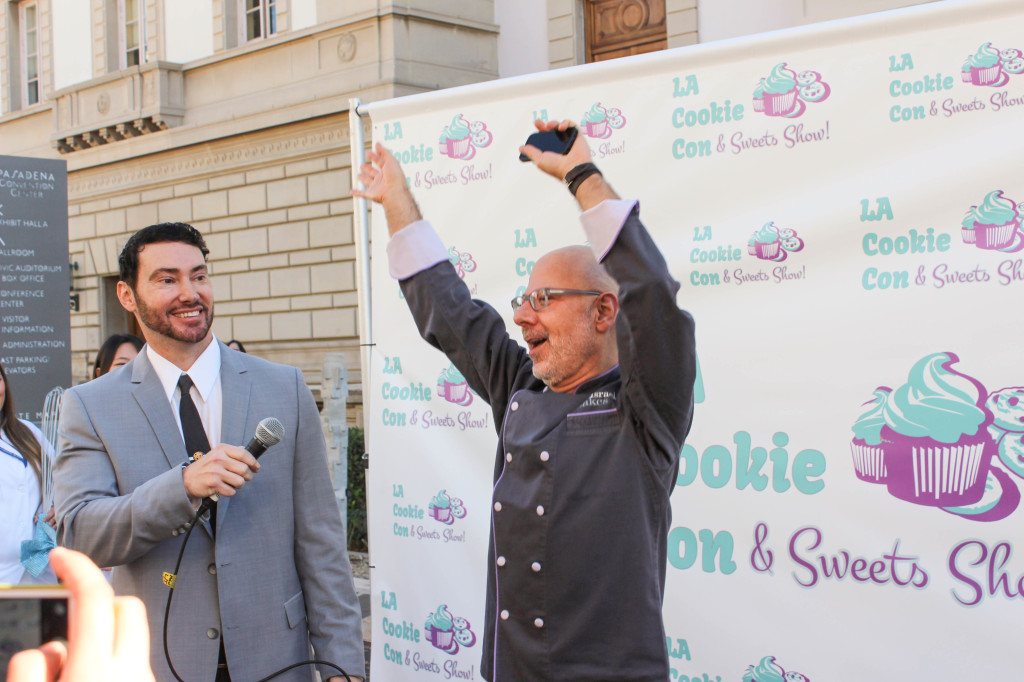 The Ribbon-Cutting Ceremony: Apparently the mayor was running behind (or so I heard from the various event staff with walkie-talkies), so the ribbon-cutting ceremony was 15 minutes later than initially advertised. Not a big deal for me, but I did feel kind of bad for the general passholders that were stuck waiting under the morning Pasadena sun.
A few pictures were taken with some of the Masterchef and Masterchef Junior contestants before Ron Ben-Israel made his appearance as the official ribbon-cutter. What a nice guy! He mingled right into the crowd, made small talk, and happily obliged with every picture request. When the official ceremony started, he jumped up and down and joked that "what happens here, stays here." His infectious energy made everyone smile–and while I'm not as familiar with his show on the Food Network, I was similarly swept up by his excitement.
Welcome to the 1st annual LA Cookie Con & Sweets Show!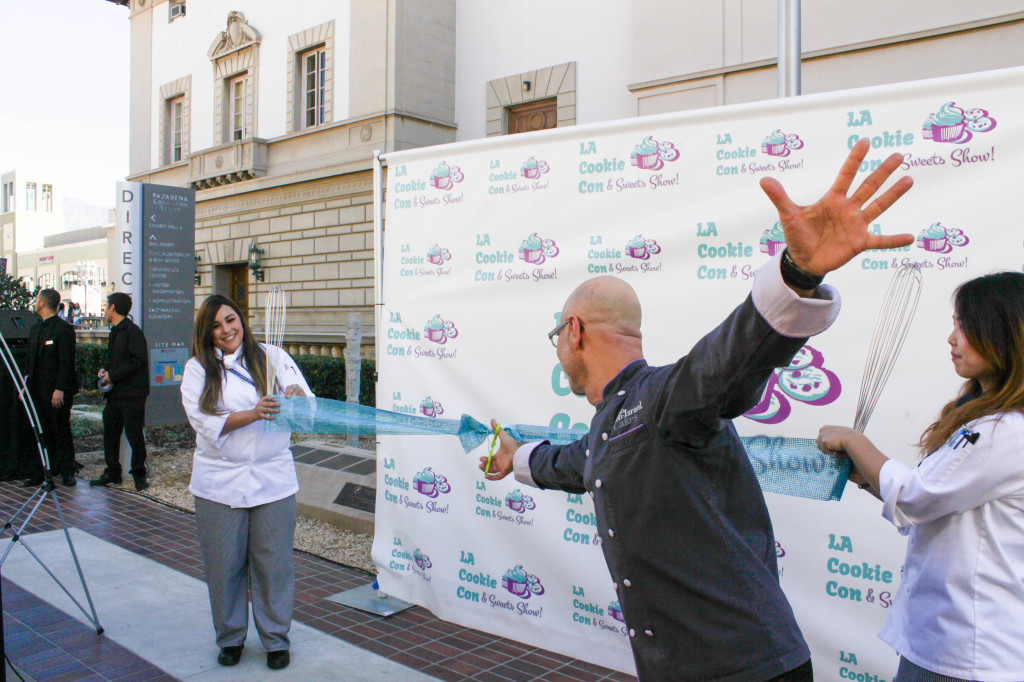 The Frenzy Begins! After Mr. Ben-Israel's dramatic ribbon-cutting, we immediately jumped inside of the convention center in order to beat the crowds. [And boy, was I happy about that–as the day wore on, the crowds got more and more intense and pushy.] As soon as we walked through the doors onto the main convention floor, the smell of sweets and the promise of samples hung in the air. My normally no-sweets-preferring stomach rumbled in anticipation.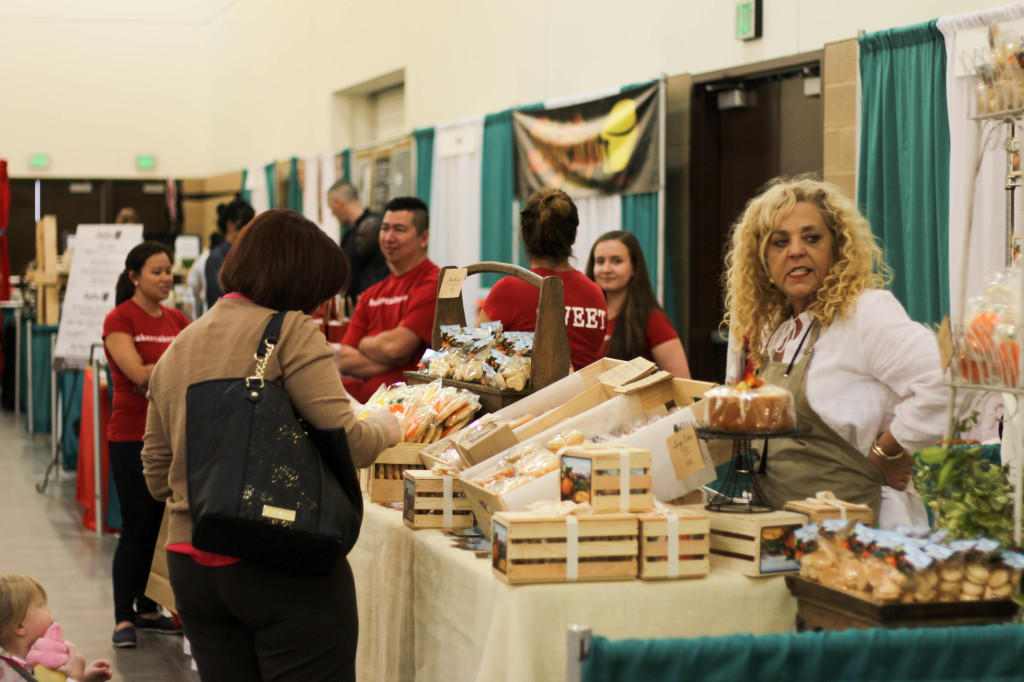 I really liked the way they set up the booths–there was ample space between each booth, and the aisles were spaced so that at least 5-7 people standing side-by-side could walk through comfortably. At the very beginning of the day, it felt un-cramped and quite spacious! The displays for each booth would vary–some were very well-staged, and others were quite bare-bones. There were a healthy mixture of booths at the convention: cookies, cakes, baker's tools, baker's ingredients, commercial booths (Keurig and Whole Foods come to mind), even wine tastings in the "VIP lounge".
Some of the booths had displays and samples… but were only there for show and not for business, as they couldn't sell any of their baked goods at the location. That was surprising to me–but this was the exception more than the norm.
And did I mention how beautiful some of the displays were?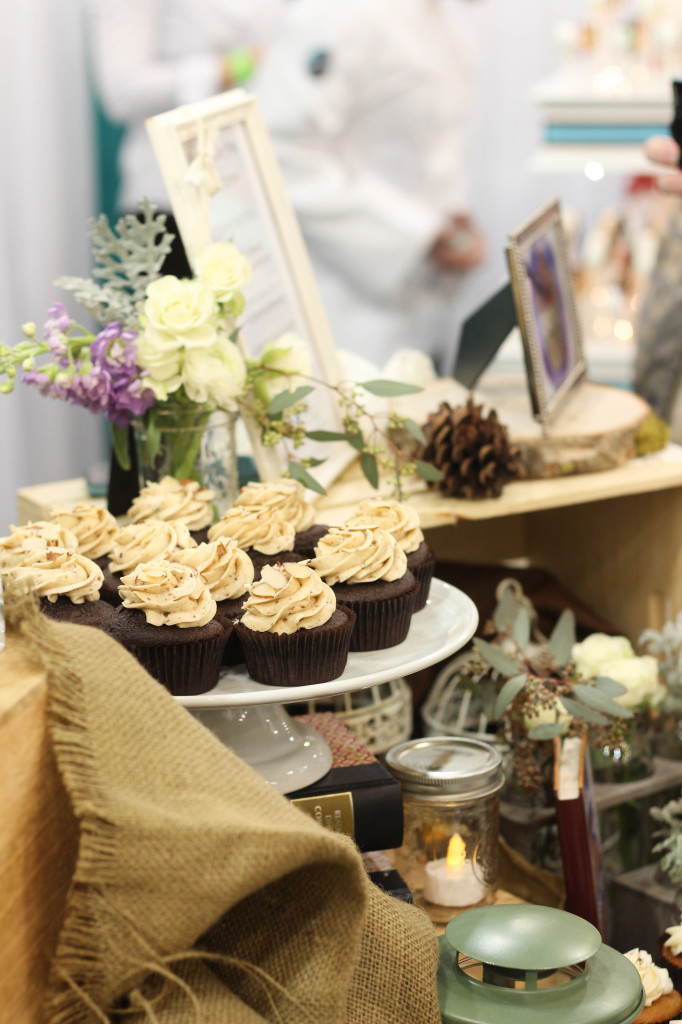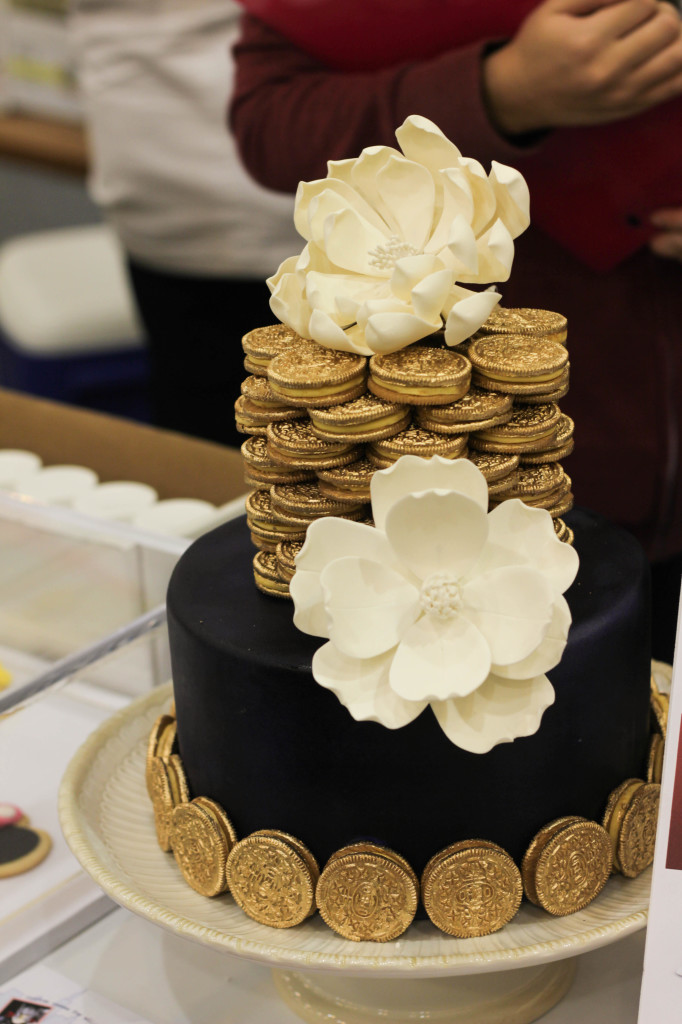 Cake display by Caljava Online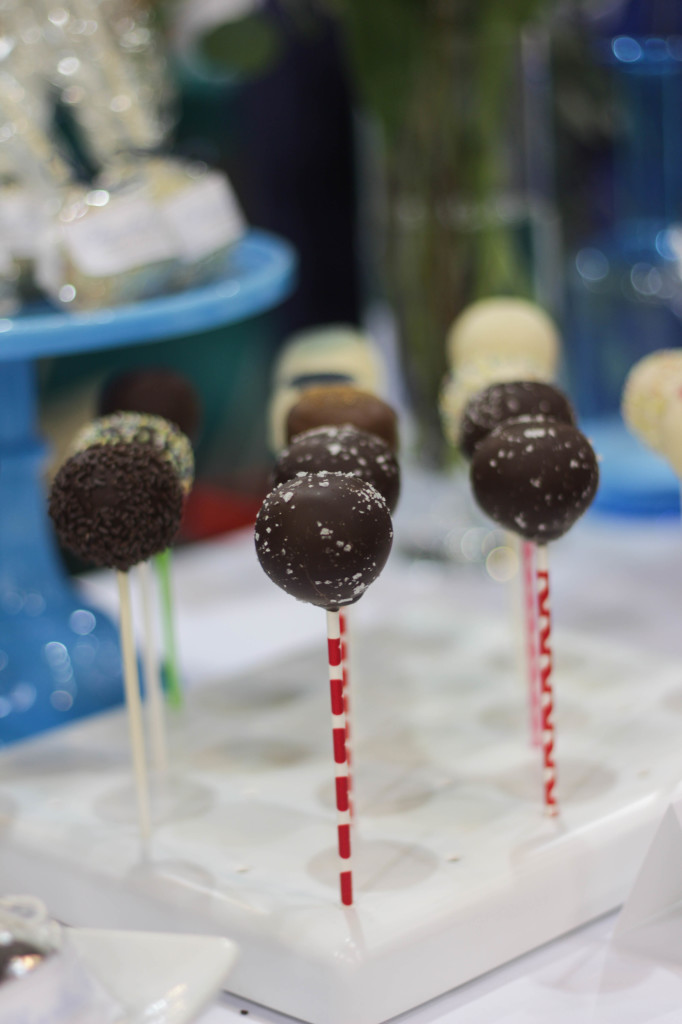 Cake Pop display by Charlie Pops Organic Cake Pops
Samples, please! Every booth that was selling baked goods had samples–every one! I thought my tongue was going to go into sugar shock. After a while, I found myself wishing I had a way to rinse my palette because the flavors were starting to run into each other. Samples of cupcakes, sweet bread, cakes, cake pops, cake truffles, cookies, pastries… this was every dieter's (and diabetic's) nightmare. And every sample was so generous, too–I never felt jilted, nor did I ever feel guilty asking for a sample if they weren't readily available. Every booth, every baker was so obliging and willing to chat.
Ensaymada samples from BakerCakeMaker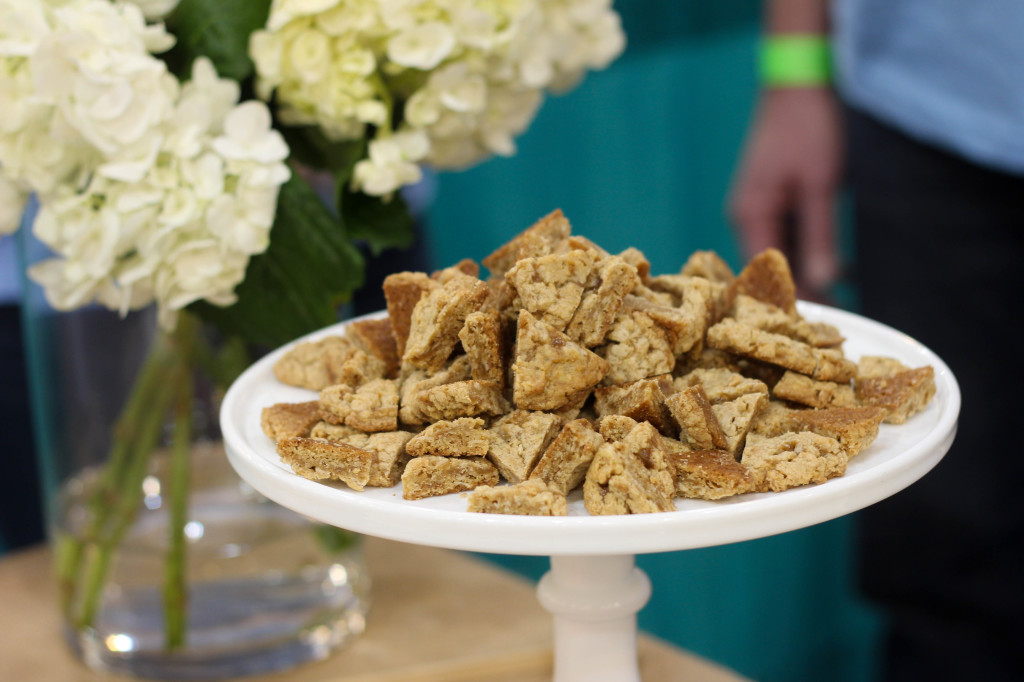 Oatmeal Toffee Cookie Samples from Jen & Joe's Cookie Dough booth
But wait, there's more! Yes, there's a reason this post has a "Part 1" in its title. Look forward to more sweets, more treats and more rambling from yours truly about LA Cookie Con & Sweets Show in the next post. (There was simply too much to cover, and I've never been a fan of overly-long entries.) For now, here's a snap from The Social Booth Co. that I took with my friends. Yes, I'm the glutton with the cupcake…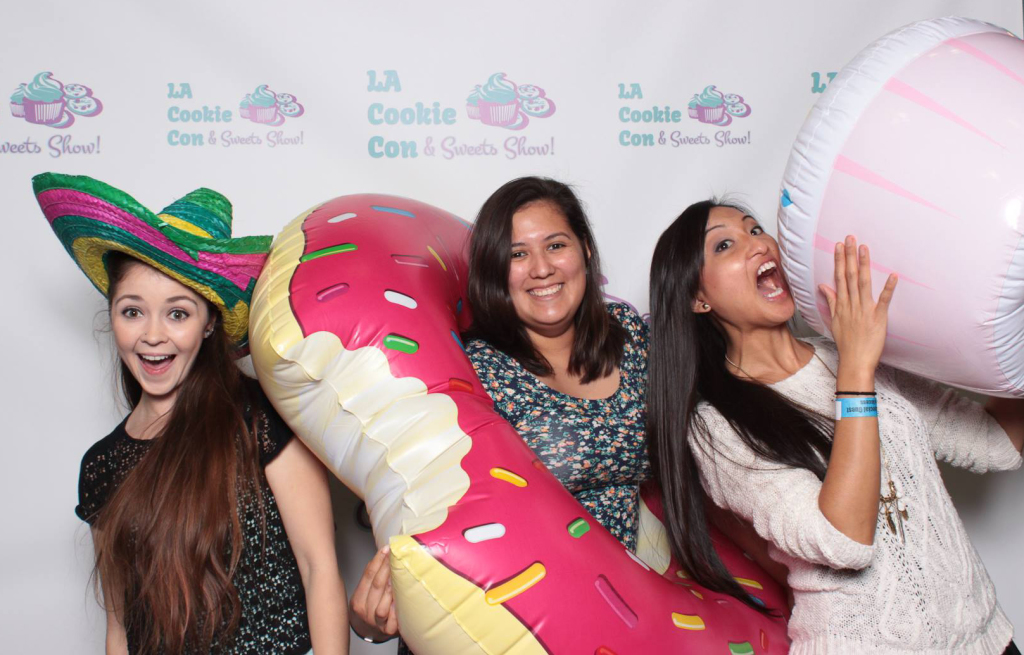 Courtesy of The Social Booth Co.
Tagged: blog, cookie con 2015, cookies, event, press