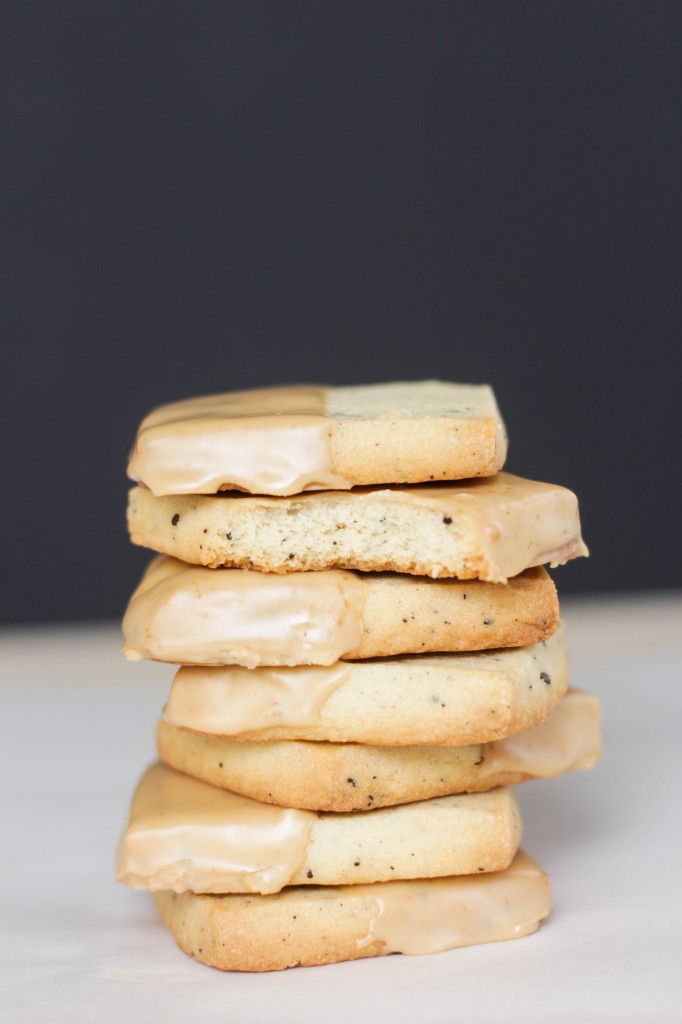 The cookie drought is over! Hallelujah!
I think my soul just missed baking. Now how dramatic is that?
Truth is, as much as I love cooking and throwing together meals for friends, baking has always been my first love. Which is a bit strange, I'll admit–since I don't really eat most of the things I bake. My sometime sweet tooth allows for me to taste whatever baked good I've made for quality-checking purposes, but I usually try to pawn all of my baking off on others (as my friends will attest). But certain cookies wiggle their way into my heart despite my best intentions… this is definitely one of them.
The original recipe actually uses olive oil and fresh rosemary for a savory-sweet twist; I chose to use Kona coffee because we recently returned from Hawaii with bags of the stuff! The basic recipe without my additions (powdered sugar, butter, salt and flour) make for an excellent basic shortbread recipe with which you can try other combinations with. In fact, I'm pretty sure you'll see variations of this recipe on this site in the months to follow…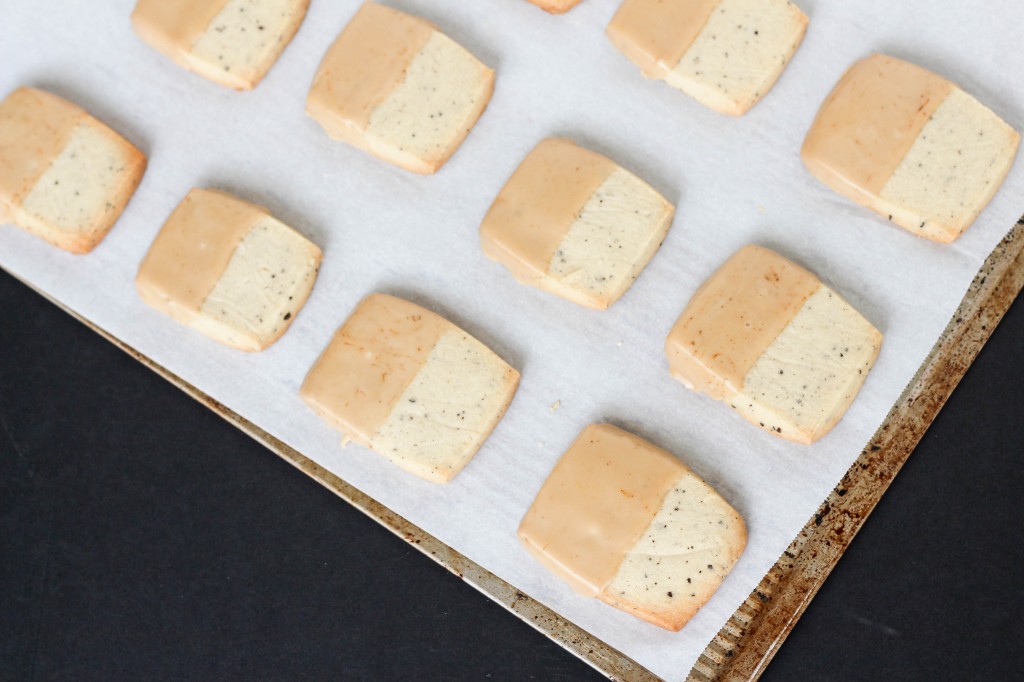 The consistency of these shortbread cookies is fantastic: light and crisp, with just a touch of vanilla sweetness. The small, coarse grounds of Kona coffee add texture and a very mild coffee bite; the glaze is strong but sweet, almost like coffee ice cream. I enjoyed these with coffee (obviously) but they go well with a nice hot cup of tea or by themselves!
If you don't have vanilla beans, you can substitute 1 tsp. of vanilla extract; I know vanilla beans are expensive and not everybody has them lying around. Likewise, you can use any coarsely-ground coffee instead of Kona–just make sure the bean is a milder and less bitter variety. The roast should still be medium to dark, though. Lastly, the glaze–James and I are huge coffee fans, so I threw in the espresso powder to kick up the coffee flavor. If you don't have it on-hand, you can make the glaze without and it will be fine–it'll just be lighter in color.
And if this all looks like too much work for you, you're in luck: Trader Joe's has a version of this cookie (in fact, their cookie is what inspired me to make this in the first place). I like to think that mine is better, but you can be the judge on that if you'd like. 😉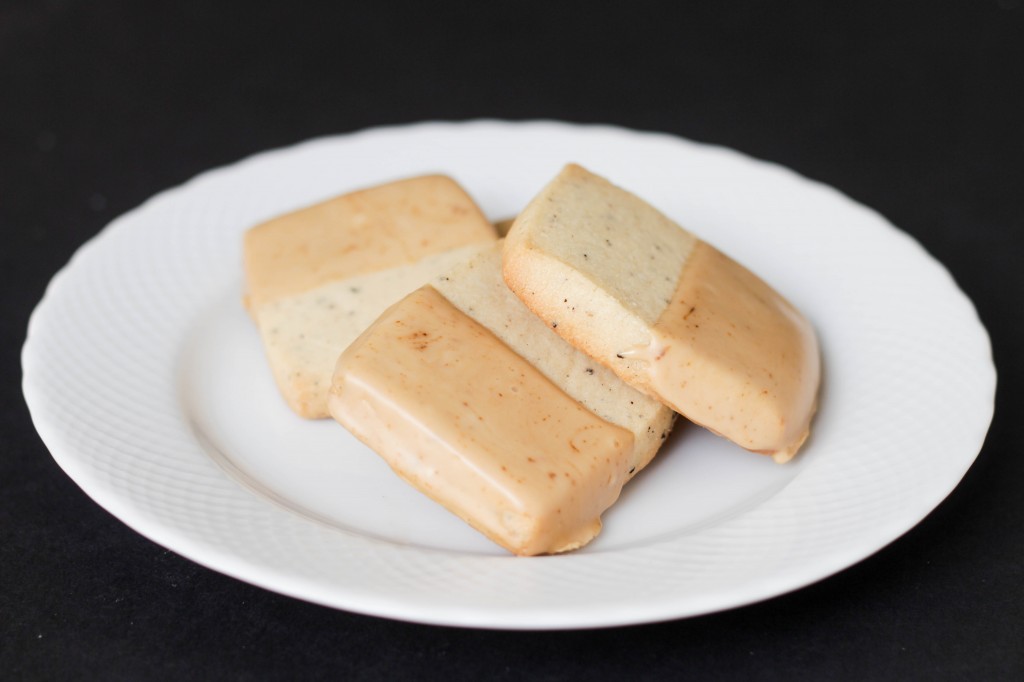 Recipe adapted from The Blue Bottle Craft of Coffee: Growing, Roasting, and Drinking, with Recipes.
Kona Coffee Shortbread Cookies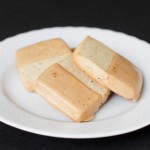 Prep time:
Cook time:
Total time:
Yield:

20 cookies

Difficulty:

medium

Recipe type:

dessert
Ingredients:
1 c. unsalted butter, room temperature

1 c. powdered sugar, sifted

1 Tbsp. coarsely ground Kona coffee

½ vanilla bean, split and scraped for seeds

½ tsp. kosher salt

2 c. AP flour, sifted

1 c. powdered sugar (for the glaze)

2 Tbsp. strong coffee

½ tsp. instant espresso powder (optional)
Directions:
Place the unsalted butter into a stand mixer and mix for 1-2 minutes on low, or until glossy and creamy.
Add the powdered sugar, kosher salt, vanilla seeds and coarse coffee grounds and mix until uniform at low speed, then scrape the sides of the bowl and mix on medium for 4-5 minutes. The batter will lighten in color (the color will be similar to cookies n'creme bars).
Add the sifted flour and mix until combined, then scrape the bowl and mix for another 1-2 minutes on low.
Scrape the bowl to combine the dough into a ball in the center of the bowl. Place plastic wrap onto the counter, then put the dough ball onto the plastic wrap. (You won't need to brush flour on your hands, as the dough will not stick to your fingers.)
Place another sheet of plastic wrap on top of the dough ball, then flatten the dough into a 7 x 10 inch rectangle using either your hands or a rolling pin.
Refrigerate for at least 3 hours or overnight.
When you're ready to bake, preheat your oven to 350ºF.
Line your baking sheet with parchment paper.
Take the dough from the fridge and remove the top layer of plastic wrap. Cut the dough into 1 x 2 inch rectangles.
Place the rectangles on the parchment paper at least 2 inches apart.
Bake for 14-16 minutes, turning the pan halfway through bake time (7 minutes). The cookies are done when the edges are golden-brown.
Remove the cookie sheet and allow the cookies to cool on the pan for 10 minutes.
Move the cookies to a cooling rack and let them cool completely.
For the glaze: Mix the powdered sugar, strong coffee and espresso powder (if you have it) with a spoon until the glaze is a nice, caramel color.
Spoon the glaze onto half of the cookie and spread evenly, then place on parchment paper to harden.
Will keep for 4-5 days if left in an airtight container. (Good luck with that–mine disappeared before I could test the theory!)
Published on by admin
Tagged: coffee, cookies, dessert, shortbread, vegetarian