I hate Sundays.
I know, I know—'Blasphemy!' It has nothing to do with it being the Lord's Day (or me being a truant church-goer). I'm sure I'm not the only one that dislikes them, almost more than Mondays. Let's break it down, shall we?
Fridays are amazing because of the potential they hold. 'What could possibly happen this weekend, this amazing break from my boring 8-5 job?'
Saturdays are… well, self-explanatory. They're fantastic.
Sundays are the beginning of the end, and that's why I dislike them so much. The little voices of reproach seep in past my weekend happiness shield, reminding me of all the things that I haven't done yet—the bathroom needs a good scrubbing, those vegetables in the fridge are going bad. The thank-you cards for my wedding gifts sit on the table, an all-too-loud reminder that I am incapable of sticking to a timeline for my wedding even after my wedding is over. And what do I do instead?
I bake. I bake a delicious, milky spin on brioche—loaves that fill my apartment with a sweet smell and glisten in the light with a silky egg wash.
The weekend inevitably ends and I'm always sitting on my couch with a frown on my face, wondering where it went. At least this time I have… bread? Something tells me I'm missing the point of my own uplifting narrative…
I love Hokkaido milk tea (with boba), so the name of this recipe intrigued me. I suppose I should have been more wary when I realized that the bread is essentially an Asian-style brioche, but I carried onward. In the end, it was quite an adventure! I learned a lot of things in the process:
  Brioche requires a lot of kneading! I had my KitchenAid mixer set on medium-low for 20 minutes continuously, and it got pretty warm to the touch at the end. The bowl even jammed on the base and I couldn't twist it off! (In the end, it took some oil and a few slaps in the right direction on the handle to dislodge it.)
 I learned the importance of having osmotolerant yeast for sweeter breads (instant yeast is a good substitute as well)… I only had active dry yeast on hand, so I improvised and had the yeast sit in warm milk for 10 minutes before adding it to the rest of the mixture, and made sure the ratio was 1.25:1 to account for the different in yeast composition. I think that if I attempted to make this bread again, I would get a fluffier consistency with instant as opposed to active dry yeast.
 I had to adjust my temperature/bake times to my oven—the first loaf (pull-apart) got a little browner and crustier on top than I would have preferred because I followed the recipe to the T. The second loaf (traditional) had a much more even bake because I turned the temperature down to 325℉ and baked the bread for longer.
The final result is still delicious, but I am confident I could make it better the next time by incorporating the notes above.
And how does it taste? Fluffy and milky, with a hint of sweetness. I think it's rather funny that I've been scared stiff about baking bread for a while—and in my first serious attempt, bake something much more demanding and complicated than a regular white or wheat loaf. But the stomach wants what it wants, so why deny it?
Recipe adapted from Elra's Baking
Hokkaido Milk Bread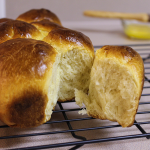 Prep time:
Cook time:
Total time:
Yield:

2 loaves

Difficulty:

medium

Recipe type:

bread
Ingredients:
540 grams bread flour

85 grams superfine sugar

11 grams instant yeast

8 grams sea salt

9 grams milk powder (nonfat is fine, and usually all you'll find in stores)

86 grams egg, whisked lightly

59 grams heavy cream

54 grams milk

49 grams unsalted butter

egg wash (1 egg yolk + 1 teaspoon water, mixed together well)

50 grams bread flour

150 ml water
Directions:
Mix 50 g bread flour and 150 ml water in a sauce pan.
Set the pan over medium low heat.
Stir continuously until the mixture thickens and the bottom of the pan is visible with each stir.
Remove from the heat and transfer into clean bowl.
Place plastic wrap directly on the mixture to prevent it from drying and let it cool at room temperature.
Once the mixture is cooled, it can be used right away–or can be stored in the fridge for a few days.
Add the wet ingredients into the mixer bowl first (egg, heavy cream, tangzhong or sponge you just made above), then the dry ingredients (flour, caster sugar, salt, milk powder).
If you have instant yeast, add the yeast with the dry ingredients. If you have active dry yeast, increase the amount to 13.75 grams and soak the yeast in the milk at room temperature for 10-20 minutes before incorporating into the mix. It will be incredibly sticky—definitely an ugly substitute, but necessity is the mother of invention.
Knead in your stand mixer using the dough hook attachment on the lowest setting for 2 minutes.
Increase the speed to medium low (which was speed 2 on my KitchenAid mixer), and continue to knead for 15 to 20 minutes. Don't freak out if your mixer gets a little hot to the touch—you're working that motor out, baby.
Divide the butter into three portions and incorporate into the dough separately, mixing well each time. The butter will stick to the sides of the bowl at first, but it will eventually incorporate itself into the dough.
Continue to knead for another 3 to 5 minutes, or until the dough is smooth, soft, and elastic.
Gather the dough into round ball and place it into a clean, lightly oiled bowl. Cover the bowl with plastic wrap and proof at awarm room temperature for 1-2 hours, or until the dough doubles in size.
Lightly grease your loaf pans. I only had one, so I just baked them one at a time.
Transfer the dough onto a clean counter top or nonstick mat. Press the dough lightly with your hand to degas it. Divide the dough into 2 equal portions.
Shape each portion into either a log or into several small balls if you would like a pull-apart bread, then place into prepared pans.
Cover the pans with clean kitchen towels, and let the dough proof in a draft free room temperature for 45 minutes to an hour.
Preheat oven to 350℉. (If you have a gas oven that heats at the bottom like mine, you might want to lowball the temperature to 325℉.) Set the rack in the middle oven.
Brush the dough with the egg wash.
Bake for in the middle rack for 30 to 35 minutes. Once finished, remove from the oven and immediately unload onto a wire rack.
14. Let cool completely before serving.
Published on by admin
Tagged: baking, bread, hokkaido milk bread, yeast