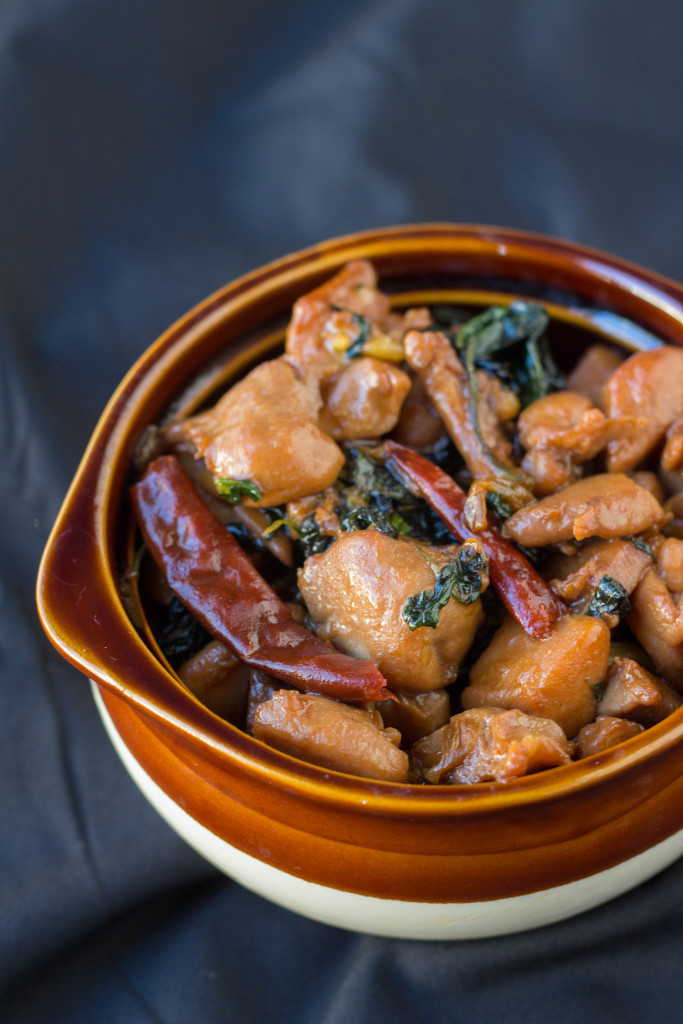 I'm not Taiwanese, but I would venture to guess that this is probably the most famous export out of Taiwan–other than bubble tea, of course. I fell in love with Three Cup Chicken from the first time I tried it at a now-closed Taiwanese restaurant in Denver. It is sweet, yet undeniably savory… earthy in its appeal, but sharp with the bite of Thai basil… Chinese in preparation, but Taiwanese in home-cooked execution. Everything I've had since my initial foray into Taiwanese food has more or less conveyed the same sense of practicality and no-nonsense attitude. Just because it's more homey than fanciful doesn't mean I don't enjoy it, however–if anything, I find it deeply satisfying. Dishes like popcorn chicken and beef noodle soup aren't going to be haute cuisine anytime soon, but they don't need to be… and they don't care to be, either.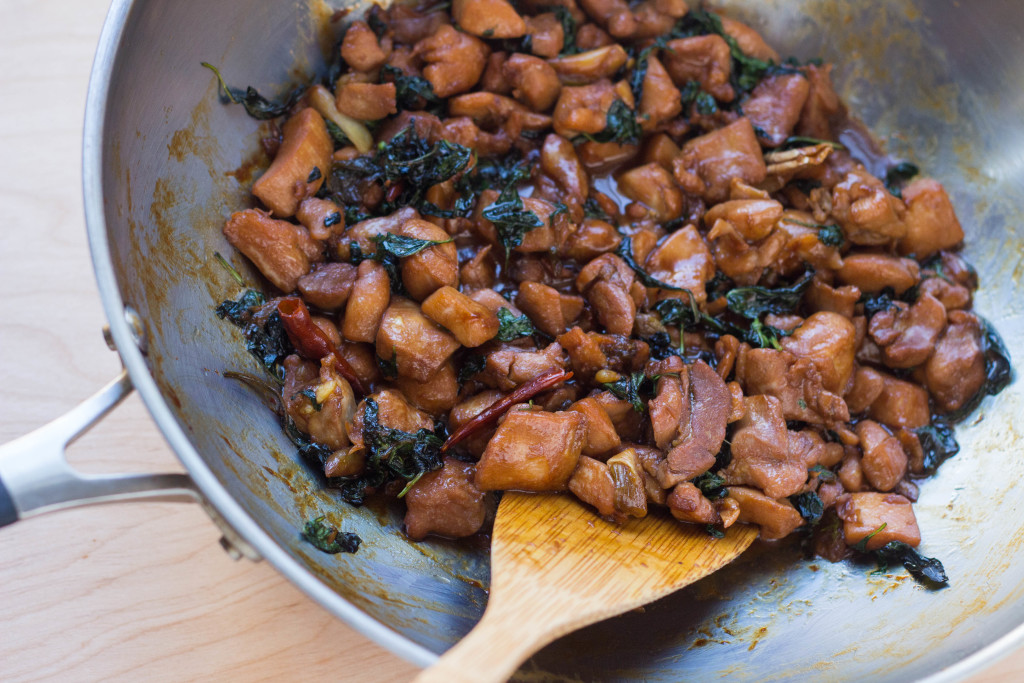 I started making Three Cup Chicken a few years ago, but every recipe I found was just a wee bit off from that first magical bite I had some years ago… too sweet, too bland, too salty! Pretty silly for a recipe that is quite literally named Three Cup for a reason: one teacup of soy sauce, one teacup of rice wine, one teacup of sesame oil. But after tinkering around recently, I've settled on this recipe that I've been able to consistently reproduce. Yay!
Velvet-ing the chicken, or breaking down the muscle fibers in the chicken to create a more "velvet" texture, isn't usually necessary for thighs since they're more tender than breasts. However, I really loved the softness of the chicken and the flavor that the marinade imparts, so I incorporated that into my version. Other than the "cups" for the sauce and the aromatics, the spice and sweetness of the dish can be easily adjusted to your taste preferences.
The only ingredient I have to insist you do not substitute is Thai basil. Italian basil won't create the sharp, aromatic flavor that contrasts so well with the sweetness of the sauce. Use it if you must, but know that the chicken will taste far from authentic if you substitute the basil.
Being able to recreate a popular dish from James' ethnic homeland makes my heart happy! I hope this easy recipe encourages you to not only try making it, but to try other Taiwanese food as well.