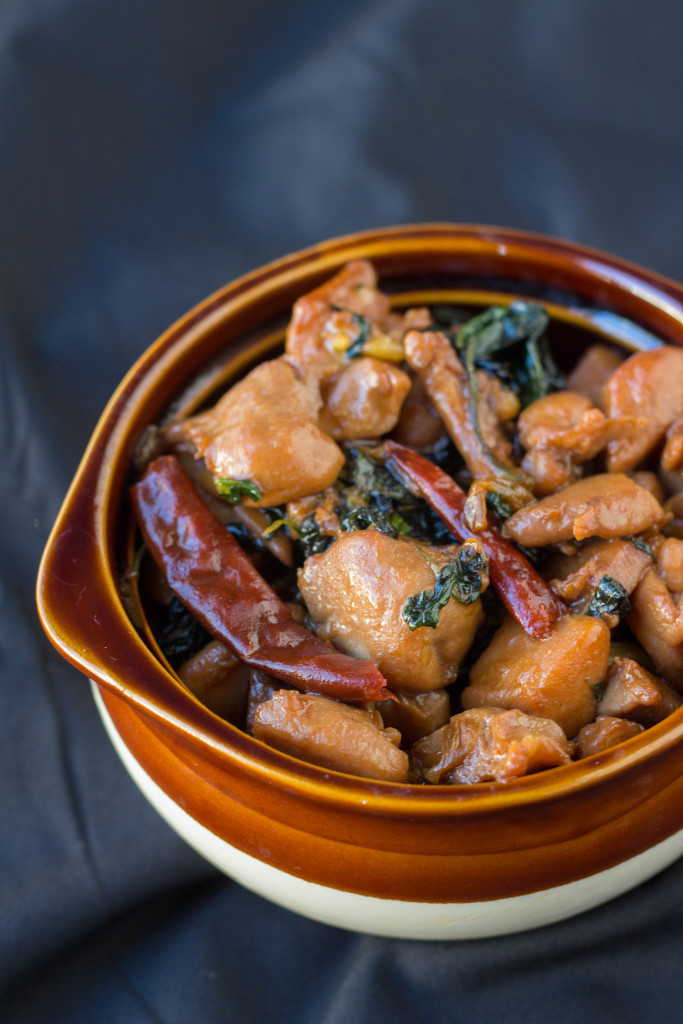 I'm not Taiwanese, but I would venture to guess that this is probably the most famous export out of Taiwan–other than bubble tea, of course. I fell in love with Three Cup Chicken from the first time I tried it at a now-closed Taiwanese restaurant in Denver. It is sweet, yet undeniably savory… earthy in its appeal, but sharp with the bite of Thai basil… Chinese in preparation, but Taiwanese in home-cooked execution. Everything I've had since my initial foray into Taiwanese food has more or less conveyed the same sense of practicality and no-nonsense attitude. Just because it's more homey than fanciful doesn't mean I don't enjoy it, however–if anything, I find it deeply satisfying. Dishes like popcorn chicken and beef noodle soup aren't going to be haute cuisine anytime soon, but they don't need to be… and they don't care to be, either.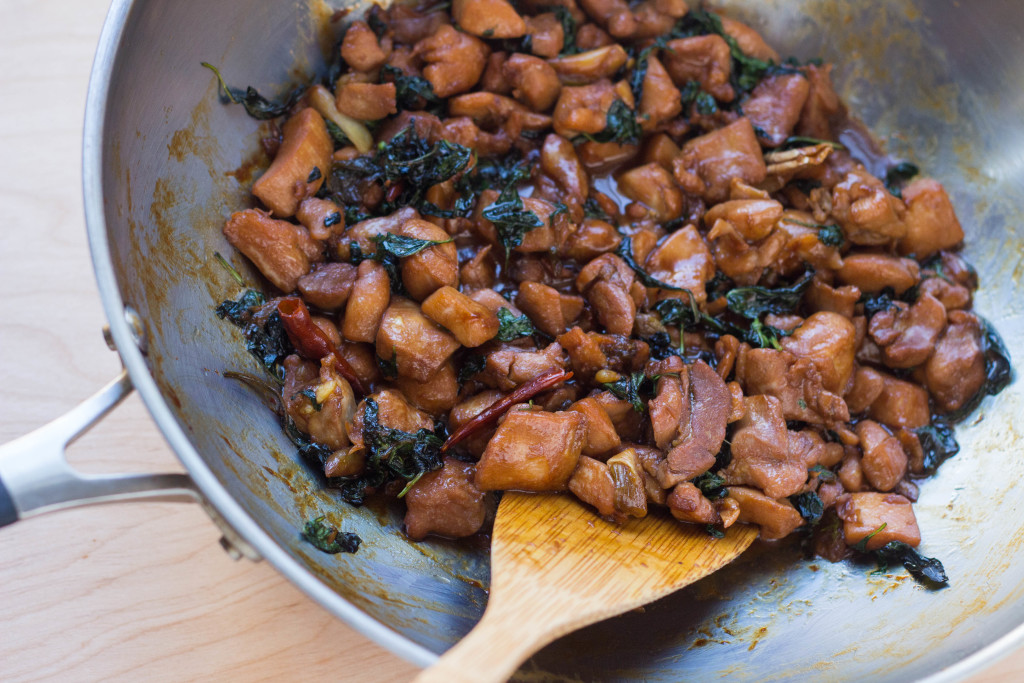 I started making Three Cup Chicken a few years ago, but every recipe I found was just a wee bit off from that first magical bite I had some years ago… too sweet, too bland, too salty! Pretty silly for a recipe that is quite literally named Three Cup for a reason: one teacup of soy sauce, one teacup of rice wine, one teacup of sesame oil. But after tinkering around recently, I've settled on this recipe that I've been able to consistently reproduce. Yay!
Velvet-ing the chicken, or breaking down the muscle fibers in the chicken to create a more "velvet" texture, isn't usually necessary for thighs since they're more tender than breasts. However, I really loved the softness of the chicken and the flavor that the marinade imparts, so I incorporated that into my version. Other than the "cups" for the sauce and the aromatics, the spice and sweetness of the dish can be easily adjusted to your taste preferences.
The only ingredient I have to insist you do not substitute is Thai basil. Italian basil won't create the sharp, aromatic flavor that contrasts so well with the sweetness of the sauce. Use it if you must, but know that the chicken will taste far from authentic if you substitute the basil.
Being able to recreate a popular dish from James' ethnic homeland makes my heart happy! I hope this easy recipe encourages you to not only try making it, but to try other Taiwanese food as well.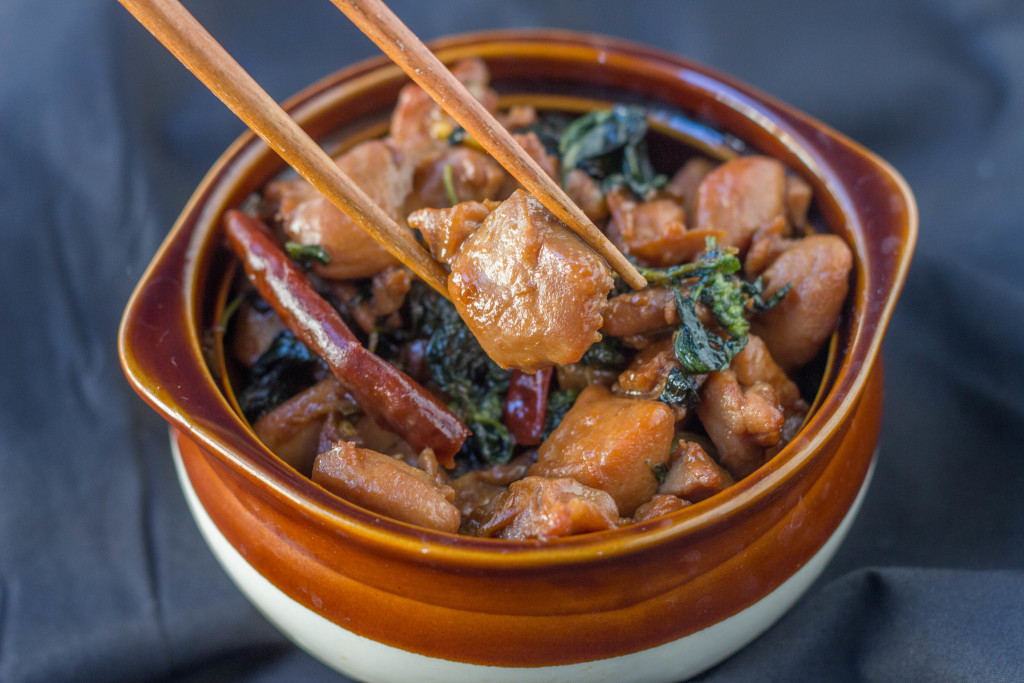 Three Cup Chicken/三杯雞 (Sān Bēi Jī)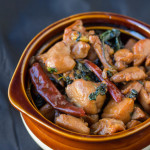 Prep time:
Cook time:
Total time:
Yield:

4

Difficulty:

easy

Recipe type:

entree
Ingredients:
1 lb. chicken thighs, cut into 1-inch pieces OR 1 lb. chicken wings

½ Tbsp. cornstarch (for marinade)

1 Tbsp. rice wine (for marinade)

½ tsp. white pepper (for marinade)

3 Tbsp. sesame oil

2 dried red peppers (optional)

10 garlic cloves, smashed

1 inch of ginger root, sliced thinly

¼ c. rice wine

¼ c. soy sauce

1½ Tbsp. sugar

2 c. Thai basil leaves
Directions:
Mix the marinade ingredients together (rice wine, white pepper and cornstarch), then add the chicken and coat evenly. Allow the chicken to sit for at least 30 minutes in the marinade before cooking.
Combine the rice wine, soy sauce and sugar into a bowl and set aside.
When you're ready to cook, heat 3 Tbsp. of sesame oil in a large pan or wok on medium heat.
When the oil is heated, add the dried red peppers and stir until the skins of the red peppers start to darken. (Feel free to nix this step if you don't prefer spice–or lessen the amount of pepper to reduce the heat.)
Add the garlic cloves and ginger and stir until they emit a fragrance, ~30 seconds.
Add the chicken and stir to coat evenly with the oil. Continue to cook until the chicken is cooked on the outside and no pink flesh is showing.
Give the sauce mixture a quick stir to re-incorporate the sugar (which has fallen to the bottom of the bowl), then add to the wok. Stir to evenly coat the chicken with the sauce and allow the chicken to cook until the sauce starts to thicken, ~3 minutes.
When the sauce is almost done, add the Thai basil leaves and stir until they wilt.
Turn off the heat, remove the wok from the stove, and plate. Serve immediately.
If you have any leftovers, they'll last for up to a week when refrigerated in an airtight container.
Published on by admin
Tagged: Asian, chicken, stir fry, taiwanese, Thai basil