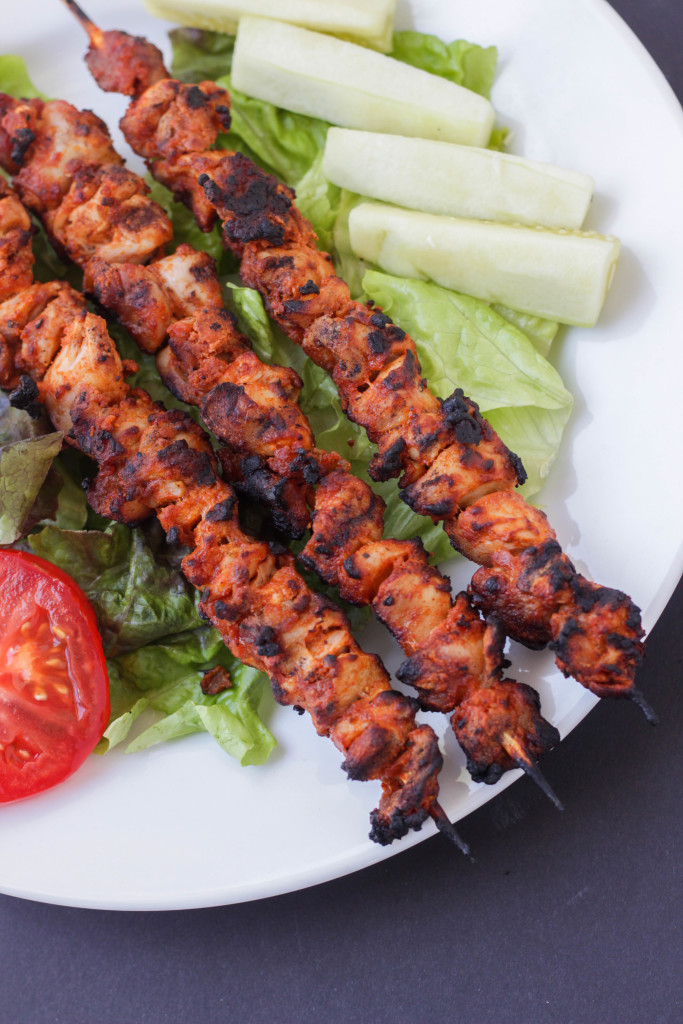 In the past, I've been more than happy to pass the grilling responsibilities onto James. I figure that I do a vast majority of the cooking, so asking him to be in charge of grilling was only fair. (James, being an incredibly agreeable husband, has never had an issue with this assumption.) But now that he's back at the hospital for 60+ hours a week, I've lost my grillmaster! It's not that I haven't grilled things before in the past–it's just that I'm lazy and I don't prefer to and I dislike smelling like smoke and man, that grill is so hot and stuffy… the list of excuses goeth on. But when the craving for chicken kebabs came rolling in, I had to suck it up and become my own grillmaster.
We have a communal grill at our apartment complex, and I had never used it before… so my attempts at lighting the propane gas were an embarrassing comedy of errors. I was keenly aware of the people walking around the common area; while I'm sure they were just carrying on with their lives, my eyes kept darting up to them as they walked by. Do they know? Can they tell how much I suck at this? And I think there was a part of me that hoped they could sense the increasing waves of desperation. Somebody put me out of my misery and tell me what I'm doing!
Thankfully, I was able to get the grill going after a few minutes of struggle (I kept trying to light the side of the grill that was broken–figures!) and life was beautiful… and I was redeemed!
All of that (self-imposed) drama aside, these kebabs were the first thing I grilled on my own–and they were completely worth the embarrassment. The yogurt marinade is so flavorful and really helps the chicken from drying out. The combination of paprikas, along with the coriander and cumin, adds complexity to the tangy flavor of the yogurt and make these kebabs absolutely addicting.
You can absolutely make these kebabs with chicken breast meat if you like, but I prefer chicken thighs. They're a bit more work since you have to trim fat and fascia, but they dry out much less easily and their flavor is more concentrated.
Well, enough of my chatter. Get to it, fellow grillmasters!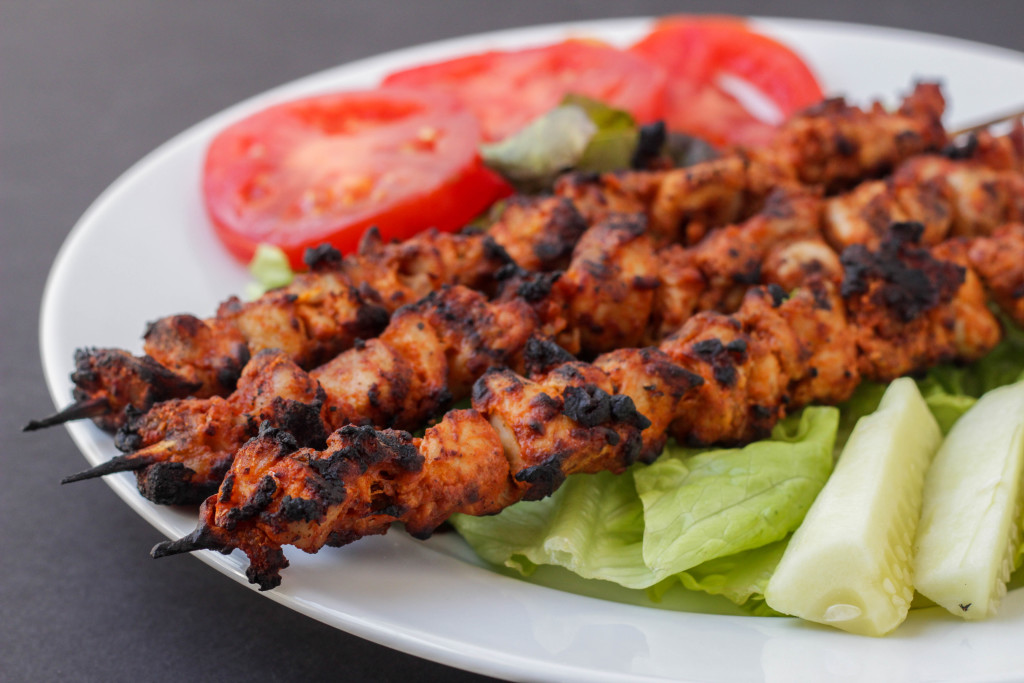 Spicy Chicken Kebabs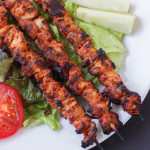 Prep time:
Cook time:
Total time:
Yield:

4

Difficulty:

easy

Recipe type:

entree
Ingredients:
2-2½ lbs. chicken thighs, fat trimmed and cut into 1-inch pieces

1 c. Greek yogurt, either 2% or full-fat

¼ c. lemon juice (a little less than 2 lemons)

3 Tbsp. olive oil

1½ tsp. ground ginger

1 tsp. garlic powder (or 2 tsp. minced garlic)

½ tsp. ground coriander

½ tsp. ground cumin

2 tsp. smoked paprika

2 tsp. hot paprika

1 tsp. cayenne pepper

1 Tbsp. salt

1 tsp. ground pepper
Directions:
Combine all of the marinade ingredients (yogurt, lemon juice, olive oil, and spices) into a bowl and mix well.
Add the chicken pieces to the bowl and mix again.
Cover the bowl with plastic wrap, refrigerate, and allow to marinate for at least 3 hours or overnight.
When you're almost ready to grill, soak ~8-10 skewers in enough water to cover them completely for at least 30 minutes. This will prevent the sticks from burning too quickly.
Light up your gas grill and set it to medium heat. Close the lid so that the grill will be at the perfect temperature when you start cooking your kebabs. (You can also use a grill pan to cook these kebabs–if you're using a pan, don't pre-heat it quite this early, as it will smoke like crazy!)
After the skewers have been soaked, take the bowl of marinated chicken out of the fridge and skewer the pieces through the center and onto the stick through the pointy end. Leave about 4 inches at the bottom of each stick–people need to be able to hold the kebabs, after all! Don't smush the chicken too much but do make sure there are no gaps between each chicken piece. (If you're using a grill pan, start heating the pan to medium after completing this step.)
Once you're finished skewering the meat, open your grill lid and place the kebab sticks perpendicular to the grill lines and space them about an inch apart from each other. Close the lid and allow the kebabs to cook undisturbed for 2-3 minutes. (If you're using a grill pan, use a sheet of aluminum foil to cover your pan.)
After a few minutes have passed, open the lid again and rotate the kebabs. Look for a nice char as you continue to rotate the kebabs every few minutes, and make sure to close the lid each time you rotate; if you fuss too much with the kebabs and keep the grill open, it takes longer to cook.
Once the kebabs are charred on all sides, remove the chicken from the grill, turn off the gas, and serve.
The kebabs will keep in the fridge for a few days, and are best reheated in the oven and wrapped with aluminum foil at 250ºF for 10 minutes.
Published on by admin
Tagged: chicken, grill, marinade, meat, Mediterranean