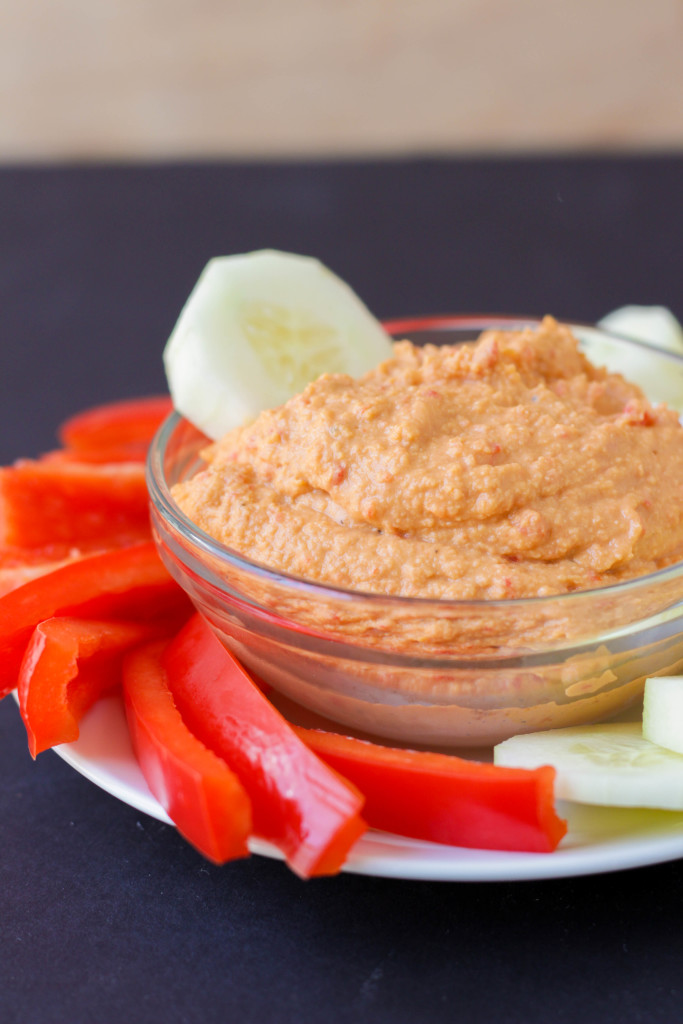 I don't know when it started, but somewhere in the last two years, hummus became a staple in our fridge. We tried different brands, different flavors, different things to eat it with… and all the while, I always complained about how expensive it was relative to other less healthy dips. And yet, without fail, hummus would still end up in the fridge regardless of my moaning and groaning.
I mean… hummus is freaking delicious, so it's worth it in the end… right?
Well, that's what I told myself until I finally decided to stop being so lazy and make hummus on my own. Now that I've made a few batches, I definitely feel silly about putting off making my own hummus sooner. I chose to make our hummus with roasted red bell pepper because I think the sweetness of the roasted pepper tempers the sharpness of the raw garlic.
The most important tool for making hummus at home with little effort is a food processor–very, very important! It doesn't have to be fancy; even the cheapest one should suffice since the toughest ingredient you'll be chopping up is chickpeas. You can make hummus without a food processor, of course… but it'll be way more labor-intense (think hand-grinding the garlic and chickpeas into a paste).
Tahini paste is a little expensive up front–I bought mine at the grocery store for $7.00–but seeing that you only use 3 Tbsp. of it in this recipe, it's pretty cost-effective to have it around (especially if you eat hummus as much as we do). I've made dressings as well as hummus with the paste, so I think it's a worthwhile purchase. You should be able to find it in the "Ethnic" part of your grocery store; I encourage you to check out a smaller, ethnic food store if you can. If all else fails, then Amazon sells it… then again, what does Amazon not sell?
I'm sure no one else needs this reminder except me, but garbanzo beans and chickpeas are two names for the same thing. So if you can only find one or the other at the store, don't worry–that's what you need to buy!
You can enjoy this recipe with whatever you prefer–pitas, pita chips, various vegetables… James loves eating hummus with grilled chicken but I prefer to eat hummus with bell peppers. Whatever makes you happy!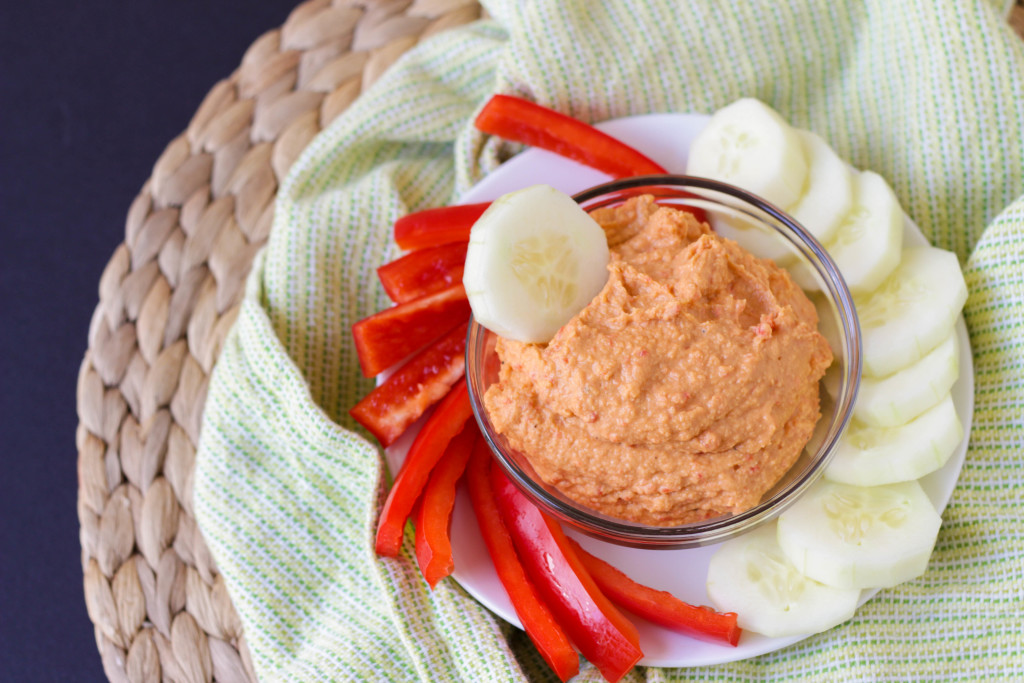 Roasted Red Pepper Hummus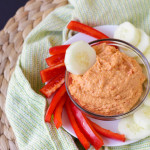 Prep time:
Cook time:
Total time:
Yield:

2 cups

Difficulty:

easy

Recipe type:

appetizer
Ingredients:
2 cloves of garlic (1 if you don't like sharp garlic flavor)

1 16-oz. can of garbanzo beans/chickpeas (a little over 1 cup)

1 red bell pepper, medium

3 Tbsp. tahini paste

3 Tbsp. lemon juice

1-2 Tbsp. reserved liquid from the garbanzo/chickpea can

3/4 tsp. salt
Directions:
Roast your red bell pepper whole–either by blackening the skin over your gas flame on your stove or by broiling the red bell pepper for 5-10 minutes.
While the red bell pepper is cooling, toss the garlic into the food processor with the blades on (through the tube at the top).
Add the garbanzo beans/chickpeas into the processor.
Add the tahini paste, lemon juice and salt. Turn off the processor for now and scrape the sides of the processor bowl down to ensure everything will get mixed evenly. Be careful–the blades are VERY sharp!
When the red bell pepper is cool to the touch, pick off or rub off the blackened skin. The flesh should be completely soft. De-seed and roughly chop the bell pepper, then turn the processor on and add the bell pepper to the mix.
Allow the bell pepper to mix thoroughly into the hummus mix, then add 1 Tbsp. of the reserved liquid. At this point, you can decide on your preferred consistency–add more liquid if you want your hummus to be smoother and thinner. (I only used 1 Tbsp.)
Turn off the processor and scrape the hummus into an airtight container.
The hummus will be good in the fridge for two weeks. If you want to save it for later, feel free to freeze it–it freezes quite well!
Right before serving, drizzle a small amount of olive oil and crack pepper on the top.
Published on by admin
Tagged: gluten-free, healthy, hummus, Mediterranean, vegetables, vegetarian