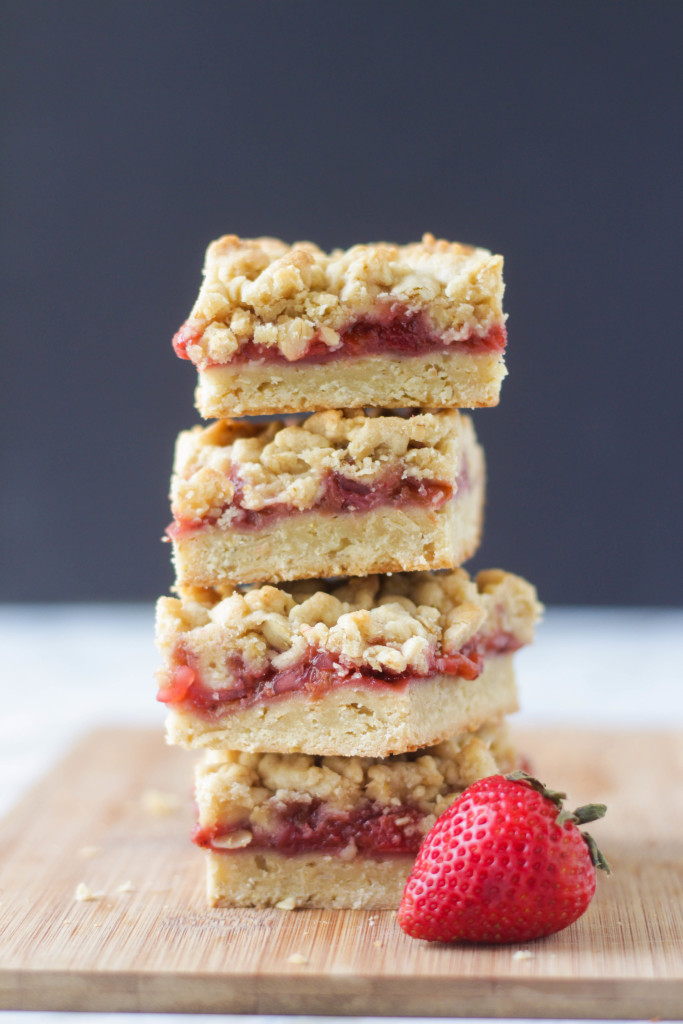 April has been the craziest month–no lie. With all of the traveling I've been doing recently, it's been hard to muster the energy to make or bake anything in the kitchen (as you can see by my prolonged absence). It's been even harder for me to convince myself to make anything more indulgent than vegetable soup or chicken breasts, since we've been doing nothing but gorging ourselves on junk whenever we're away. But sometimes, I need a break: I need something that's indulgent.
Sometimes, a baker's gotta bake.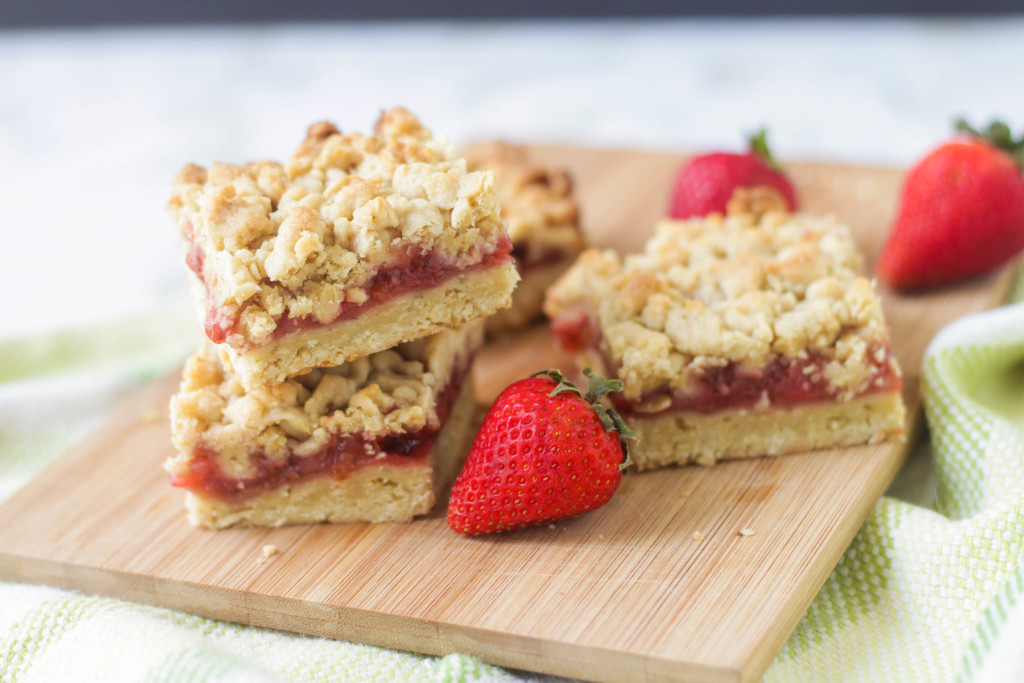 I was writing an article on how to make pie crust from scratch for DIYready.com (hello, plug!) and it put a little idea worm in my head–sure, making pie is a bit of a commitment for some, but making crumble bars is quick, easy, and easy to share. And since I've been mulling over the idea of using strawberries and rhubarb together recently… this recipe popped out of my head and into the oven!
If you really want bars but don't want to make the preserves from scratch, I completely understand–you can easily substitute 1½-2 cups of strawberry preserves (or whatever you prefer) and still get a fantastic bar out of it. But if you're willing to put in the ~10 minutes of work to get fresh strawberry-rhubarb preserves, I highly encourage it. I love the sour, spiky flavor of the rhubarb with the tart sweetness of strawberry. I love it even more with a little bit of cinnamon and pepper–yes, pepper!–to sharpen the flavor. The sharpness of the preserves, paired with the mild sweetness of the crumb and bottom crust, make for a very tasty bite.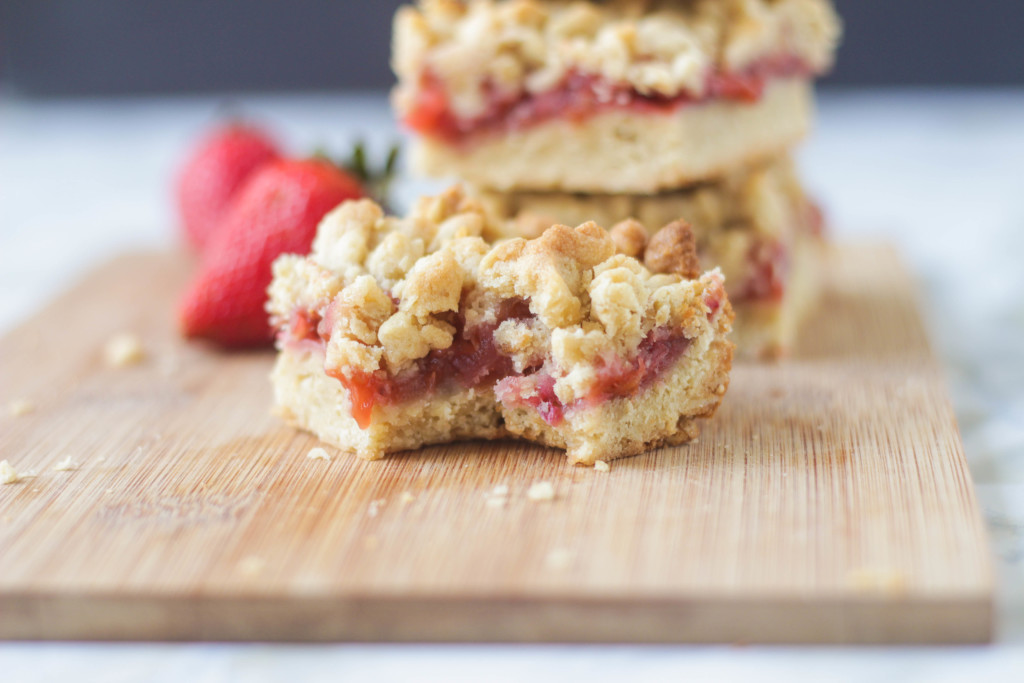 If you do end up having leftover preserves after spreading them on the bottom crust in the baking dish, it's okay–you can put them in an airtight container and use them up to a week. Or…
A Great Idea: pairing the preserves with vanilla ice cream.
An Even Greater Idea: pairing the preserves with vanilla ice cream and eating the ice cream with the crumble bars.
Hey, when I say I'm indulging… I like to go all-out.
I hope you get the chance to try these–they are pretty delicious! And they're a great way to make friends at your next potluck, office party, or what-have-you. I made James take a large batch of them with him to his lab meeting today and they were a hit. Or, you know, you could just keep them at home and share them with yourself. I'm not here to judge…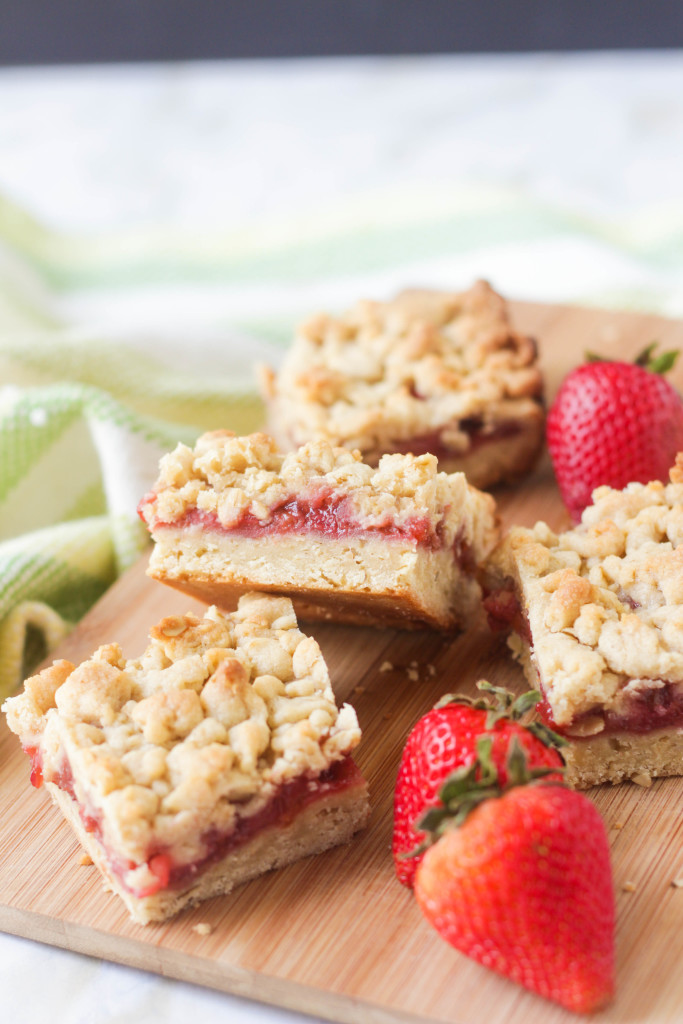 Strawberry Rhubarb Bars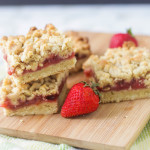 Prep time:
Cook time:
Total time:
Yield:

16

Difficulty:

easy

Recipe type:

dessert
Ingredients:
2 medium rhubarb stalks, diced

2 cups strawberries, sliced thinly

1/3 cup + 2 Tbsp. water

½ cup white granulated sugar

1½ Tbsp. cornstarch

½ tsp. cinnamon

dash of black pepper

2 sticks or 1 cup unsalted butter, room temperature

½ cup white granulated sugar

½ cup light brown sugar

1 egg

¼ tsp. salt

1 tsp. cinnamon

2½ cups all-purpose flour

1 cup rolled or old-fashioned oats (not instant)
Directions:
Put a saucepan on medium heat. Pour 1/3 cup water and ½ cup white sugar into the pan and stir until the sugar dissolves.
Add the rhubarb and strawberries into the saucepan and stir until well-mixed. Allow the mixture to heat until simmering, about five minutes.
While the pan is on heat, mix the cornstarch with 2 Tbsp. water in a small bowl. Set aside.
When the strawberry-rhubarb mix is bubbling, add the cinnamon, pepper, and cornstarch. Stir until the mixture becomes thicker–you should be able to scrape at the bottom of the pan with a spoon and see the bottom without liquid filling in the trail.
Remove the strawberry-rhubarb jam from the hot saucepan and into a heat-safe bowl. Place the bowl in the fridge while you work on the dough. You can also make this part in advance the night before or days before making the actual bars.
Pre-heat your oven to 350ºF. Spray a 9×11 baking pan with non-stick spray.
Using a stand mixer or hand mixer, blend the butter and sugars (white and brown) until they are well mixed, 1-2 minutes.
Add the egg, salt, and 1 tsp. cinnamon, and mix again for another minute.
Add the flour in two parts and mix on low until incorporated.
Add the oats and mix on low until incorporated. If you're using a hand mixer, it might be better for you to do this part by hand as the dough will be pretty thick!
Reserve 2 cups of the dough for the topping and put the rest of it into the baking dish. Press with your hands to even out the bottom crust.
Take your strawberry-rhubarb preserves from the fridge and, using a spoon, add the preserves in an even layer on top of the bottom crust. Make sure to leave ½ inch space around the edges of the pan so that the preserves don't stick to the edges and burn. You may end up with leftover preserves–it's not necessary to use all of the preserves with the bars! If you have extra, cover it and place back in the fridge. It will keep for a week.
Take the reserved dough and crumble it with your hands over the baking dish. It's okay if the sizes aren't uniform! Try to completely cover the preserves evenly.
Place the baking dish in the center of the center rack in the oven and bake for 30-35 minutes.
Remove from the oven when the top crumb is golden-brown. Let it cool for 20 minutes before serving.
If kept in an air-tight container, these bars will be good for 3-4 days.
Published on by admin
Tagged: dessert, fruit, rhubarb, strawberry, sweet, vegetarian