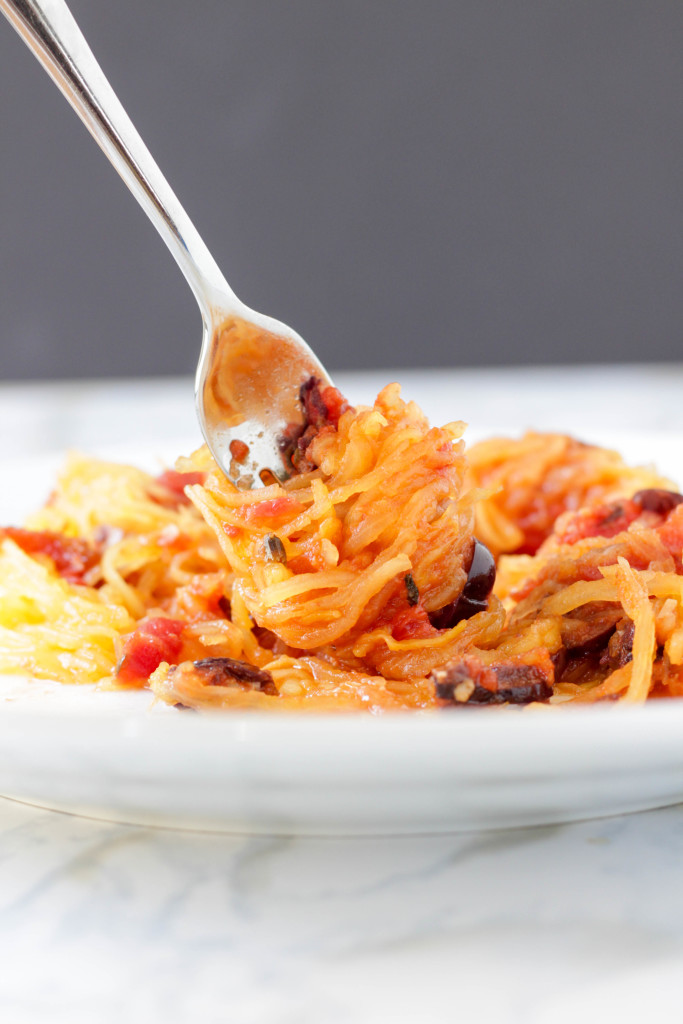 [Note: This is a follow-up of sorts to my spaghetti squash noodle recipe–hence the use of spaghetti squash noodles in the pictures.]
James is not the "yay, diet foods!" type. A lot of the time, I feel as if I need to make a compelling argument via taste test in order for him to believe that healthy substitutions are great diet solutions. I definitely heard a lot of nay-saying before I converted him to the Cauliflower Rice Religion (!), and I dealt with a similar amount of skepticism regarding spaghetti squash. So I knew from the start that I needed to pair the noodles with a sauce that would knock it out of the park for his taste buds… and for my purposes (and my taste buds), that sauce is puttanesca.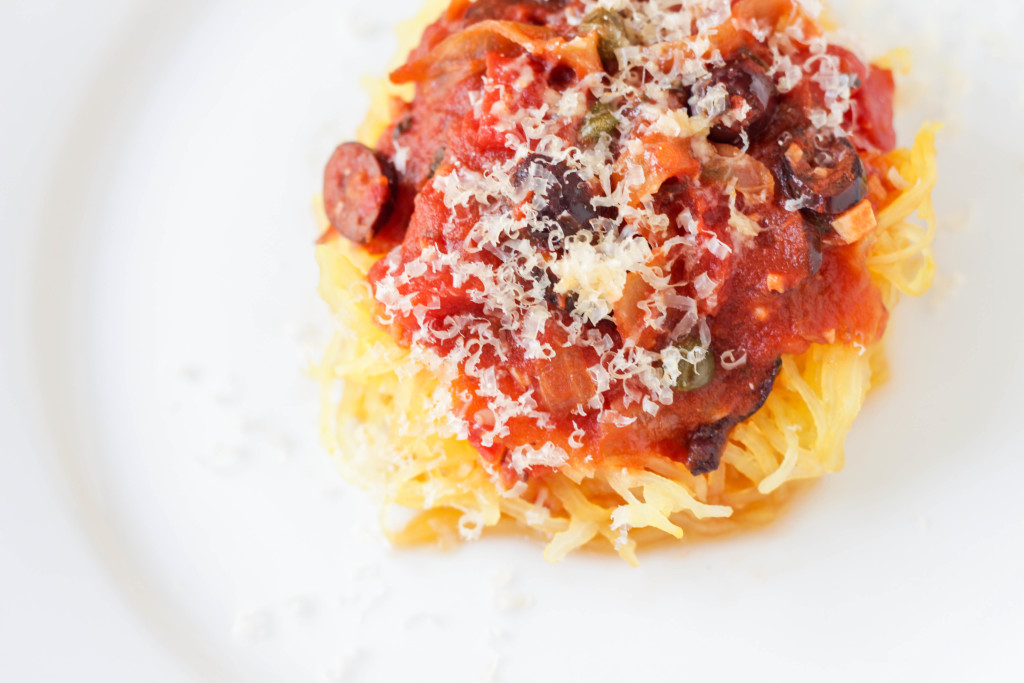 So what is puttanesca? What does it even mean? Well, you may giggle about the etymology of the name if you don't know it already. Puttana (or putta) means 'whore' or 'prostitute'; I've seen quite a few recipes and cookbooks refer to this as 'whore's spaghetti.' Pretty colorful, right? According to Wikipedia, a restaurant in Italy claims to have created the sauce in the 1950's because they were low on ingredients and customers insisted, "Facci una puttanata qualsiasi," or 'make any kind of garbage.' So yes–the name itself is not the prettiest. Thankfully, the sauce itself is very tasty!
When you initially see the list of ingredients, it literally looks like a recipe for disaster: anchovies, olives and capers? What is this, salt with tomatoes on the side? But the tomatoes mellow out the saltiness of the ingredients quite well–enough to where you'll find yourself adding salt to taste right before serving. The sautéed onions at the beginning of the recipe add just enough sweetness to counterbalance the salty ingredients, too! And I know that anchovies aren't on everyone's "Top 10 Favorite Foods in the Whole Wide World" list, but believe me–the briny, savory flavor that they impart to the sauce are irreplaceable. These components may have been thrown together for lack of ingredients, but they taste like they belong together.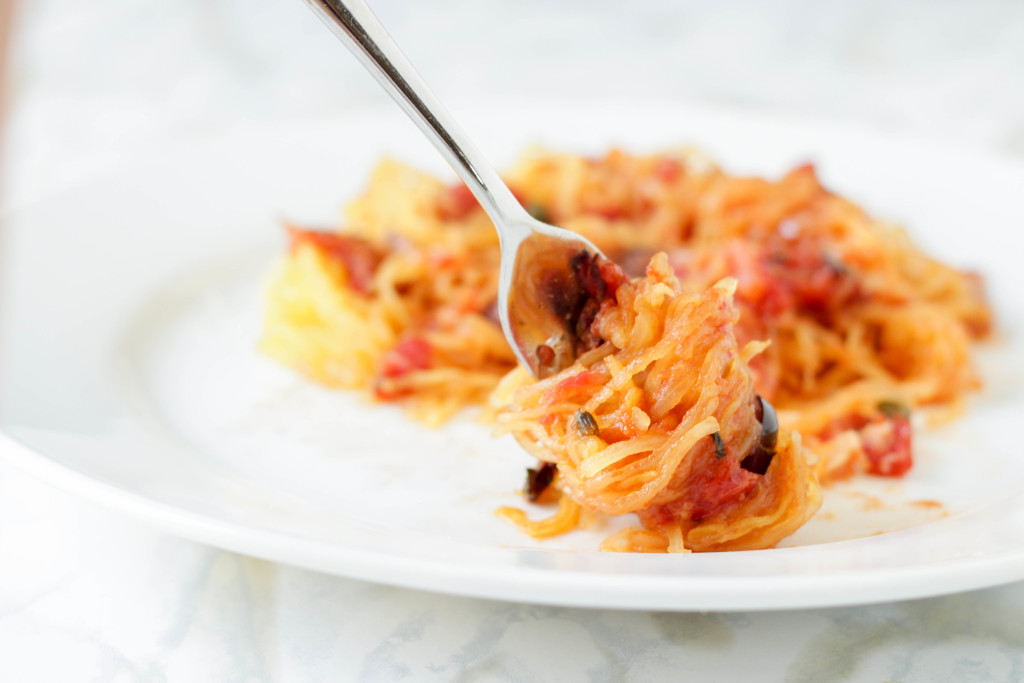 James & I love anchovies–but I accounted for the rest of the world's population that isn't in love with hopelessly salty fish and reduced the amount for the recipe listed here. If you want it our way, take some blood pressure medication and double the amount of anchovies! I also added a dash of dry white wine to deglaze the pot–make sure you use a dry, low-sugar wine like sauvignon blanc. And if you can hold off on eating the sauce until the next day, it wouldn't be a bad idea to do so. After making this sauce a few times, I noticed that the flavor is more rich and complex after sitting overnight in the fridge.
I had an amazing pun at the end of my last entry, but all I can think of for this sauce are "easy" jokes… so I'll just leave it at that… ha. Enjoy!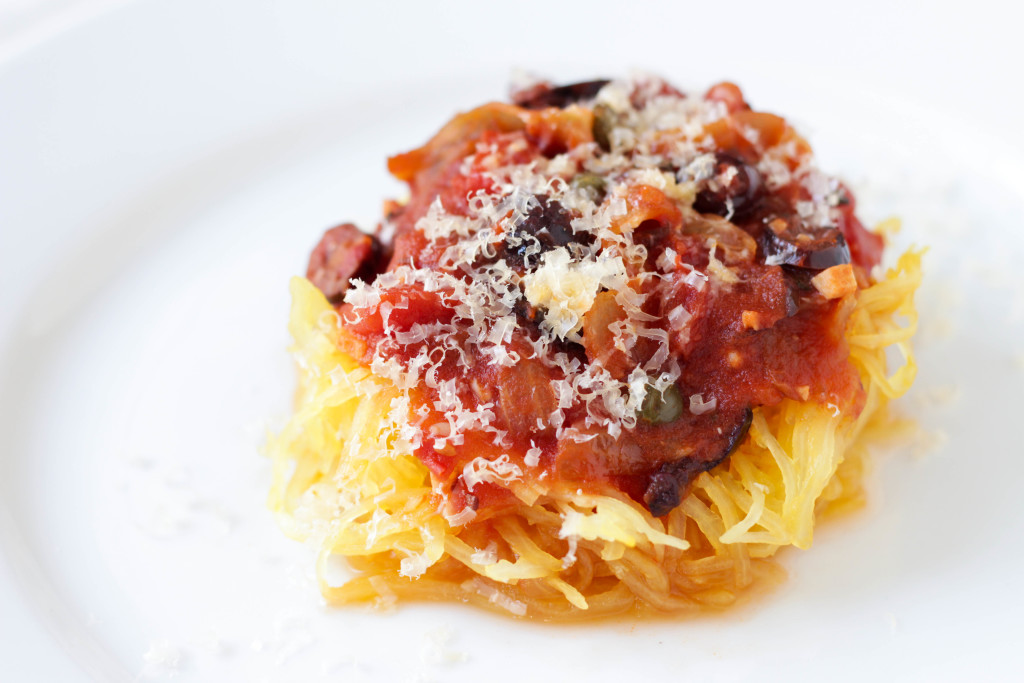 Puttanesca Sauce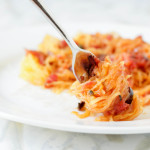 Prep time:
Cook time:
Total time:
Yield:

2-3

Difficulty:

easy

Recipe type:

main dish
Ingredients:
¼ c. olive oil

½ large onion, sliced

3 Tbsp. minced garlic

2 Tbsp. minced anchovies

1/3 cup kalamata olives, sliced

3 Tbsp. tomato paste

2 Tbsp. dry white wine

1 28-oz. can crushed tomatoes in tomato sauce

1 Tbsp. capers

1 tsp. dried basil

¼ tsp. red pepper flakes

dash of dried oregano

salt, to taste
Directions:
Heat the olive oil in a heavy-bottomed pot on medium low.
Add the onions to the pot and stir to coat. Keep the onions at low heat for 5 minutes or until they are translucent and lightly browned.
Add the minced garlic and stir until fragrant, ~30 seconds.
Add the anchovies, olives, and tomato paste and stir to mix.
Pour in the dry white wine to de-glaze the pot. Scrape up the browned bits at the bottom of the pot.
Add the crushed tomatoes in tomato sauce, capers, dried basil, red pepper flakes, and dried oregano. Stir to mix.
Cover the pot and allow to simmer at a low heat for 40 minutes to an hour, stirring once in a while to make sure nothing sticks to the bottom of the pot. (We're letting the flavors develop!)
After the sauce has been cooking for a while, try a little bit and add salt to taste.
Serve immediately or keep in an airtight container in the fridge for up to a week. (As the sauce continues to sit, it marinates itself–and usually tastes even better overnight.)
Published on by admin
Tagged: anchovies, healthy, Italian, low carb, no carb, tomatoes, vegetables