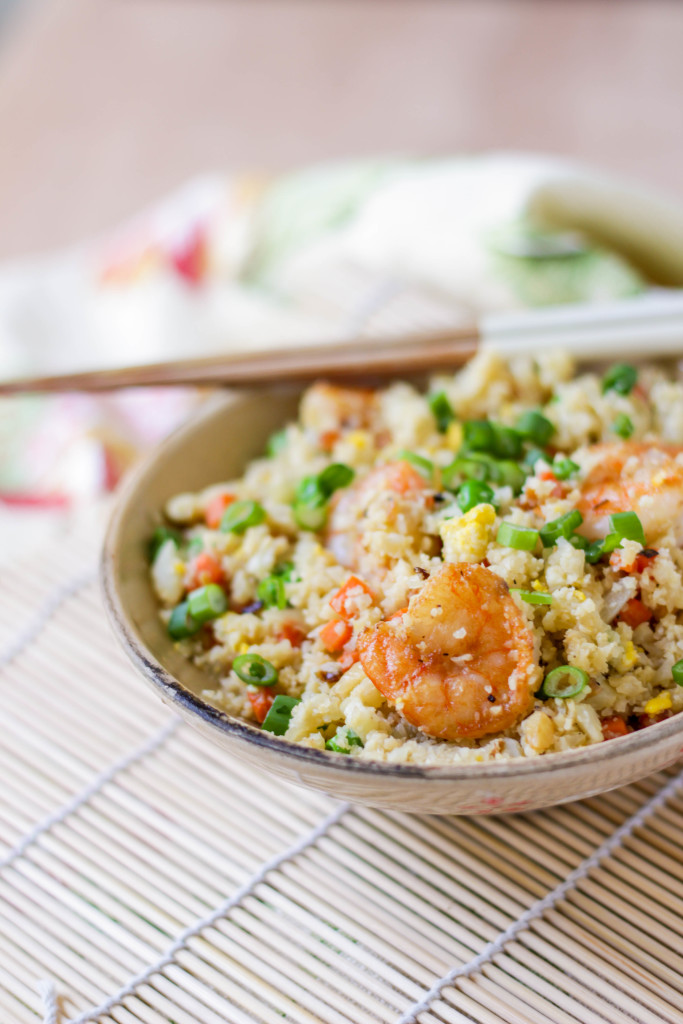 I might as well drop the pretenses and call this website Cauliflower Holiday at this point, it seems. Will I never tire of cooking with cauliflower? Well… not as long as it continues being an excellent food for a variety of diets: paleo, low-carb, Atkins, South Beach, and so on. Every time I think that an application of cauliflower will fail miserably, it passes with flying colors. Cauliflower rice is the best example of that for me. Never could I have anticipated how much I'd rely on and really enjoy eating this rice substitute even a year ago, when I initially posted the recipe.
Let's be truthful–I would still eat regular rice over cauliflower rice almost any day of the week. I grew up on white rice, and it is the staple food of both my personal culture and that of my husband's. Nothing between heaven and earth could change that. But in the interest of leading a healthier, more active lifestyle, it's really not a bad trade-off. Really! Man, am I not convincing you yet?
That picture above should do the convincing for me, even if my words keep contradicting themselves.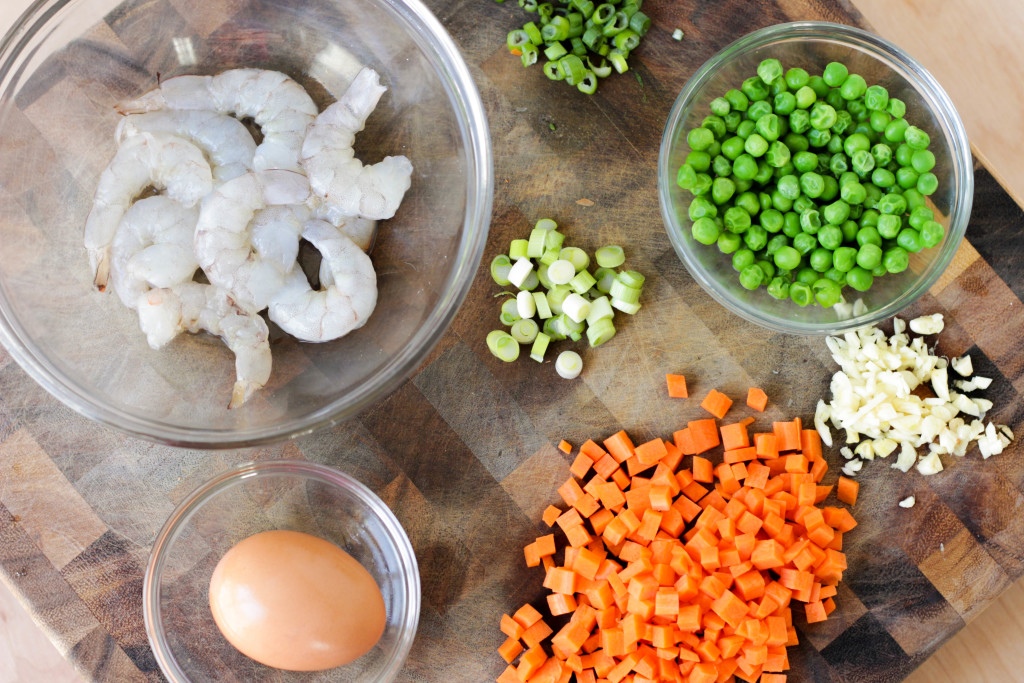 You'll notice in the recipe that instead of throwing everything in at once, as most are inclined to do with fried rice, I cook the protein elements of the dish deliberately before I add everything else. This prevents the end result from tasting homogeneous–the shrimp adds a burst of flavor, the egg adds another, and so on. It's also important to leave the shrimp undisturbed when you first place them into the pan, as the cornstarch crusts at the touch of heat and gives them that nice, golden color and slight crunch.
I also added a lot of garlic to the recipe to kick up the flavor of the cauliflower. Otherwise, its blandness would be overwhelmed with the addition of the shrimp. The soy sauce is another flavor boost for the cauliflower, but is optional if you prefer to not use any.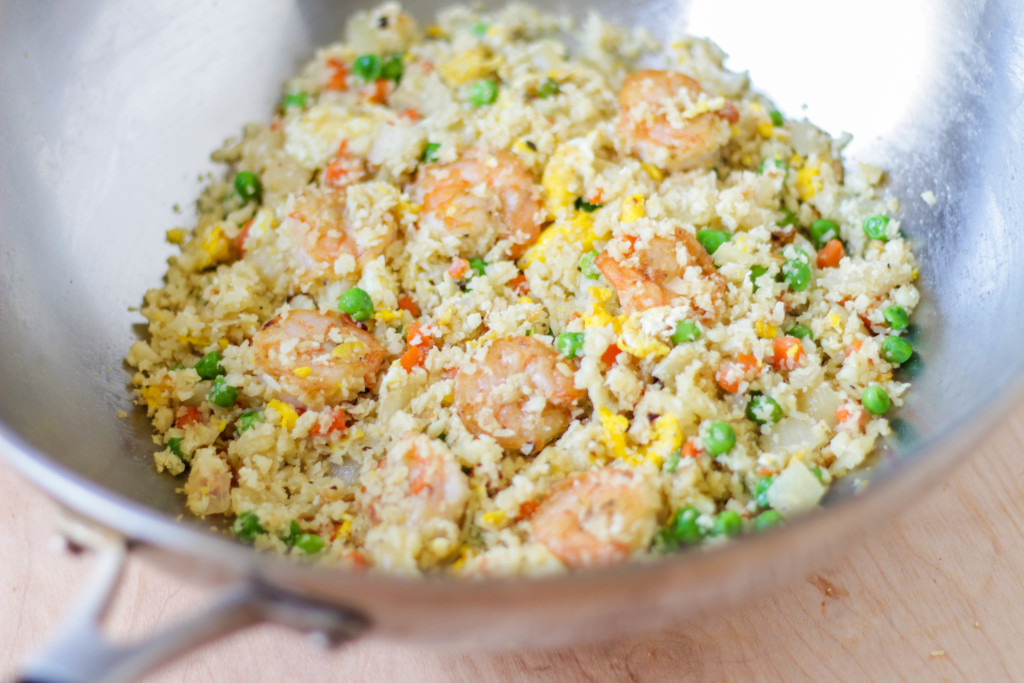 The final result is pretty amazing; everything comes together in a harmonious bite. And the last thing that comes to your mind when you eat it is "bland", "boring" or "bitter"… three common descriptions for cauliflower that I hear. The cauliflower rice becomes the glue that holds all of these separate elements together, just like regular rice. You'll be surprised at how you won't miss the addition of regular rice in this version (and you definitely won't miss the carbs).
I made a version of this without shrimp for my mother-in-law and she was surprised at how much she liked it–which I take as a compliment, since she used to make shrimp fried rice daily at their family-owned Chinese restaurant. I hope that is endorsement enough for you to give it a try! This dish is an awesome way for you to have a cheat day favorite (Chinese take-out) without cheating–and who doesn't want to have their cake and eat it, too?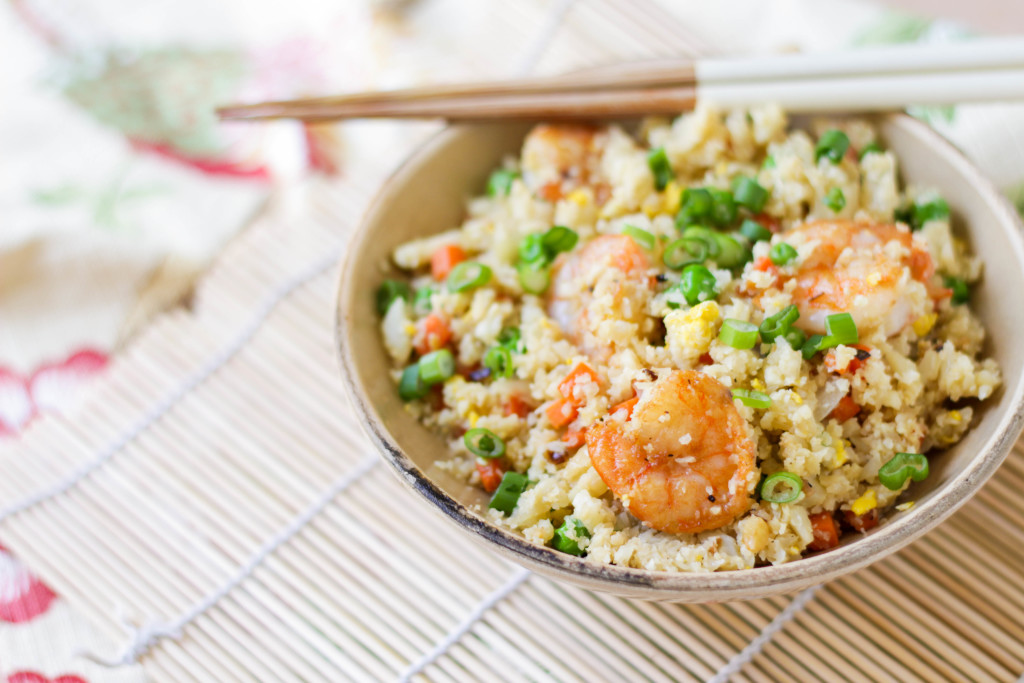 The recipe below omits the initial recipe for cauliflower rice, which you'll find here on my site.
Happy cooking!
Fried Shrimp Cauliflower Rice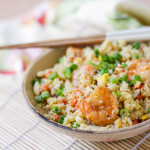 Prep time:
Cook time:
Total time:
Yield:

2

Difficulty:

easy

Recipe type:

entree
Ingredients:
10-15 raw shrimp, peeled and de-veined with tails removed

½ tsp. cornstarch

1 egg

2 c. cooked cauliflower rice (recipe link is listed above)

¼ c. frozen peas, defrosted

¼ c. frozen diced carrots, defrosted (or 1 medium carrot, diced)

2 cloves garlic, minced

1 green onion, white part and green part separated

1 Tbsp. soy sauce

1 tsp. sesame oil

canola or vegetable oil

salt and pepper, to taste
Directions:
Place the raw shrimp in a bowl and mix with cornstarch and salt & pepper to taste. Allow the shrimp to sit in the mix for at least 10 minutes. (I usually prep the shrimp, then do the rest of the prep work which ends up being 10+ minutes anyway.)
Heat your frying pan or wok to medium w/ 1 Tbsp. of cooking oil.
When the oil is hot enough, place the shrimp in the pan in a single layer and allow to cook for a minute or two undisturbed.
Flip the shrimp and cook for another minute or two.
Remove the shrimp from the pan and onto a plate. Pour another Tbsp. of oil into the pan and allow the oil to heat up again.
Crack the egg into the pan and let it cook for half a minute, then add salt and pepper to taste and scramble the egg with your spatula or spoon.
Remove the egg from the pan and place it on the same plate as the shrimp. Add another Tbsp. of oil into the pan and crank the heat to medium high.
When the oil is hot, add the minced garlic and white part of the green onion and cook until fragrant, ~15-20 seconds. Add the carrots and peas and stir to mix. (If you use fresh carrots, allow the carrots to cook for a minute before adding the peas.)
Add the cauliflower rice and stir to mix well.
Add the shrimp and egg on your side plate and mix again.
Add the soy sauce and sesame oil and stir to mix. Continue mixing until the cauliflower rice has heated up, about 3-4 minutes.
Remove from the wok or pan and serve immediately.
Published on by admin
Tagged: Asian, cauliflower, chinese, healthy, low carb, seafood, shrimp