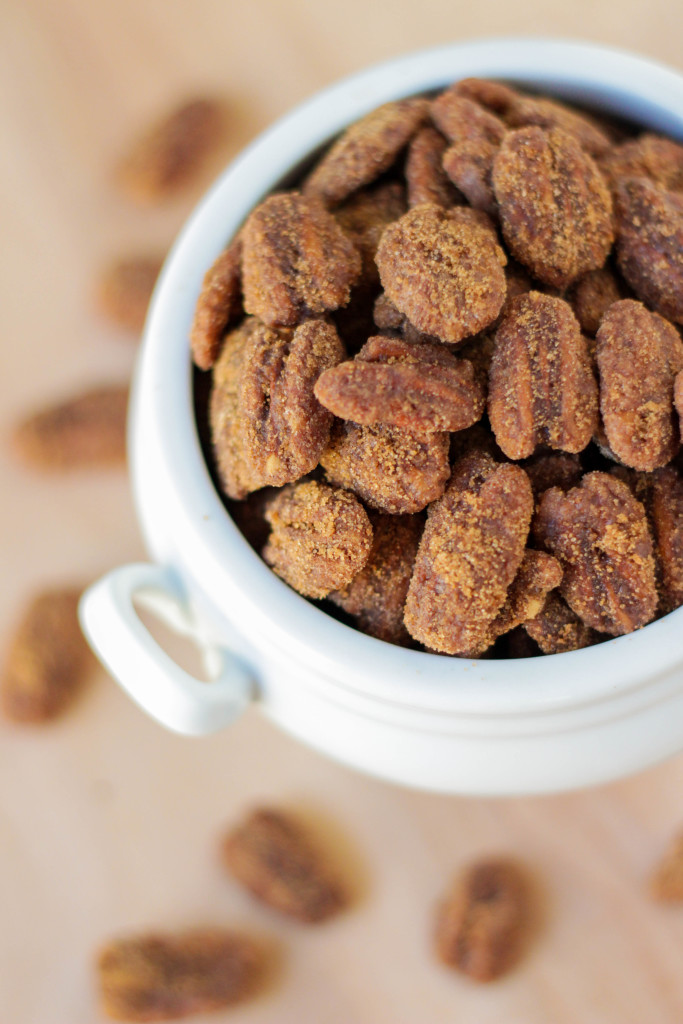 Every holiday season, my family and I would inevitably end up at an overcrowded mall in a quest for Christmas presents. And every time, I would notice a little stand that proudly proclaimed "HOLIDAY NUTS" in big red letters… with an aroma that still brings a smile to my face whenever I reminisce. We would order a paper cone filled with cinnamon-sugar spiced nuts and devour the entire thing before making it back to our car. As I got older, I tried to savor them by eating them slowly; I would tell myself that I needed to make them last, since they only came once a year.
Well… I suppose it's better that I've only now learned how to make these pecans, because I have much more self-restraint now as opposed to my childhood. Even with said restraint, I can barely keep myself from eating this entire batch in one sitting!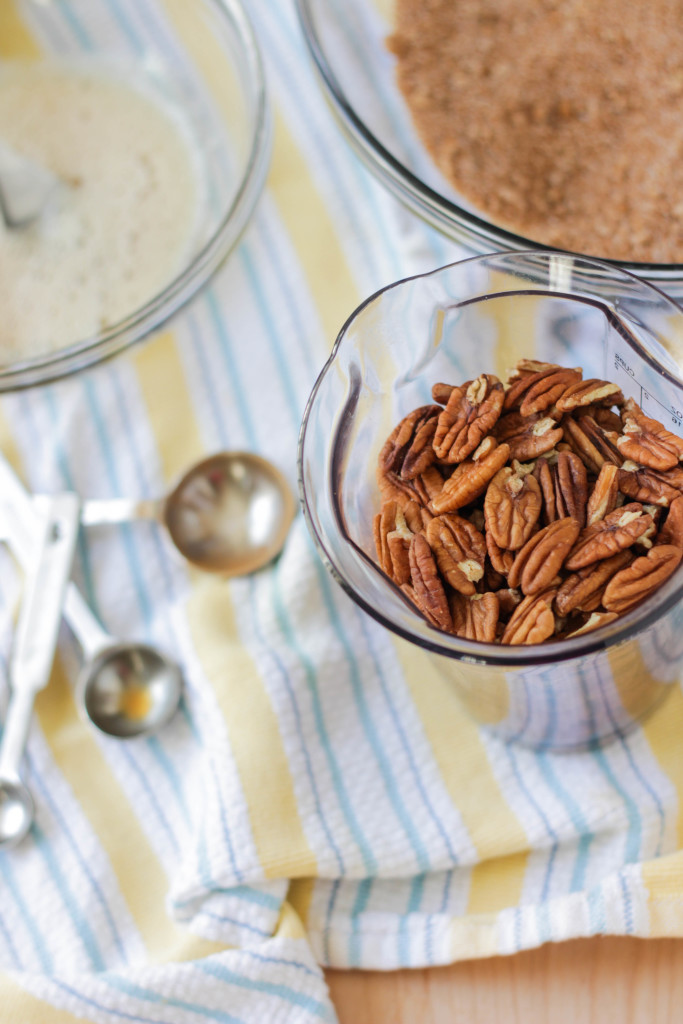 The only difficult part about this recipe is patience, because it requires a few hours in the slow cooker to get to its crunchy, delectable best. But I promise you–it's worth the wait. If I can wait all year for them, three hours is no big deal for you… right?
Not only are these crunchy cinnamon pecans delicious, but they're the equivalent of lighting a warm cinnamon-sugar candle in your kitchen. The scent of cinnamon lingers both during and after you've cooked these to perfection.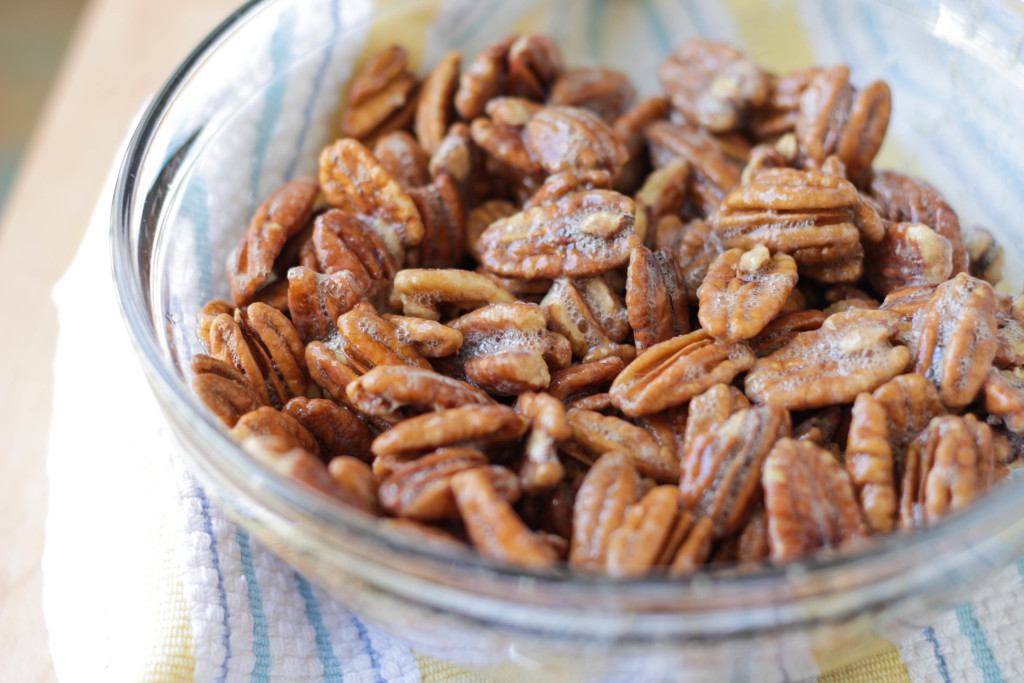 It's very important to stir the pecans in the slow cooker every half hour to keep the pecans from sticking to each other. And definitely don't forget to spray the slow cooker with non-stick before you throw in the pecans! It's nothing that water won't be able to wash out after the fact, but pecans sticking to the sides of your pot are more likely to break off–and scraping pecans off the sides and bottom is arduous work.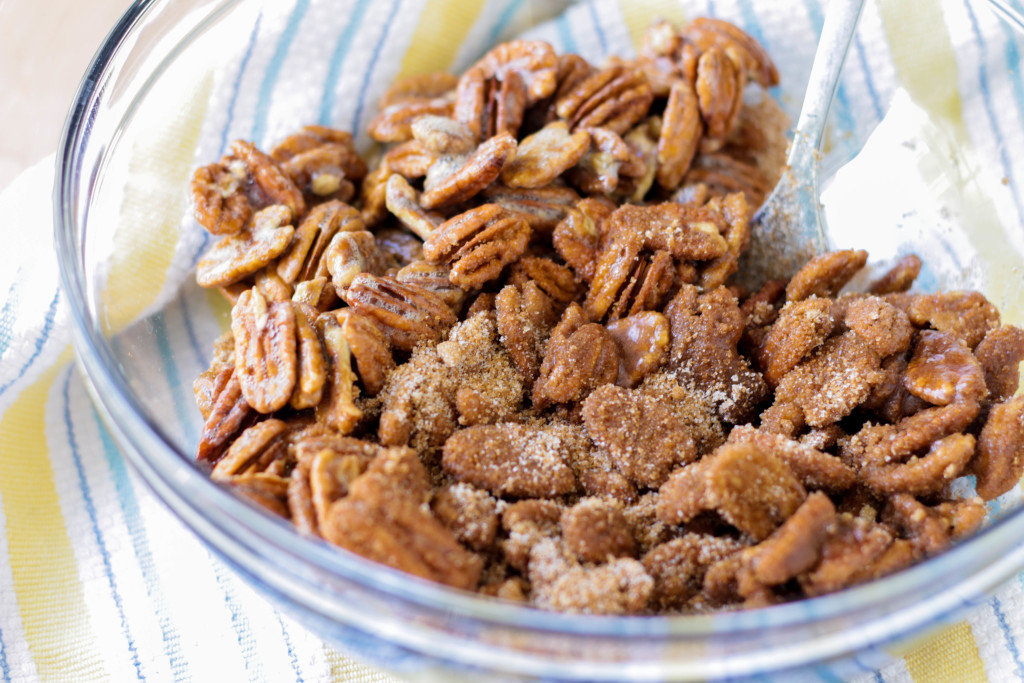 I've made these with pecan halves and pecan pieces before, and I definitely recommend using the halves (unless you like digging the bowl for tiny pecan pieces). A friend mentioned that the pieces would make a great ice cream topping, however… and I thought that was worth mentioning! Whether you serve these as finger food or as a topping, I'm sure you'll love these just as much as I do.
I'm just grateful I don't have to wait for Christmas to eat these… but now I have to figure out how to tell myself to stop making them!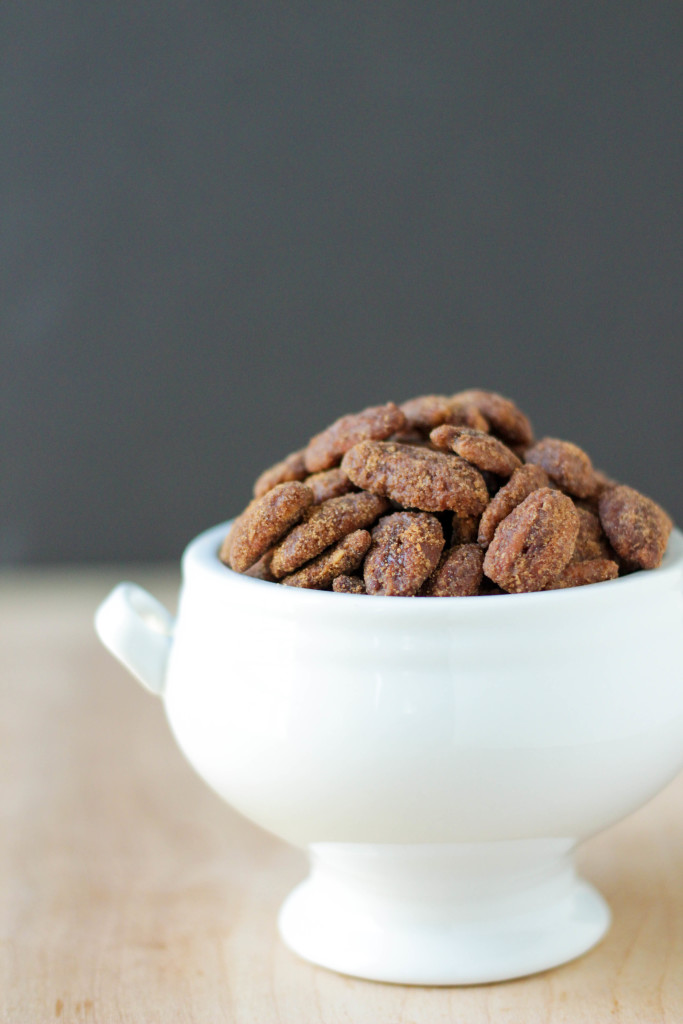 Crunchy Cinnamon Pecans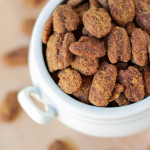 Prep time:
Cook time:
Total time:
Yield:

4

Difficulty:

easy

Recipe type:

dessert
Ingredients:
2 c. unsalted, raw pecans

1 egg white

1 tsp. vanilla extract

½ c. white sugar

½ c. light brown sugar

1 rounded Tbsp. ground cinnamon

¼ tsp. salt
Directions:
Whisk egg white and vanilla extract with a fork until frothy.
Toss the pecans into the egg white mixture and mix well to coat–get all those nooks and crannies!
In a separate bowl, mix the sugars, cinnamon, & salt.
Toss the wet pecans into the dry mixture and mix well to coat.
Spray non-stick oil on the inside of the slow cooker pot to prevent sticking.
Place the pecans into the slow cooker pot and set on low heat.
Cook for 3 hours minimum (and up to 4 hours max), stirring every half hour. It will start to dehydrate and stick to the sides a little–that's okay!
When the pecans look sugar-crusted, they're done. Spoon them onto a plate or pan–whatever allows them to cool in a single layer. Don't worry, it won't take long.
When the pecans are slightly warm to the touch, they're ready to be served!
Crunchy cinnamon pecans can be saved in an airtight container for up to a week before they start tasting stale.
Published on by admin