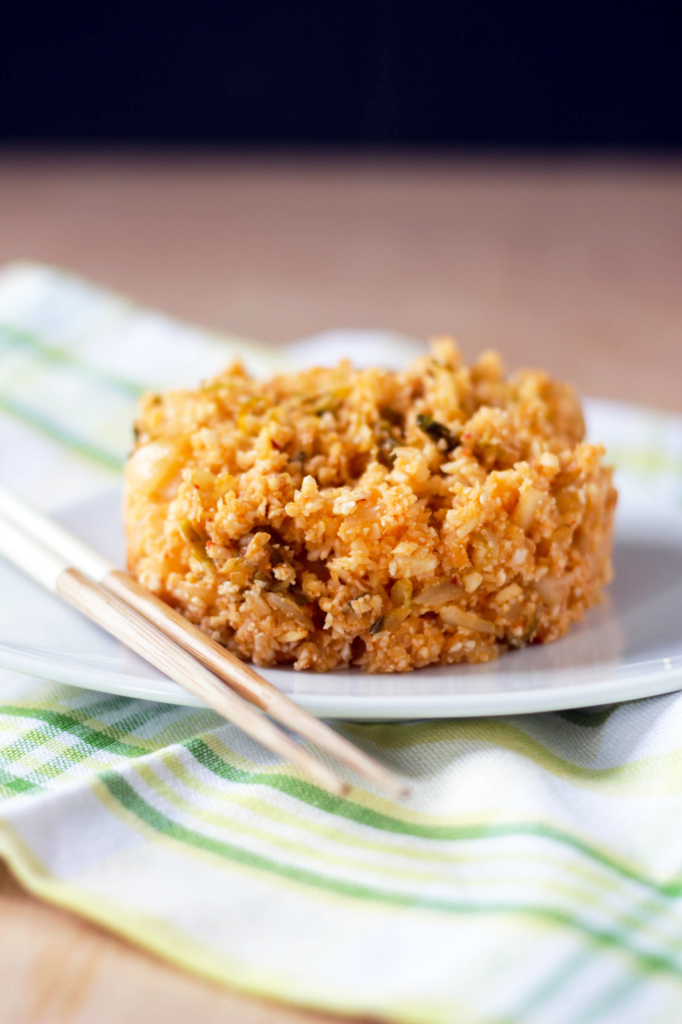 James & I have been a pair of jet-setters over the last year and a half; thanks to the lax hours he currently has during research, we have pretty open schedules to travel whenever and wherever we want. After having so little of his time during the first two years of his residency, these months together have been amazing all-around… that is, except for our diets.
Since the two of us are so food-centric, we absolutely insist on eating well and eating often when we go on trips. (And I do not mean well for our well-being, unfortunately.) When we come home, we always come home a little heavier and full of remorse. 'Was that burger really necessary?' 'Maybe I shouldn't have eaten a burrito and three tacos plus all of those cocktails.' But alas, remorse does not a flat stomach make.
Thankfully, I've got a few recipes up my sleeve that we jump back to whenever we're on the rebound from our trips (and our wrecked diets). This kimchi cauliflower rice recipe definitely tops his list of favorites–in fact, I don't think I've ever had enough leftover for the next day!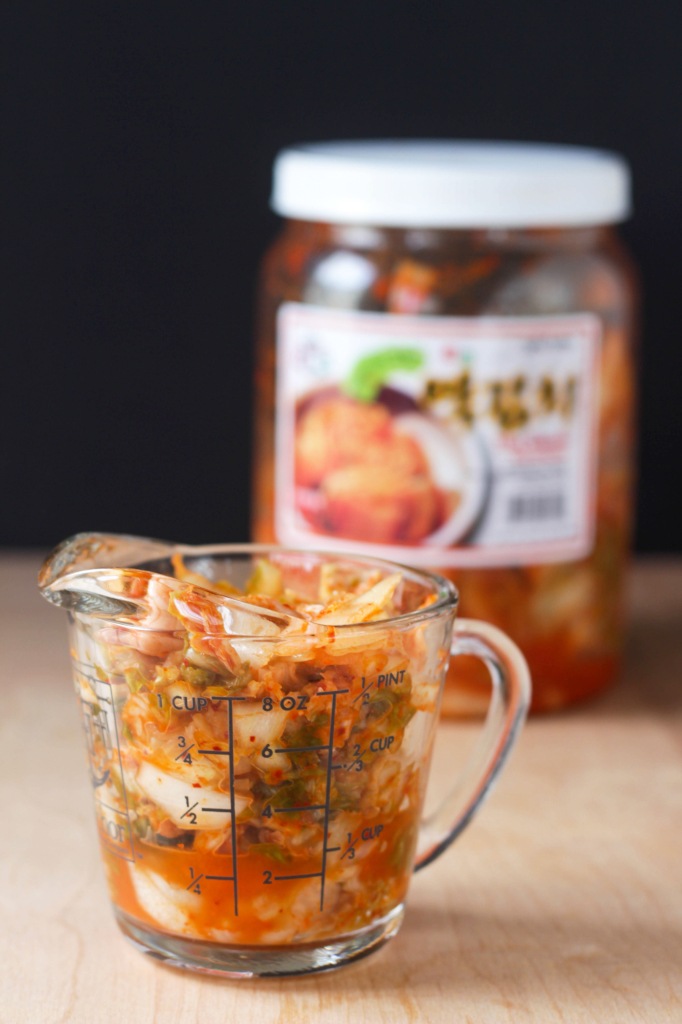 If you were to scroll down the list of recipes I have on this site, I'm sure you'd notice that kimchi is a repeat guest star… I can't help it, I'm an addict. Before I decided to throw cauliflower rice into the mix, I made kimchi fried rice more often than I'd like to admit. (With Spam, of course! Best flavor combination ever.) But now that I've found cauliflower rice to be a good substitute for regular rice, I feel much less guilty about indulging.
The gochujang (Korean red pepper paste) is optional–but if you have it, I would encourage you to add it where the recipe directs you to do so. It adds a nice, sweet spiciness to the sour flavor of kimchi… gives it some heat and complexity. The cheese at the end is 'crazy' (according to James) but since I love cheese in any iteration and with any food, I happen to think it tastes delicious. Of course, if you think otherwise, feel free to leave it out. I have actually added Spam to this version of kimchi fried 'rice' and been quite satisfied with the results. Certainly not the healthiest version of the dish, but if you're looking to avoid carbs but are less concerned with fat or sodium… the world is your oyster.
This dish was hard to photograph–no matter what way I plated it, it looked like vegetable scramble. But I guarantee that it tastes fantastic, despite its humble appearance. Hopefully, you give it a try!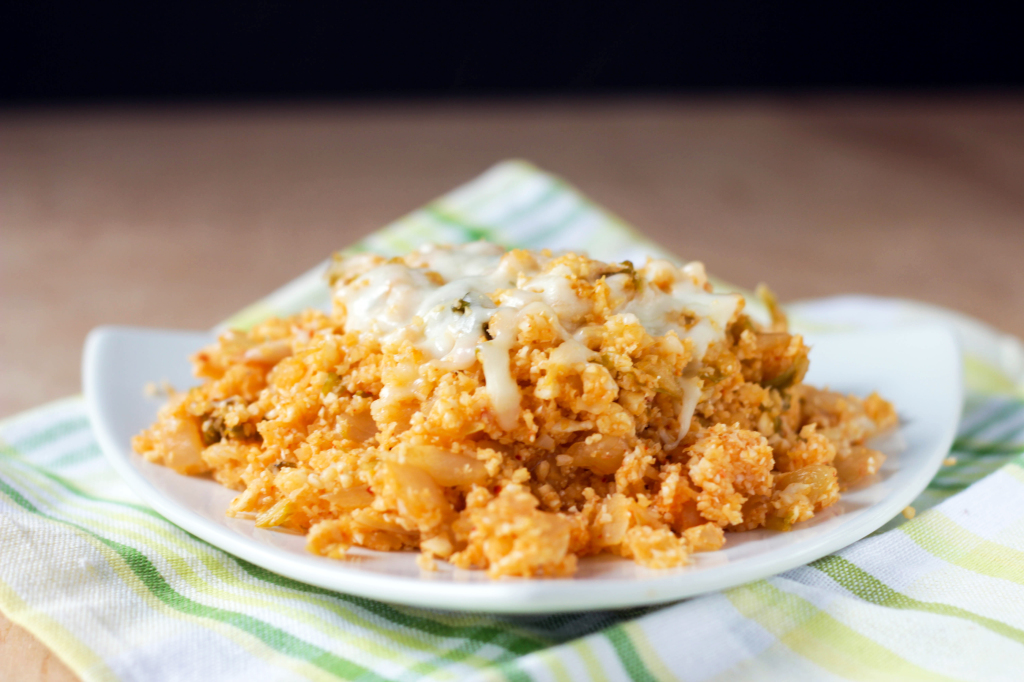 Kimchi Cauliflower Rice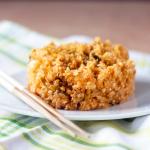 Prep time:
Cook time:
Total time:
Yield:

4

Difficulty:

easy

Recipe type:

side dish
Ingredients:
1 head of cauliflower, washed and trimmed of the stem

1 Tbsp. olive oil

1 medium onion, diced

2 Tbsp. unsalted butter

1 c. kimchi, diced into smaller (½ in.) pieces

1 Tbsp. gochujang (optional)

cheese (optional)
Directions:
Chop the cauliflower into 1-inch pieces and place into the food processor. (It may take 2 rounds depending on the size of your processor and the size of the cauliflower head.)
Pulse the blade of the food processor until your cauliflower has reached a couscous consistency.
Place a frying pan on medium heat with 1 Tbsp. olive oil.
When the oil has heated up, toss the diced onion into the pan and cook, stirring occasionally, until the onion is translucent.
Add the cauliflower 'rice' and stir until mixed well.
Cover the pan with a lid or with a sheet of aluminum foil and turn the heat to low. Cook for 10 minutes, stirring once or twice to ensure the cauliflower doesn't stick to the bottom of the pan.
When the cauliflower rice is finished, pour the rice into another bowl to cool and give the pan a quick rinse.
Place the pan back on medium heat with the unsalted butter.
When the butter has melted, add the diced kimchi (and gochujang, if you want to use it) and cook, stirring occasionally.
Once the liquid from the kimchi has mostly disappeared and the cabbage looks more translucent, pour the cauliflower rice back into the pan and mix thoroughly until everything is evenly coated.
Serve and enjoy! Can also be enjoyed with melted cheese on top, which I recommend.
Published on by admin
Tagged: Asian, cauliflower, easy, gluten-free, healthy, kimchi, Korean, low carb, vegetables, vegetarian