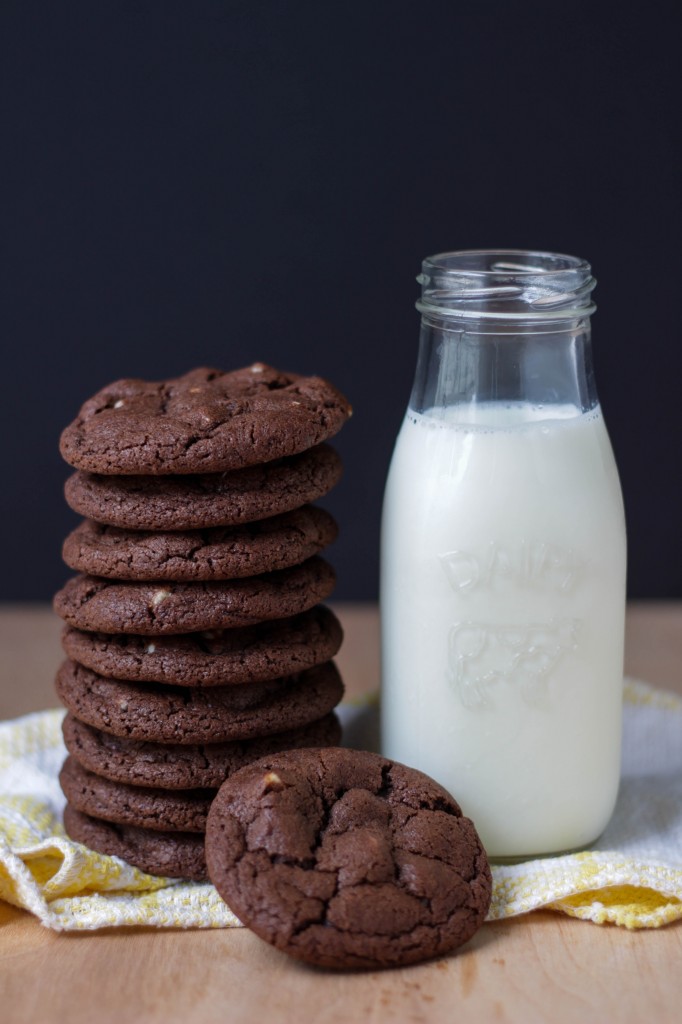 I didn't choose the baking life… the baking life chose me.
Seriously–for someone who doesn't really enjoy baked goods that much, I sure make a hell of a lot of them. And now that I bake as an almost-full time job, I am a bona fide slave to the oven. You'd think that I'd keep a large radius of distance between me and my new master on my days off, right? Alas, my friend: that is incorrect!
But I don't mind jumping into my own kitchen after leaving the kitchen at work to prepare more food, which I suppose speaks to my passion for food and cooking. It's still just as fun to me as it was before I started working at this bakery; perhaps even more so since I have complete control over what I make in my own house. When I'm at work, I'm following someone else's recipes and directions–which, while educational, certainly doesn't offer the same kind of creative stimulus that making recipes at home creates.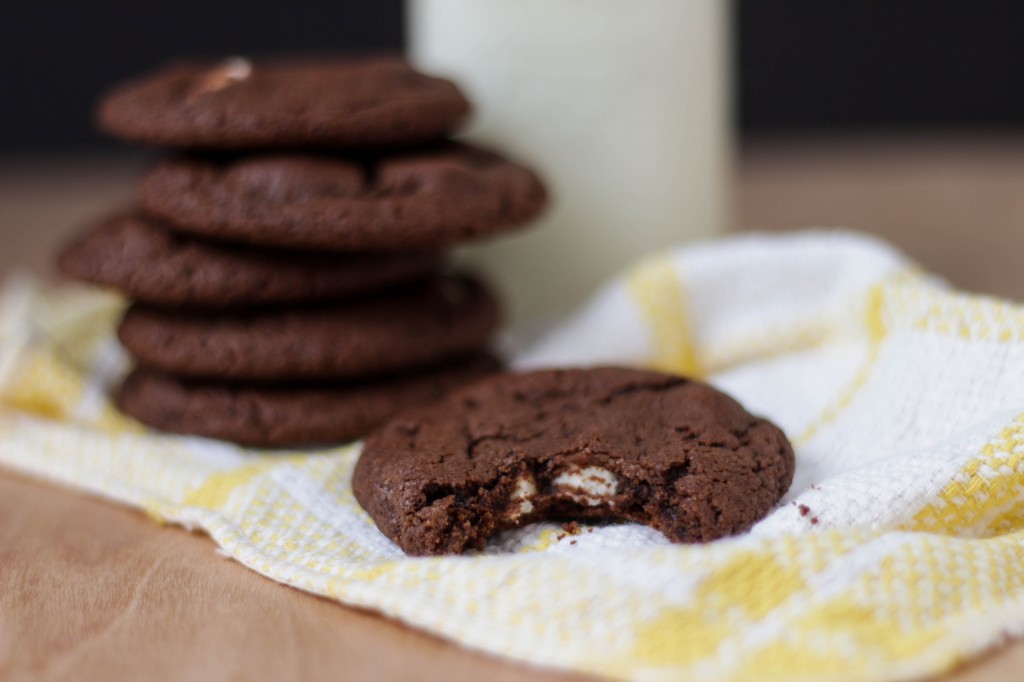 So how is baking for a living going for me? Friends ask me whether I still enjoy baking, and the answer is yes. Whether I'm at work or I'm at home, in the end, I'm still making food for others' enjoyment–and that's why I find it so gratifying.
Speaking of others' enjoyment, that is definitely the purpose of these cookies. I can eat maybe one or two of these before I'm chocolate-ed out; based on the reception these had at a recent game night with friends, I am in the minority. I'm normally not a fan of white chocolate, but I really enjoy it in small bursts with this very chocolate cookie. And the best part about this recipe? It makes cookies with crispy edges and a chewy center. Definitely best on the day they're baked, but you'll still find them delicious for up to a week.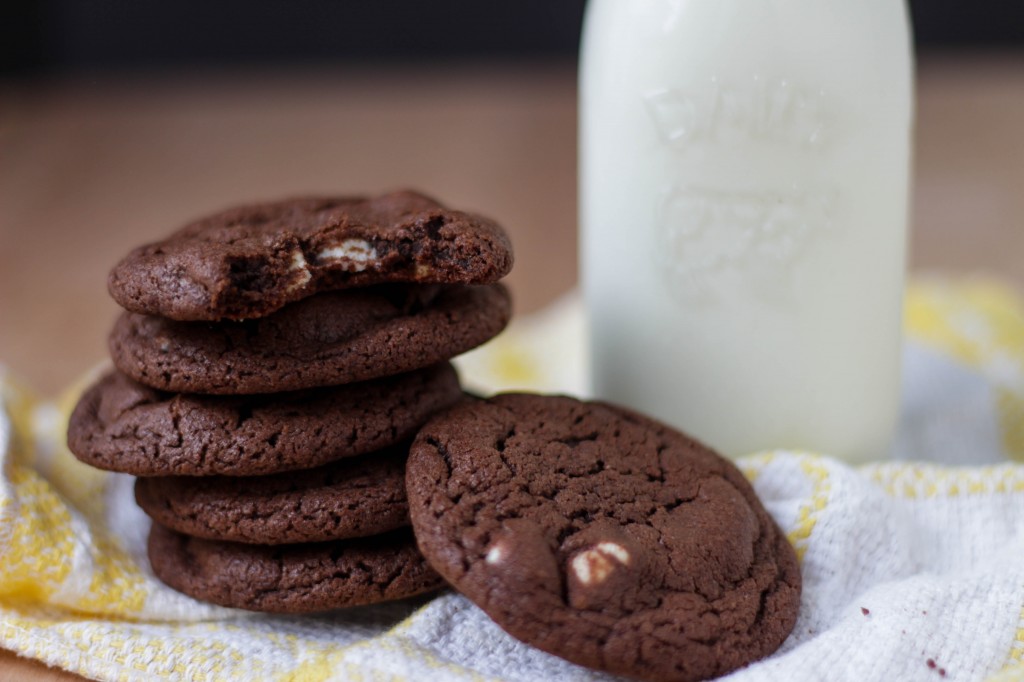 Recipe adapted from Remodelaholic.
White Chocolate Chip Fudge Cookies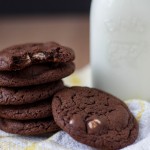 Prep time:
Cook time:
Total time:
Yield:

20-24 cookies

Difficulty:

easy

Recipe type:

dessert
Ingredients:
1 c. + 1 Tbsp. AP flour

6 Tbsp. unsweetened cocoa powder, sifted

½ tsp. baking soda

¼ tsp. salt

1 stick + 2 Tbsp. unsalted butter at room temperature

1 c. white granulated sugar

¼ tsp. espresso powder (optional)

1 large egg

1 tsp. vanilla extract

1 c. white chocolate chips
Directions:
Preheat the oven to 350ºF. Line a cookie sheet with either parchment paper or a silpat mat.
Mix the flour, sifted cocoa powder, baking soda and salt into a separate bowl and whisk to combine. (If you have espresso powder, add it to this dry mix.) Set aside.
Using a hand mixer or stand mixer with a paddle attachment, combine the butter and sugar and mix at medium-low speed for 2 minutes or until fluffy and lighter in color.
Add the egg and vanilla extract and mix until combined.
Add the dry mix into the mixer bowl in 2 installments. The batter will be relatively thick, so make sure to use a spatula to scrape the sides and paddle down to ensure even mixing.
Add the white chocolate chips and stir in using a wooden spoon–don't use a mixer.
You can either refrigerate the dough for 20-30 minutes before working with it or work with it right away–the dough will be less sticky if you cool it first, but I didn't find it to be a big obstacle.
Take ~2 Tbsp. of the dough and roll it between your palms to create cookie dough balls. (Or you can use a cookie dough scoop if you have one.) Place these balls on the cookie pan 2 inches apart from each other.
Use a small spoon or your hand to press lightly on the tops of each cookie dough ball to flatten it slightly. This will encourage even spreading of the cookie as it bakes.
Place the sheet in the oven and bake for 8-10 minutes, or until the sides of each cookie look firm.
Remove the pan from the oven and allow the cookies to bake on the sheet for an additional minute before transferring to a cooling rack.
Once the cookies are on a cooling rack, allow them to cool down completely before eating.
Cookies can be kept in an airtight container for up to a week.
Published on by admin
Tagged: chocolate, chocolate chip, cookies, dessert, vegetarian, white chocolate