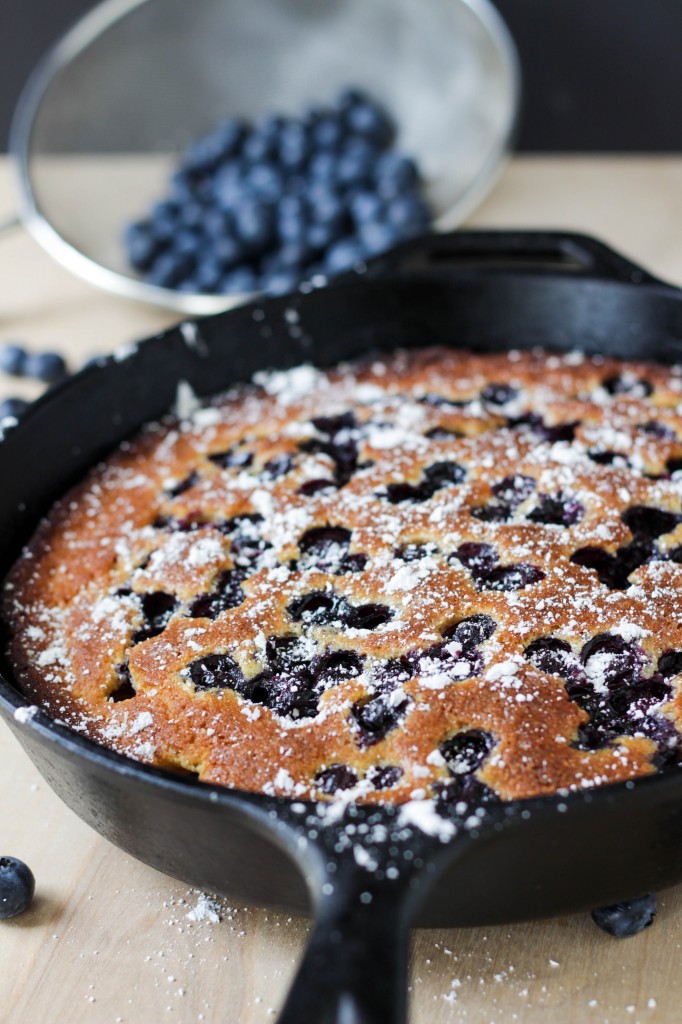 Trying to bake or cook in someone else's kitchen is always a tough order. I wanted to make something fresh for my friend's Memorial Day BBQ, but was baffled as to what I could bake without sacrificing quality or consistency. Fortunately, I remembered that I had this recipe up my sleeve and came prepared… or so I thought.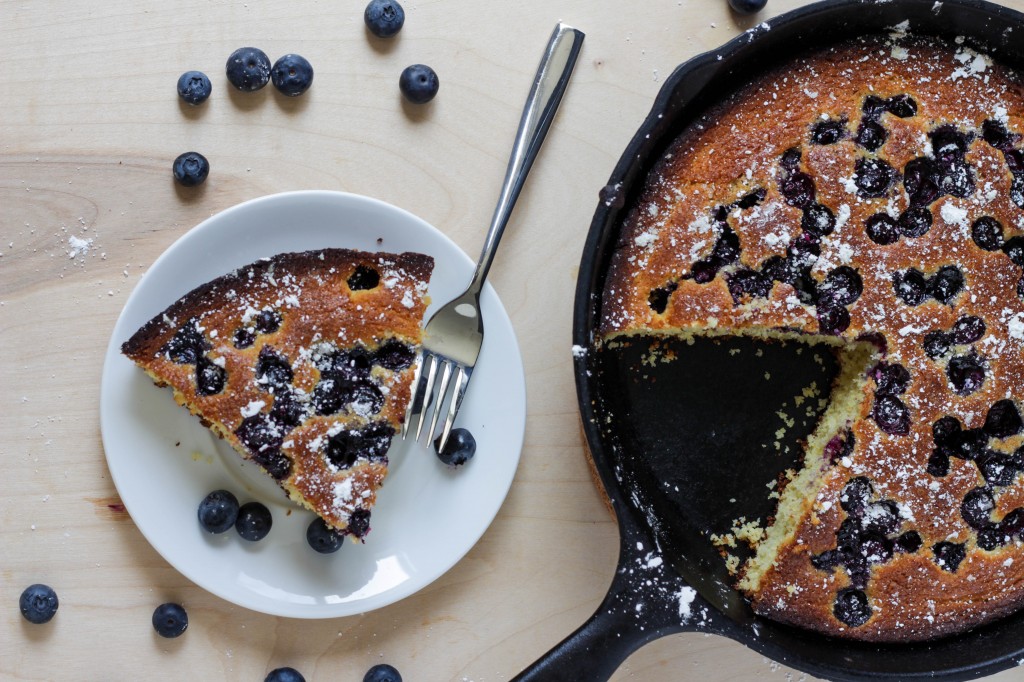 When I came in with my skillet and voiced my intentions to bake a cake in said skillet, everyone joked about how they wanted to have the cake to themselves (or at least a good half of it). The host talked up my baking skills–to my embarrassment–and pretty soon, a genuine excitement around how the cake would turn out was buzzing in the air. Imagine my dismay, then, in the midst of this anticipation… to realize that I had left out a large portion of the sugar when mixing the batter! I can't even tell you how or why–just that I can be a bit addle-brained once in a while. The exact moment of realization was horrible: as the batter refused to spread evenly onto the skillet, I realized that something was missing and gasped aloud. In a tizzy, I threw in the sugar and stirred vigorously, hoping that it wasn't too late to salvage the cake.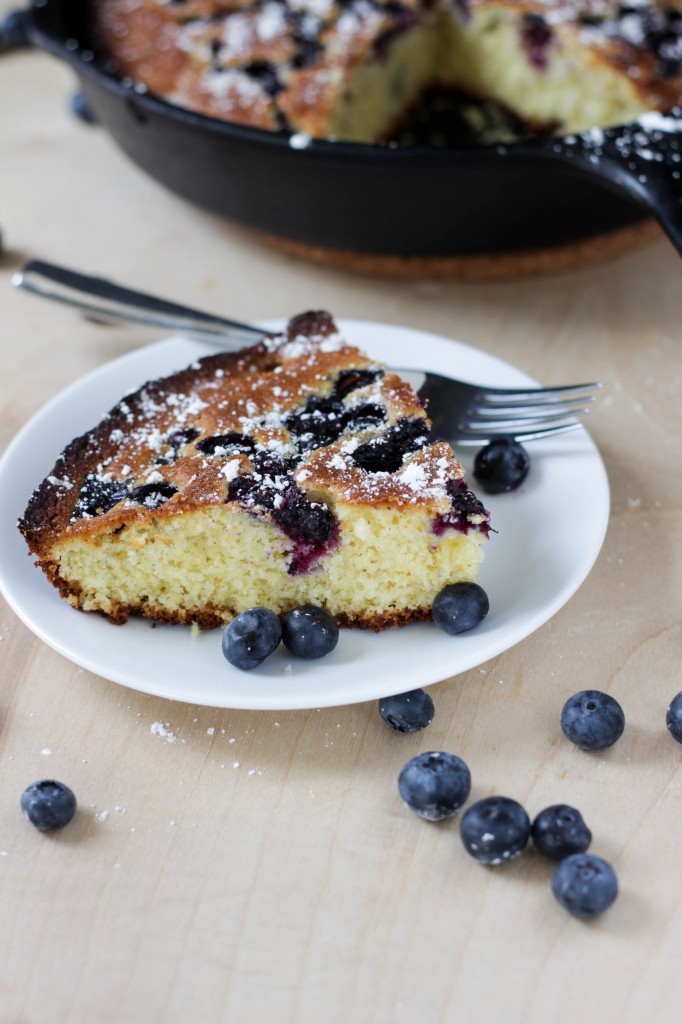 And guys… it was fine. The cake was demolished in record time. The only sign that I had deviated slightly from the recipe was the cake's tendency to stick to the skillet a little more than usual… but the flavor itself was still spot-on. Thank goodness! The moral of this story is: don't be like me. Well, probably more along these lines: this recipe is so easy and forgiving that you can mess up, sloppily fix it and still end up with a damn good cake for a summer BBQ. Hooray!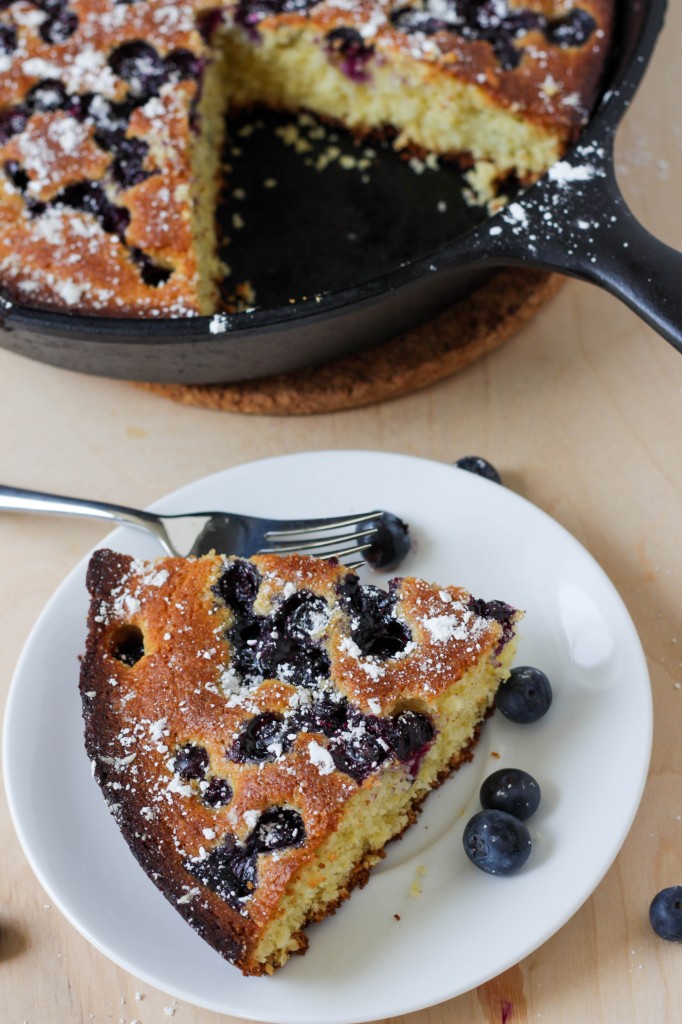 I found the original recipe far too sweet for my tastes and dialed back the sugar to allow the fresh blueberries to sweeten the cake on their own. The turbinado sugar is mostly for show, but adds a nice, subtle crunch of flavor to each bite. And the best part about this recipe is how versatile it is–raspberries, blackberries, strawberries… even a mix of berries will taste wonderful on this cake! I've made it several times with a varying mix of the above and it's turned out quite well. If you don't have a cast-iron skillet, you can still use a glass or aluminum pan–I've provided alternate instructions below. I definitely recommend using the skillet if at all possible; just make sure that the skillet is seasoned before you attempt to bake in it, or you'll have quite a time trying to scrape all of the cake from the pan.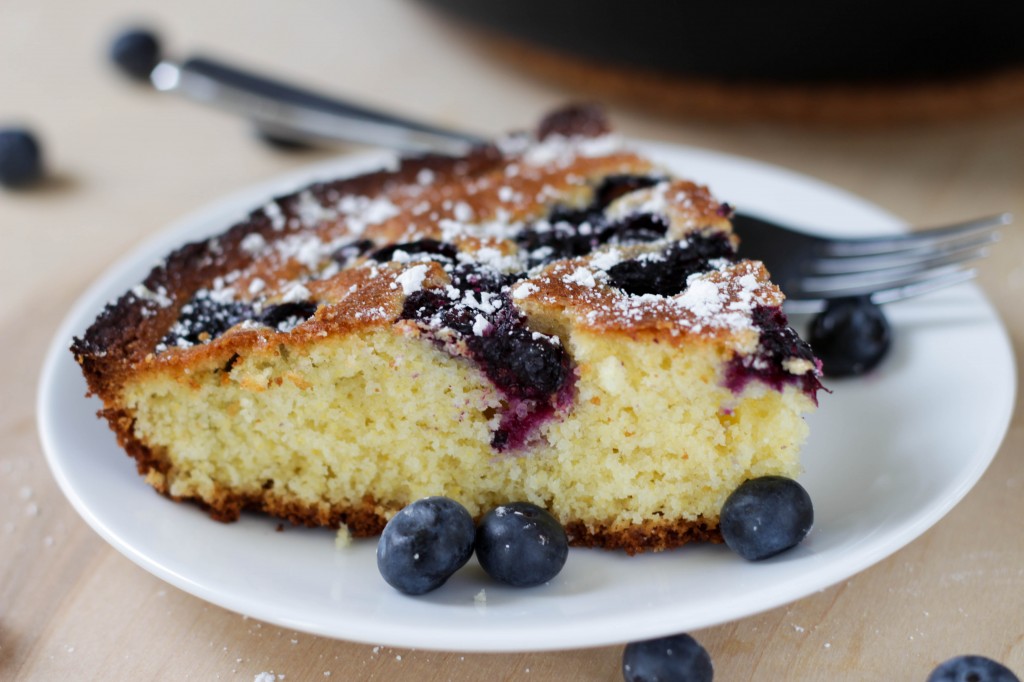 Recipe adapted from Martha Stewart Living.
Blueberry Cornmeal Cake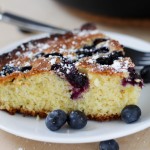 Prep time:
Cook time:
Total time:
Yield:

8

Difficulty:

easy

Recipe type:

dessert
Ingredients:
1¼ c. AP flour

½ c. yellow cornmeal

3/4 c. white sugar

2 tsp. baking powder

1 tsp. salt

½ c. buttermilk, room temperature

2 eggs, room temperature

1 stick or 8 Tbsp. unsalted butter

½ tsp. pure vanilla extract

1 c. blueberries, washed and loosely packed

1 Tbsp. turbinado sugar, optional
Directions:
Preheat your oven to 375ºF.
Combine all of the dry ingredients (flour, cornmeal, white sugar, baking powder and salt) in one bowl and mix well.
Take 7 Tbsp. of unsalted butter and microwave for 30-49 seconds, or heat on a stove-top until the butter has melted.
Combine the melted butter with the buttermilk, eggs and vanilla extract in a separate bowl.
Add the dry ingredients into the wet ingredients (I find that adding a third of the dry into the wet then mixing produces a more consistent batter). A few lumps are okay!
Place the remaining tablespoon of unsalted butter on your cast-iron skillet and heat on the stove until the butter has melted. Swirl to coat the pan's surface with the melted butter. (If you are using a glass or aluminum pan to bake your cornmeal cake, skip this step and spray your pan with non-stick instead.)
Pour the cake batter into the skillet. The batter should spread evenly around the skillet–if not, turn the skillet to coax the batter for an even coat. (If using a pan, use a spoon or spatula to evenly spread the batter.)
Top the surface with blueberries.
Sprinkle with turbinado sugar, if you've decided to use it.
Place the skillet in the oven and bake for 35-40 minutes, or until you see the top start to become golden-brown.
Remove from the oven and allow to cool for at least 20 minutes before serving!
This cake is best on the day it's made, but can be made earlier in the day and re-heated in the skillet right before serving (250ºF for 5-7 minutes).
Published on by admin
Tagged: blueberries, cake, cornmeal, dessert, easy, sweet, vegetarian