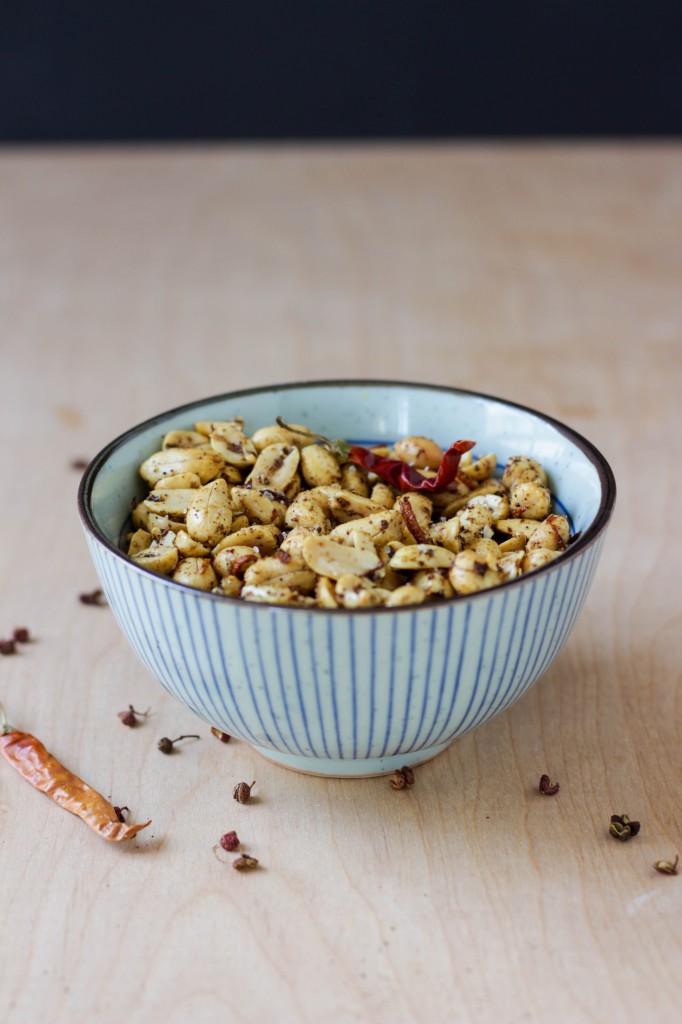 We were hanging out at a friend's house playing board games when hunger struck–painful and relentless, as always. Since it was already nearing the wee hours of the morning, she jumped up to take a peek at her pantry and found a bag of Sichuan peanuts from the local Asian market.
I was wary at first–I'm a fan of heat, but the word "Sichuan" (or Szechuan) has always been a red flag. I can handle spicy, but can I handle Sichuan spicy? As soon as I took my first bite, however, all of my fears dissipated and were replaced by my need to eat the entire bag. My tongue and then my entire mouth went numb, and I was still as happy as a clam. I devoured the peanuts dutifully, as if they were an additional objective to winning the game.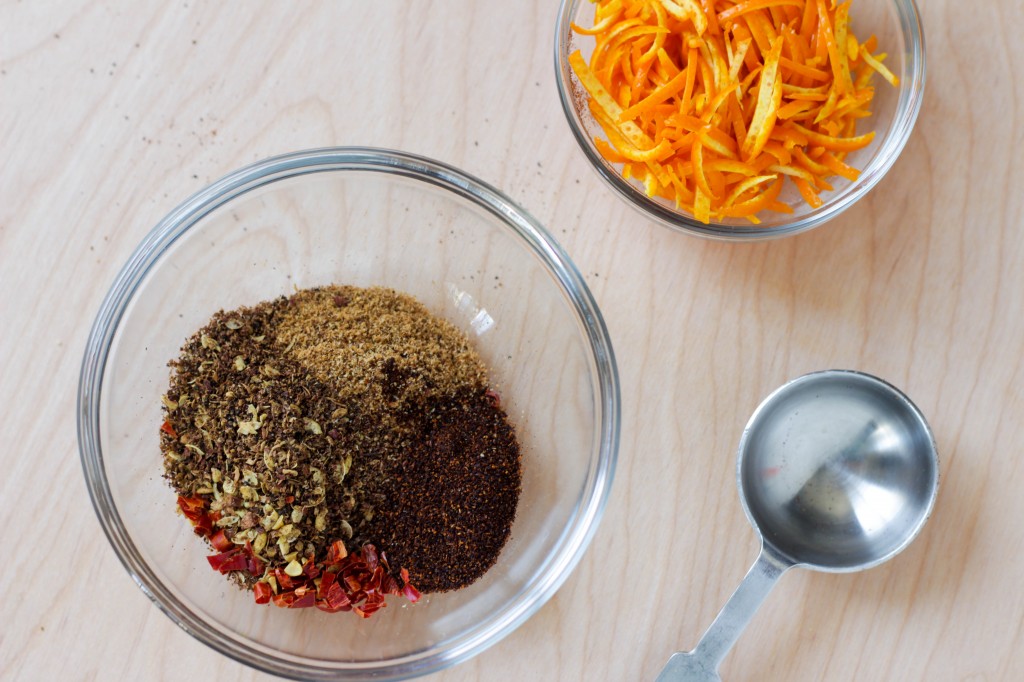 Sichuan flavors are bright, unapologetic and brash–the dishes are almost always spicy, but it would be insulting to say that Sichuan cuisine is a one-trick pony that only relies on heat to convey its flavor. The red oil that is so easily recognized in many Sichuan dishes is a rich mixture of cardamom, star anise, five spice and Sichuan peppercorn–as well as the tried-and-true aromatics of garlic and ginger. The Sichuan peppercorn is the reason that your mouth numbs and tingles after a few bites–hence its literally translated name "prickly ash".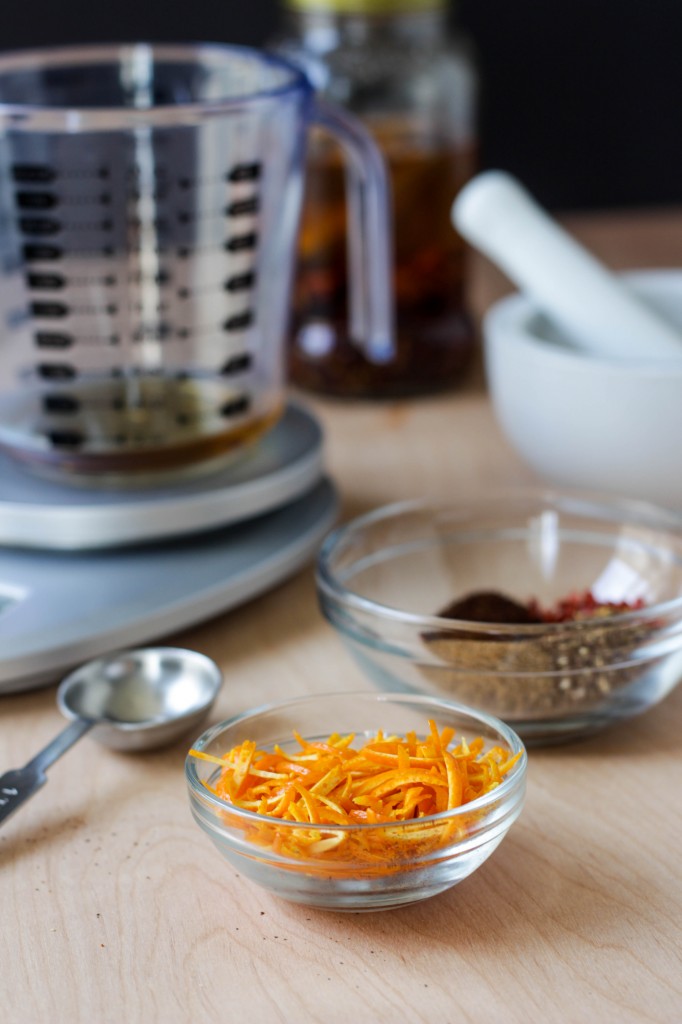 James and I found the bag of Sichuan peanuts at the store shortly afterward, but I wanted to try making it on my own–and I think I've found a worthy home-made alternative to the store brand, minus the inevitable MSG and additives that are usually included in most snack foods. I've even added orange peel, which brightens the flavor of the peanuts and adds a sharp, almost floral contrast to the spiciness of the peppercorns.
I've made this dish twice now, and I need to emphasize the importance of using kosher salt or a finely-ground salt; otherwise the peanuts are spicy but bland. If you want a little bit of heat but not a lot, reduce the number of dried chilies and peppercorns. Lastly, I should note that you're not going to easily find Sichuan peppercorns at your local grocery store; you'll probably need to head over to a specialty spice store, Whole Foods, or a local Asian market. (I recommend the latter; the prices will be much more reasonable.) This is a great snack for guests–and a better alternative to potato chips if you're a snacker. I personally enjoy them while playing games myself… and even more so when I win them!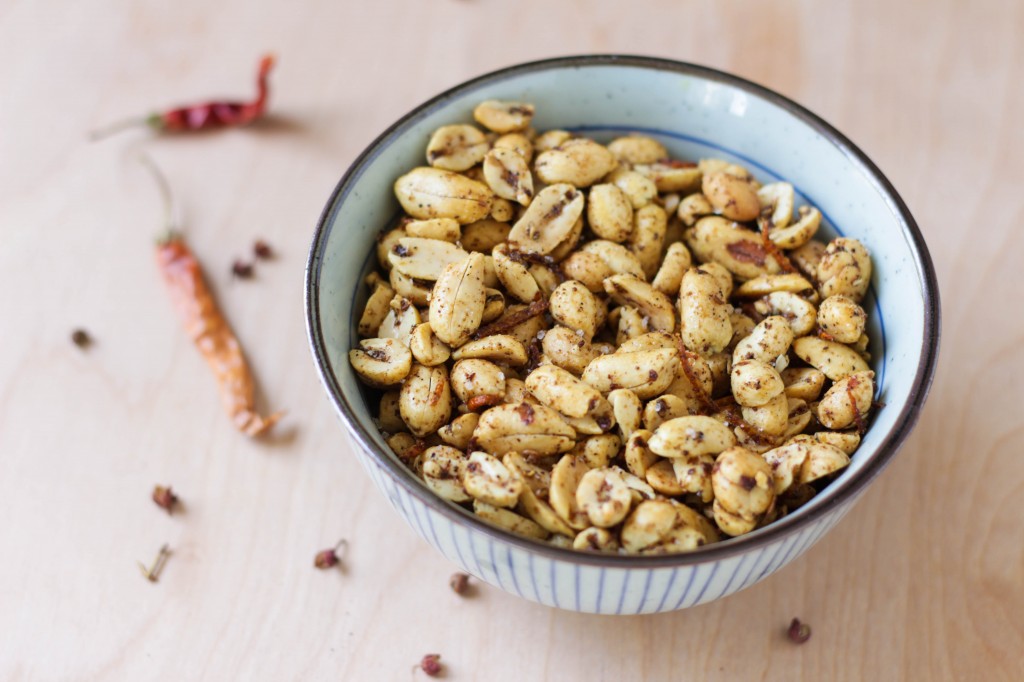 Sichuan Peanuts
Prep time:
Cook time:
Total time:
Yield:

10

Difficulty:

easy

Recipe type:

snack
Ingredients:
3 tsp. Sichuan peppercorns/prickly ash

2 tsp. ground coriander seed

2 tsp. kosher salt (plus more to taste)

1 tsp. ancho chili powder

2 dried chiles de arbol, chopped with stems removed

zest of one orange, julienne sliced

2 Tbsp. vegetable oil (or red chili oil, if you have it on hand)

1 lb. unsalted, roasted peanuts with skins removed

2 tsp. kosher salt (plus more to taste)

1 tsp. ground cayenne pepper (optional)
Directions:
Using a mini food processor or mortar and pestle, grind the peppercorns.
Mix the freshly-ground peppercorns with coriander seed, chili powder and salt. Combine with the chopped chiles de arbol and the julienned slices of orange peel.
Place a large frying or sauté pan on the stove at medium heat with your vegetable or chili oil and allow to come to temperature.
Throw the seasoning mixture into the pan and stir to distribute the oil and spices evenly. Continue to cook the spices in oil for at least a minute or two to give the orange peel a crisp. Make sure you stir consistently; otherwise, the spices will burn!
Add the peanuts and stir to coat the peanuts with the oil-spice mixture. Cook for another minute or two.
Before you stop cooking the peanuts, lay out a few paper towels onto your kitchen counter.
Turn off the heat and pour the peanuts onto the paper towels to dry.
After 3-5 minutes, carefully funnel the peanuts into a plastic bag or container and shake to distribute the seasoning equally. You may add more salt if you'd like; my husband adds MSG (to get that 'authentic flavor'. If you'd really like to kick up the spicy factor for these peanuts, add 1 tsp. of ground cayenne pepper and shake to mix.
These are ready to serve after they cool down and can be kept in an airtight container or bag with no refrigeration for up to 2 weeks.
Published on by admin
Tagged: appetizer, chinese, gluten-free, low carb, peanuts, Sichuan, snack, vegetarian