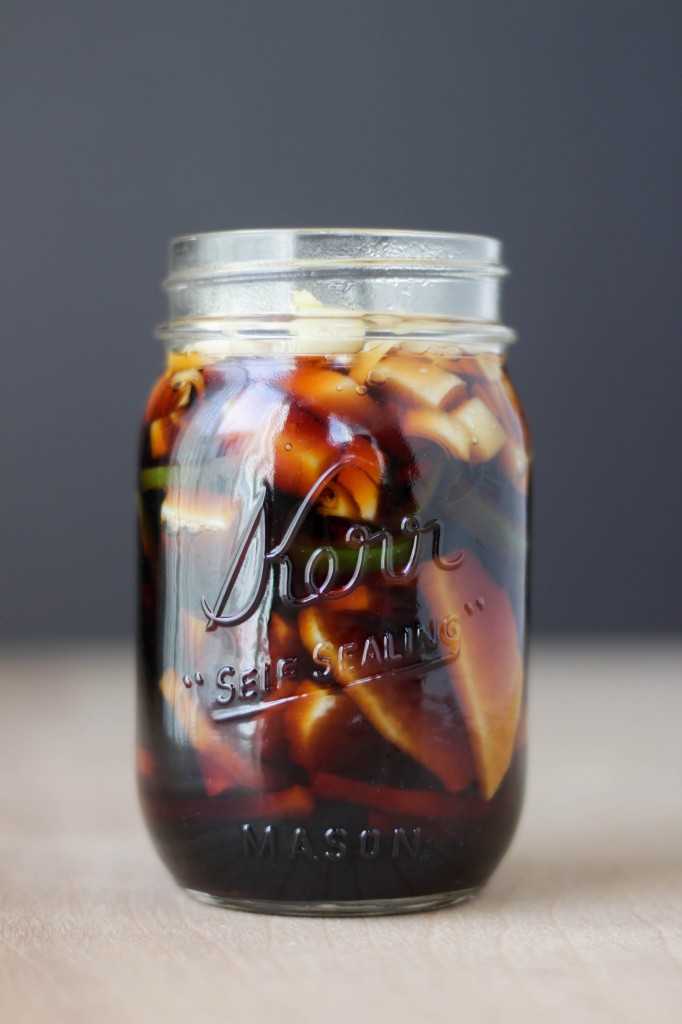 While reviewing past recipes and the write-up before the recipes, I've realized that my blog entries follow a very sad outline:
Kris used to think ________ was icky! What a travesty.
(soul-searching paragraph)
And now she doesn't. Yay ________!
Today, we are tackling pickles–which I also disliked for a long time. But since I seem to have disliked everything when I was growing up (ha), I'm going to skip over that fact and talk about how amazing Korean food is instead!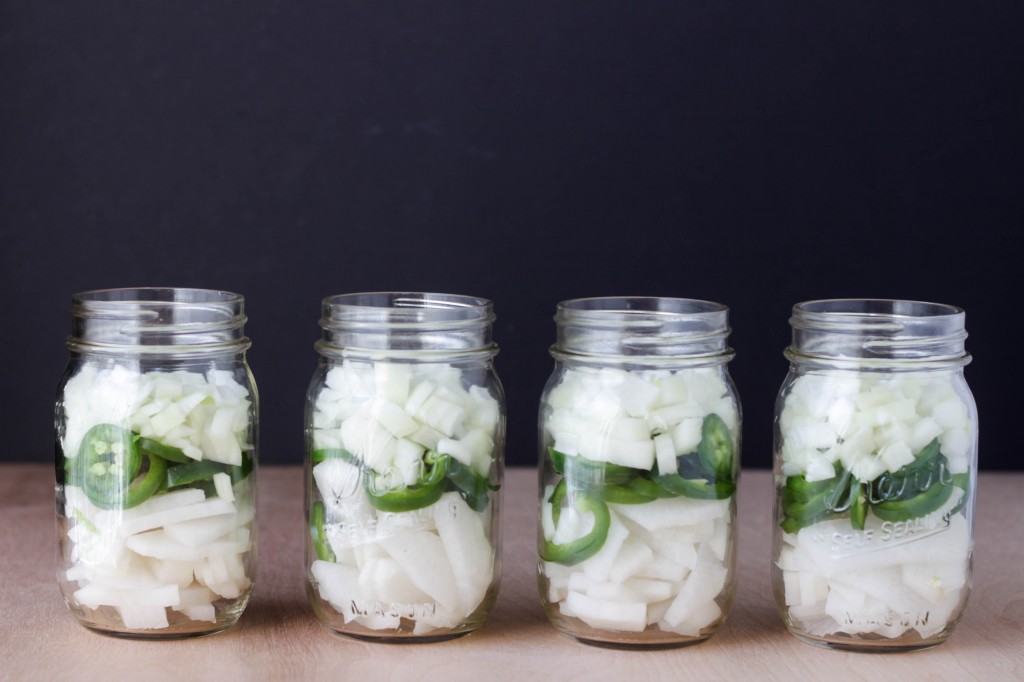 My first and dearest experience with Korean food was at a little joint called San Chang in Colorado Springs when I moved there in 1999. I had tried "Korean" food before at Pan-Asian restaurants around Delaware as a child, but not like San Chang. What were these funny grills doing in the middle of the table? Why were there so many vents? And why were there so many versions of pickled vegetables in tiny plates?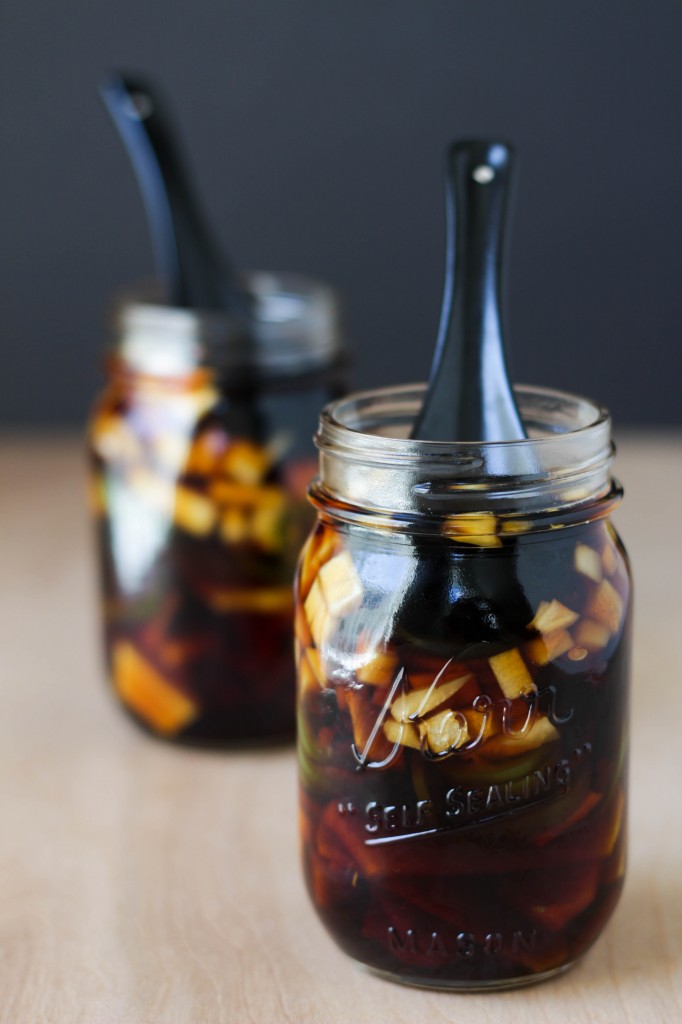 It wasn't until I befriended Korean-American classmates at college that I learned the magical name of these vegetable dishes–banchan. But I loved banchan from the start, and often stuffed myself on it before the main course arrived at the table. My favorite banchan involved radishes in various forms: julienned, cubed, sliced, and so on, pickled in so many delicious ways. I loved the cool, crisp crunch of the radish and the subsequent explosion of pickling juice that would follow with each bite. They were a sharp, effective palate cleanser to the salty savoriness of galbi or the sweetness of bulgogi. Ever since that first magical visit, I've been a fan of Korean food and flavors… and most importantly, pickles!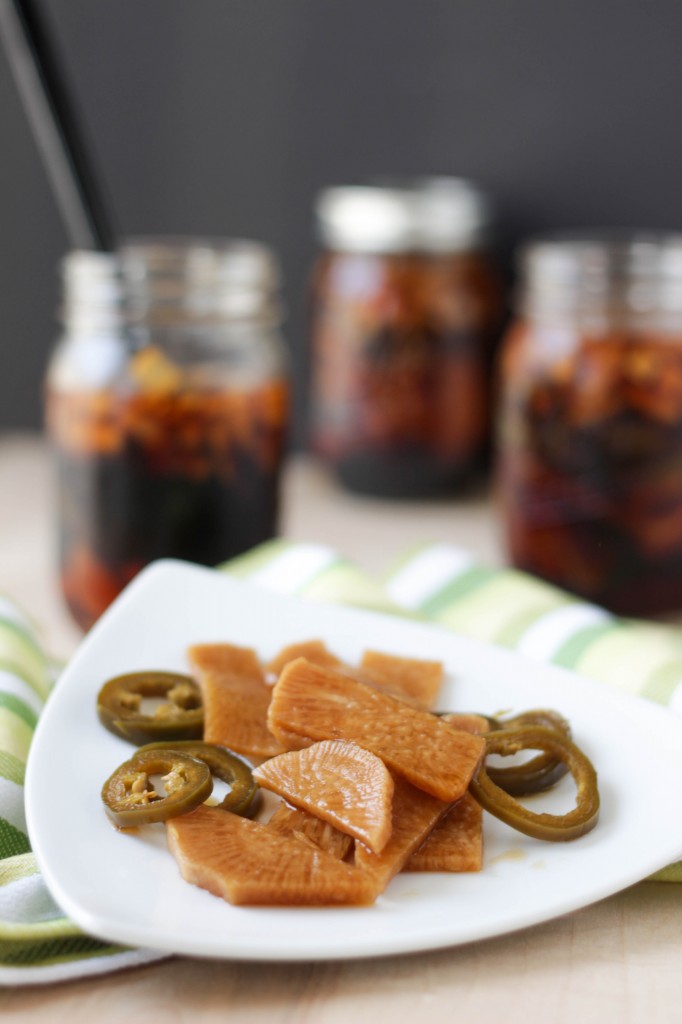 James linked this pickled radish & jalapeno recipe to me while I was in the Philippines, so I gave it a go when I came back to LA and was pleasantly surprised at how easy it was to make. I tweaked the ratio of sugar and jalapenos because we prefer our pickles a little spicier and less sweet, but feel free to play with the ratio according to your preferences. I also chopped the radish rather coarsely because we are radish fiends–but you can make smaller slices if you wish, especially if you're using the pickling juice as a sauce for meat. Either way, I hope you give this very simple recipe a try–whether you're a banchan fan like me or looking to spice up the condiments at your dinner table. You won't be disappointed!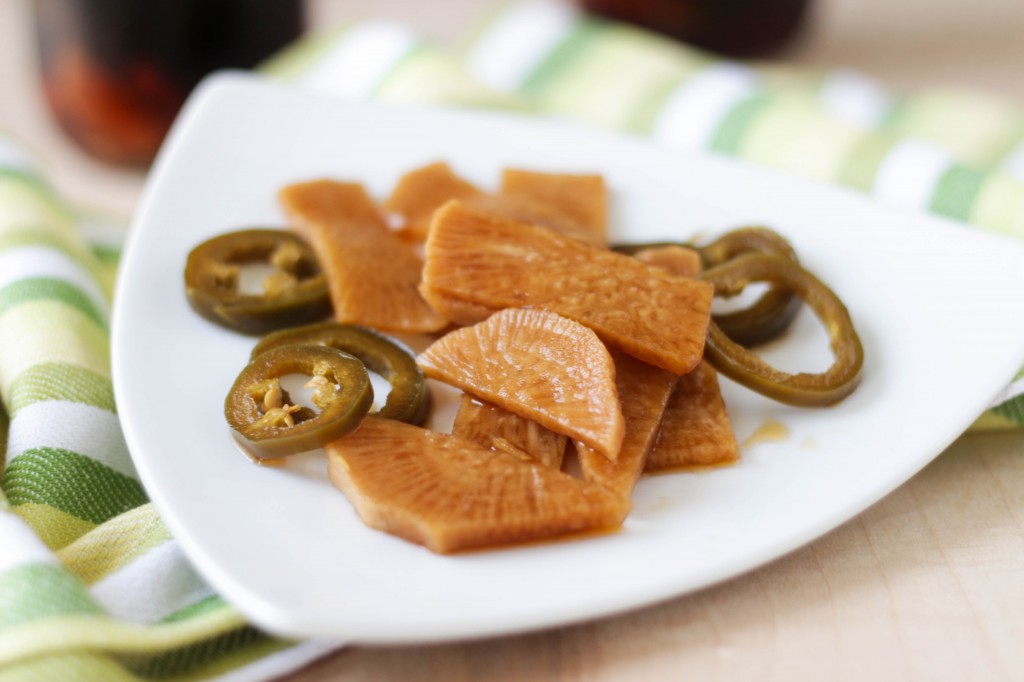 Recipe adapted from Top Chef Korea.
Korean Pickled Radishes & Jalapenos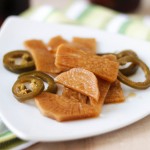 Prep time:
Cook time:
Total time:
Yield:

12

Difficulty:

easy

Recipe type:

side dish
Ingredients:
1 lb. Korean or Japanese radish, sliced into 1/8-in. thick strips

3 large jalapenos, sliced (and de-seeded if you don't like too much heat)

1 large onion, diced

1½ c. light soy sauce

1½ c. white vinegar

½ c. soju, rice wine or sake

3/4 c. white sugar, plus 4 Tbsp. sugar

4 12-oz. mason jars
Directions:
Loosely pack your mason jars with the radish slices, jalapeno slices, and diced onions.
Combine the soy sauce, white vinegar, soju and white sugar into a saucepan and stir until the sugar dissolves. Heat the saucepan on high heat until the mixture starts to boil. Remove the pan from heat.
Immediately divide the mixture between your mason jars.
The vegetables will rise to the top of the liquid. In order to ensure that they stay submerged, weigh the vegetables down with a heavy, flat spoon.
Allow the jars to come to room temperature and cover. Let the jars sit overnight at room temperature, then transfer to the fridge where they can be stored for up to 6 months.
Pickles will taste better after at least 2-3 days of pickling and will continue to develop a rich flavor in the weeks afterward! Feel free to eat as a palate cleanser for Asian dishes or as a compliment to Korean galbi or bulgogi.
Published on by admin
Tagged: Asian, budget, gluten-free, healthy, Korean, low carb, pickles, radishes, vegan, vegetables, vegetarian