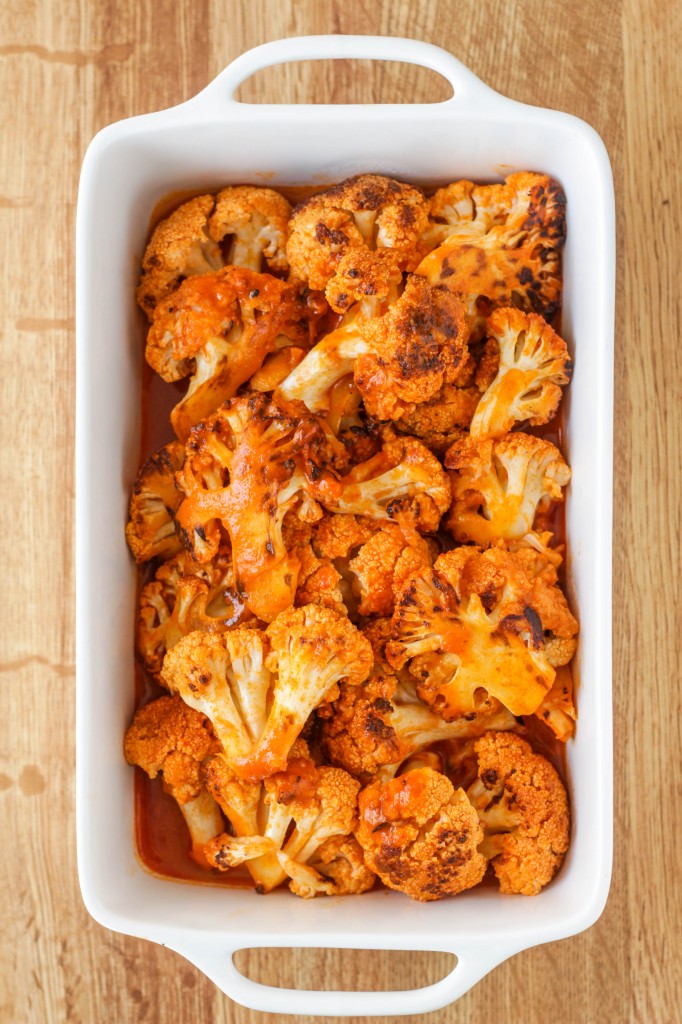 It's no secret that I've been a fan of cauliflower for a long time, but I still find myself surprised at how many different ways I can enjoy it. More recently, cauliflower has become the poster child for paleo and carb-free diets. Its mild flavor, coloring and crunchy consistency has allowed cauliflower to be a satisfying substitute for major sources of carbohydrate in our daily diets. Cauliflower also does a smashing job as an entree for vegetarians and vegans. And did you know that cauliflower is high in Vitamin C, dietary fiber, and folate? It truly is a super vegetable!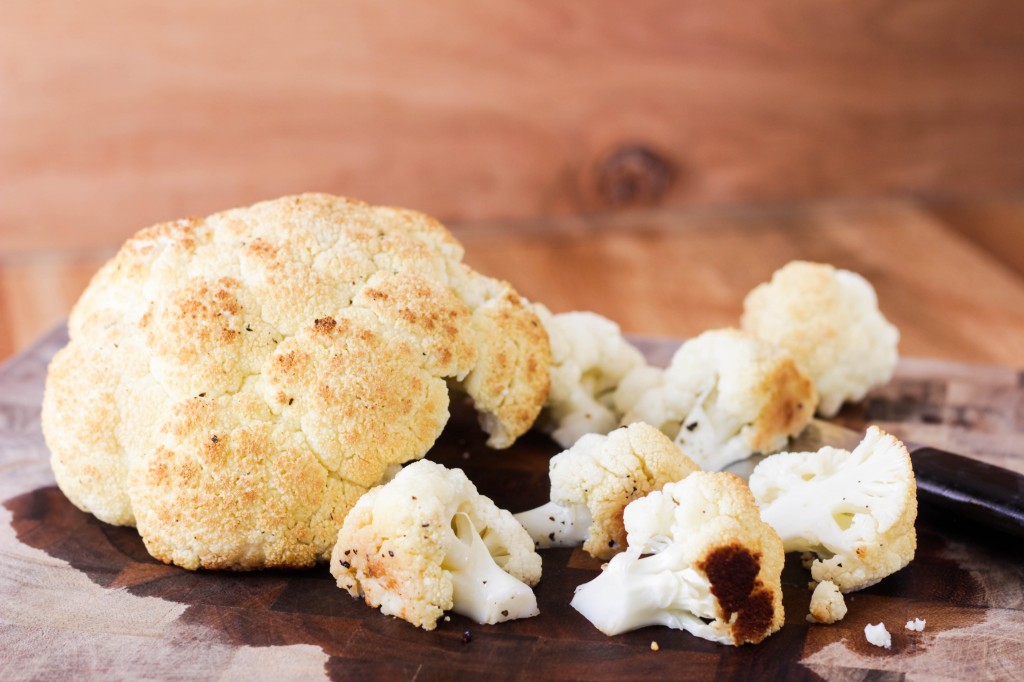 The basic preparation for cauliflower usually includes steaming or boiling, but trust me when I say that there is no more satisfying way of eating cauliflower than roasted cauliflower. The cauliflower head takes on a golden-brown color as the aroma fills your kitchen; by the time you take the cauliflower out of the oven, your mouth will be watering for those crunchy florets. Most of the time, I'm satisfied with the standard flavors included in roasting vegetables–salt, cracked pepper and olive oil. But in this particular case… you can't go wrong with buffalo sauce, right?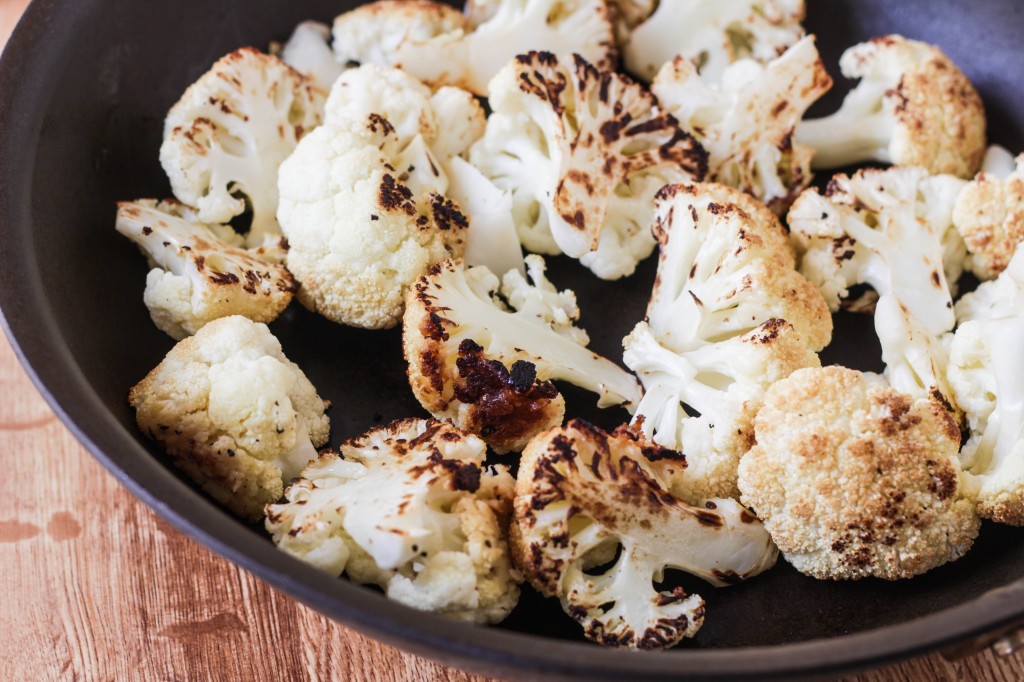 I found this recipe last week and my curiosity was piqued; so much so that I went out and bought cauliflower that same day for a trial run. And after making it three times in less than a week (!!), I'm not only sure I've improved on the recipe… I know for a fact that we'll be coming back to this recipe time and time again. James and I are not vegetarians–far from it, really–but the ease of preparation compared to actual chicken wings can't be denied. I love wings, but sometimes I love being lazy just a little bit more.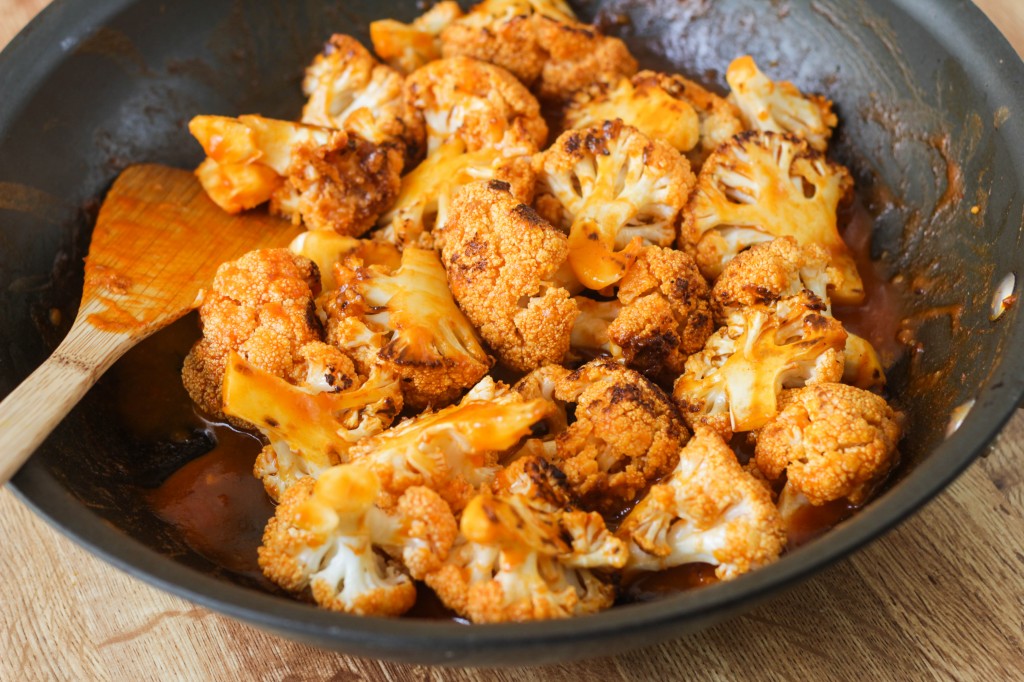 The key to this recipe is in the preparation of the cauliflower. Roasting the entire cauliflower head instead of cutting it into florets first allows the individual stems to stay crunchy while still imparting that charred, roasted flavor. Pan-frying the cut florets in a little bit of olive oil crisps the edges and changes up the consistency of each bite. Throwing sauce onto vegetables is easy, but making sure the vegetables taste outstanding before the sauce comes into the picture is the key to making a truly successful vegetable dish.
If you prefer your buffalo sauce mild instead of medium regarding heat, reduce the sriracha amount. I'd say that this mixture creates a medium heat. And if all else fails–bleu cheese or ranch dressing will go a long way in taming the spiciness levels. We either eat this as an appetizer or as a main dish with other vegetable sides. And something tells me that this will come in handy for Fridays during this Lenten season…
Recipe adapted from Leite's Culinaria.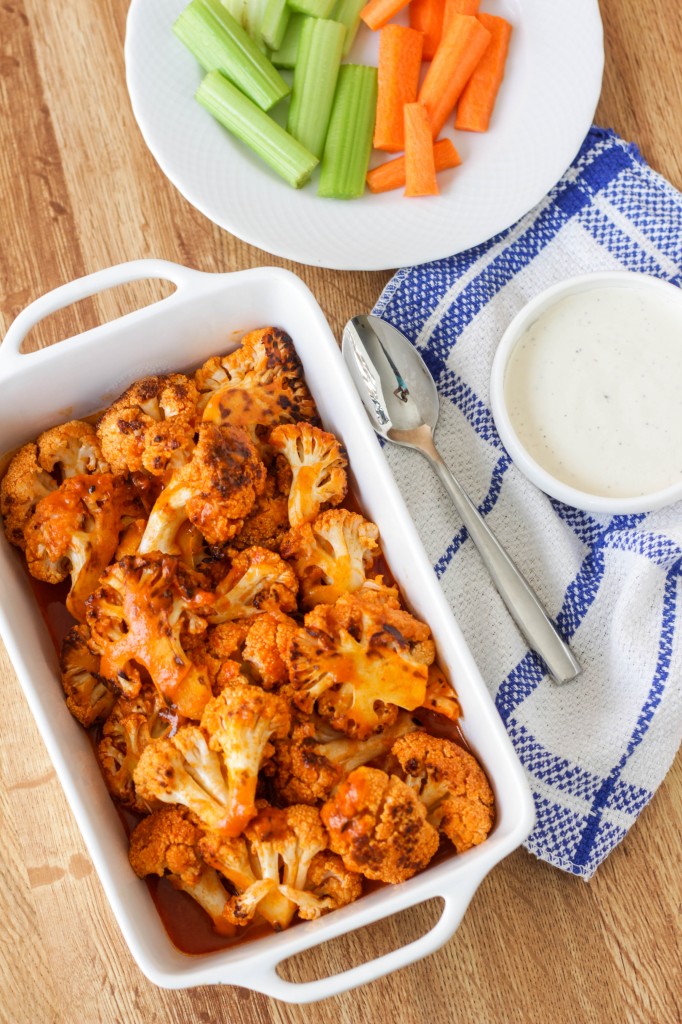 Buffalo Cauliflower "Wings"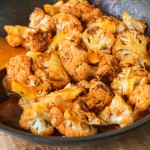 Prep time:
Cook time:
Total time:
Yield:

2

Difficulty:

easy

Recipe type:

entree
Ingredients:
1 head of cauliflower

½ c. or 4 oz. Frank's Red Hot Sauce (regular or Buffalo flavor)

¼ c. sriracha (or less, depending on how much heat you prefer)

1 Tbsp. unsalted butter

olive oil

salt and pepper, to taste
Directions:
Pre-heat the oven to 375ºF and line a baking sheet with aluminum foil.
Rinse the cauliflower and remove the woody stem and leaves at the base.
Drizzle olive oil onto the cauliflower and rub all over the surface. Make sure to spread the olive oil on the underside of the cauliflower as well.
Sprinkle salt and pepper over the cauliflower head on all sides.
Place the cauliflower onto the baking sheet and roast for 30-35 minutes.
Remove the cauliflower from the oven and allow it to cool for a few minutes.
While the cauliflower is cooling, combine the hot sauce, sriracha and butter in a small saucepan over medium low heat. Stir until the butter has melted into the sauce, then cook on low heat until the sauce starts to simmer. Remove from heat.
Separate the cauliflower into large florets ('chicken-wing' sized florets).
Place 1-2 Tbsp. olive oil into a large skillet over medium heat. When the oil is hot, add the cauliflower florets and allow the florets to pan-fry for 5 minutes without stirring.
Pour the hot sauce into the skillet with the cauliflower–the sauce will sizzle and thicken. Stir gently to coat the cauliflower in buffalo sauce.
When the cauliflower is fully coated and the sauce has reduced slightly, turn off the heat and plate the cauliflower. It's best served hot, but still tastes fine when cool–just like chicken wings! Tastes great with bleu cheese or ranch dressing.
Buffalo Cauliflower will keep in the fridge for up to a week, but it's best when eaten same-day.
Published on by admin
Tagged: carb-free, cauliflower, entree, gluten-free, low carb, spicy, vegetarian