It was mid-July of 2012, and our wedding was a mere 2 months away. Wedding had taken over my brain some time ago, but in the last desperate dash toward "The Day" I found myself consumed by it. James decided that I needed a break–probably as much for his sanity as well as my own–and I voted for Disneyland. It's the happiest place on Earth, and it's only 40 minutes away! It was the obvious choice (well, for me at least). And then, the fated day arrived. I was giddy. I was ecstatic. I was ready.
And then I realized all too quickly that going to Disneyland on a weekend date in July is a terrible idea.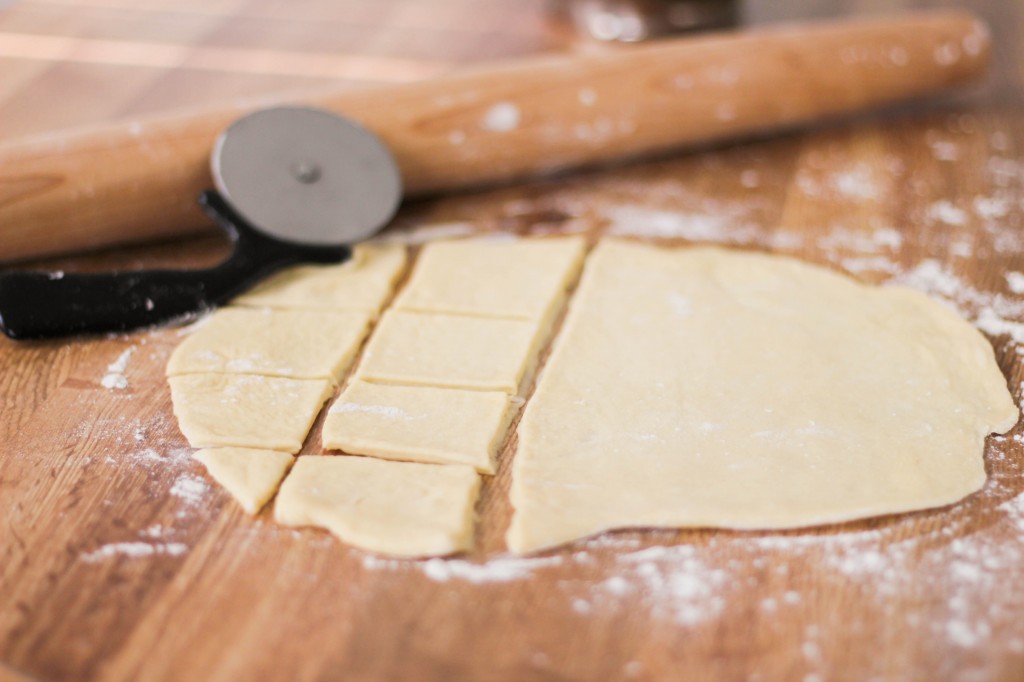 Kids are out of school for the summer, so out-of-state families crowded the park and made the lines quite long. Trying to walk to any location was harrowing–if you didn't watch your step, a stroller would attack your shins or the crowd would carry you away in the opposite direction. And to make matters worse, the heat was unrelenting. 'This seemed much more magical to me when I was three years old,' I thought dolefully as we meandered through the park.
Despite the heat and the crowds (and the overpriced everything), we still had a wonderful time–thanks in part to the delicious Mickey beignets in the French Quarter portion of the park. We sat underneath the shade of the courtyard trees to escape the heat and indulged in the crispy, puffy dough piled high with powdered sugar. I still remember how much I enjoyed not just the beignets, but that moment in time–a break from the hectic itinerary and the hour-long lines.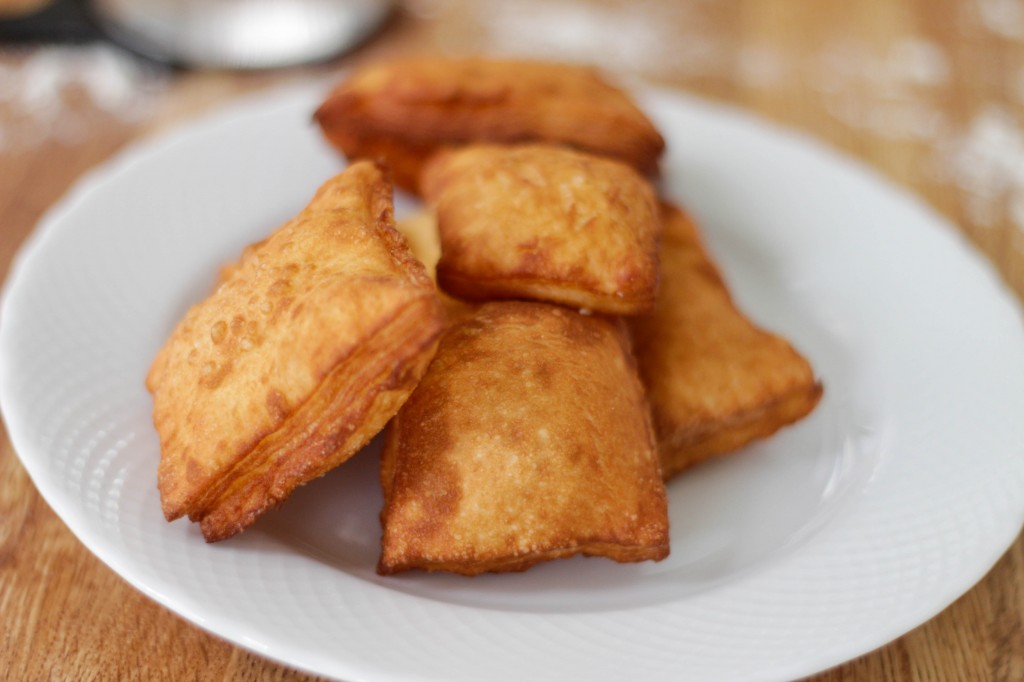 I made these beignets as well as a seafood gumbo for my friends in honor of Mardi Gras last night, and they more or less disappeared with each fresh batch I placed on the table. This recipe is one I've seen on several sites, claiming to be both from the Disney resorts and from the famous Café du Monde in New Orleans. Either way, it's a very easy recipe that requires no real delicacy from the cook–which makes it a perfect way to end the meal when you've got something more labor-intensive preceding it. (I'm looking at you, gumbo.)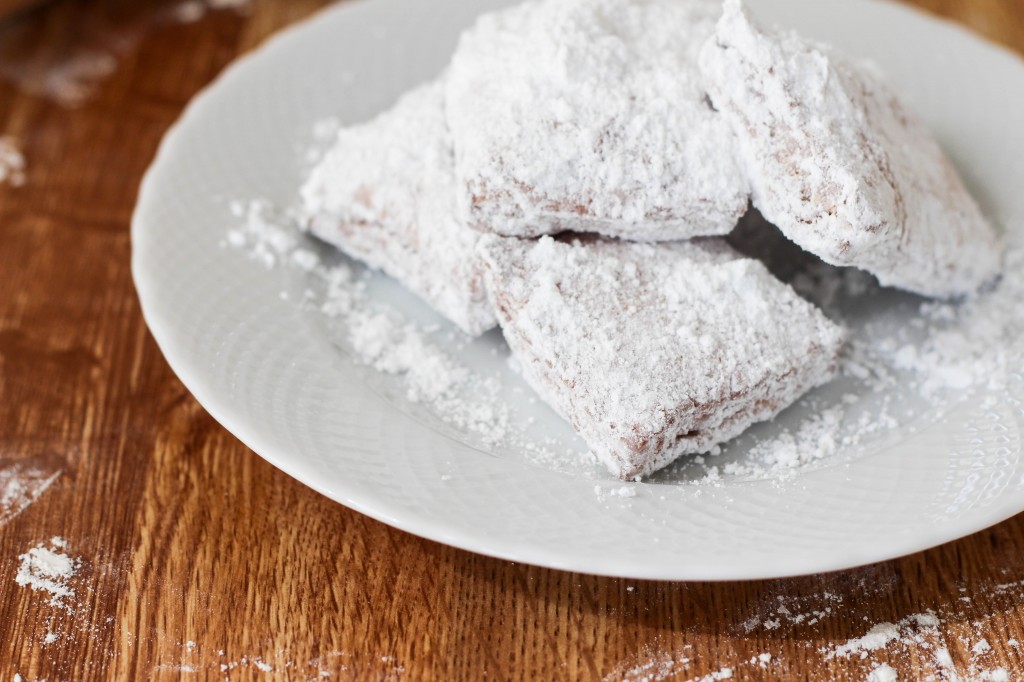 A few notes regarding the recipe: First, these must be made and served fresh. They don't taste anywhere near as good when cold and they lose their crisp quickly. And secondly–this recipe makes a LOT of beignets. Be warned! I would halve this recipe if I were to make it again, even for a crowd of 10+.
I've already eaten way more of these beignets on my own than I care to admit, so I can attest to how good they are. But are they Mickey beignets? I guess I'll have to try those again sometime to come up with a definitive answer!
Recipe adapted from AllEars.net.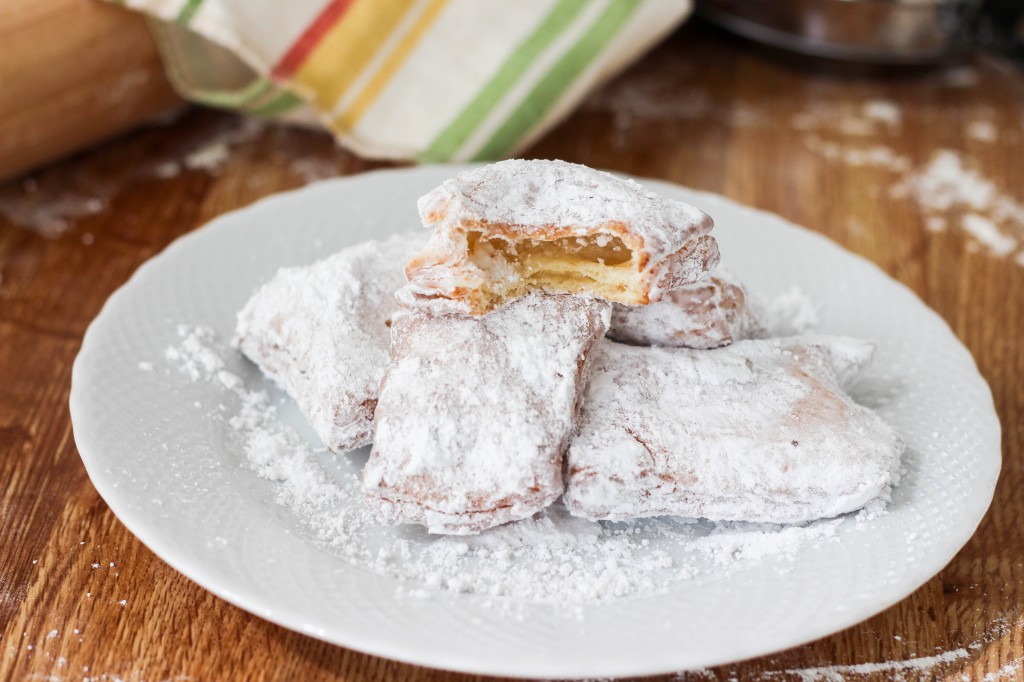 French Quarter Beignets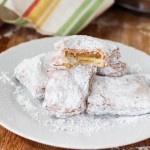 Prep time:
Cook time:
Total time:
Yield:

5 dozen

Difficulty:

easy

Recipe type:

dessert
Ingredients:
1 packet or 2¼ tsp. dry yeast (active or instant are both okay!)

1½ c. warm water

½ c. sugar

2 large eggs

1 tsp. salt

1 c. evaporated milk

7 c. flour

¼ c. vegetable shortening

vegetable oil, for frying

powdered sugar
Directions:
Pour the warm water into a large mixing bowl then sprinkle the yeast over the surface. If you're using active dry yeast, let the water become cloudy (~5 minutes) before going to the next step. If you're using instant, then no wait is necessary.
Stir the yeast into the water then add the sugar, eggs, salt and evaporated milk. Use a hand-held mixer or your stand mixer to combine the ingredients until they are completely blended.
Add 4 c. of flour and mix again until combined.
Add the last 3 c. of flour and mix with a spoon–it will be very thick and hard to stir toward the end, so mixing by hand is what I recommend.
Add the vegetable shortening and massage it into the dough with your hands until fully incorporated into the dough.
At this point, you can either cover and refrigerate the dough for a few hours/overnight or continue with the recipe. (I find it easier to work with refrigerated dough, but it will taste just fine either way.)
Whenever you're ready to make the beignets, heat your oil to ~360ºF (or medium heat if you don't have a thermometer). You can either deep fry the beignets or pan-fry them with a skillet–both taste great, but deep-frying the dough makes it crisper.
Dust a work surface generously with flour, then grab a portion of the dough relative to the size of your work space and roll it into a sheet with 1/8 in. thickness (~20 pages of paper). You might have to lightly sprinkle flour on top of the dough to prevent it from sticking to your rolling pin. Just make sure you brush off the excess flour before cooking the beignets!
Using a pastry cutter or pizza slicer, cut the dough into 2½ in. squares.
Take your powdered sugar and pour a generous amount into a paper bag or plastic Tupperware and place it by your stove/deep fryer.
Place a few squares of dough into your pan/deep-fryer and watch closely. [Deep fryer: the dough will initially sink down into the oil but will quickly rise as it puffs up with air.] When the edges become golden-brown, flip the dough and cook until the other side is golden-brown as well. This took less than a minute for me, but will vary depending on your cooking method.
After frying, immediately place in your powdered sugar container and shake until the beignets are coated with sugar.
Serve immediately–these taste much better hot and fresh than cold and chewy!
The dough will keep in the fridge for 3-4 days while covered.
Published on by admin
Tagged: dessert, vegetarian