James has always been vocal about his preference for chicken over other meats, especially when we're eating at home. My few attempts at porkchops have had a lukewarm reception from him (but always with the 'it's not your cooking, I just don't like porkchops' footnote). Beef used to be on equal ground with chicken, but recently it's been relegated to a once-in-a-while treat. I think that its downgrade in status began with our gradual conversion to healthier eating; we began focusing on more chicken and fish rather than beef and pork. But from my perspective as the home cook, I found chicken to be a much more versatile protein than beef.
But when I spied the slashed price on sirloin tip roast in a grocery ad, I couldn't resist. I had tried roasted pork tenderloin before with James and failed. Perhaps beef would be able to tempt his palate more than pork ever could!
And boy, did it ever.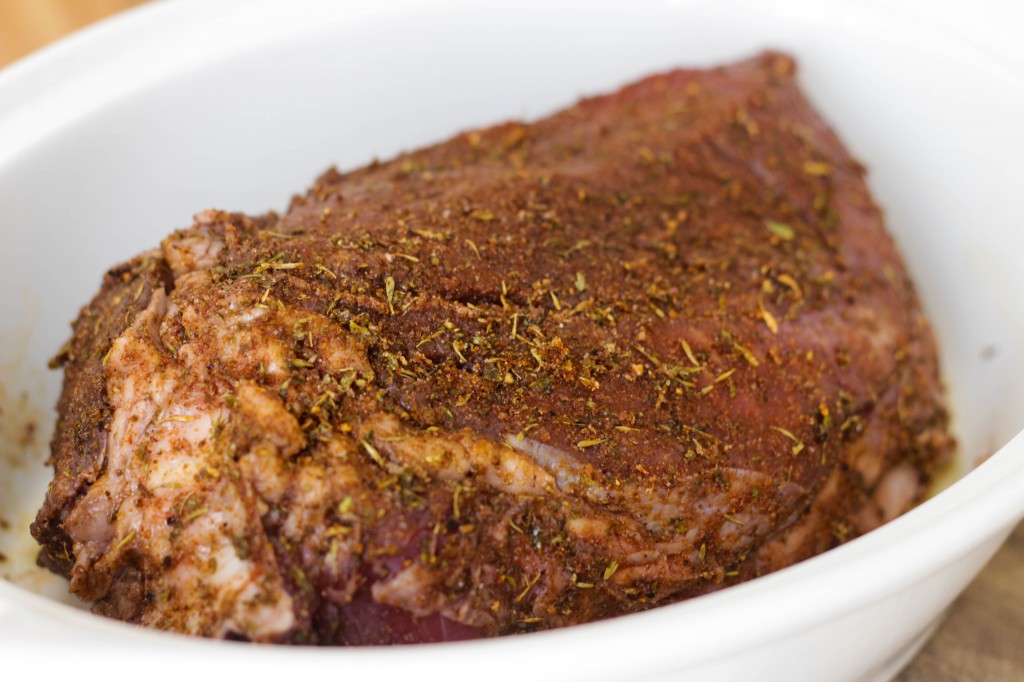 The preparation was so simple that I could easily justify making this on any weeknight for any family. Even though the recipe lists a 2-hour marinade, you can marinate meats such as pork or beef for up to 24 hours without seeing a significant difference in taste or quality.* You could combine this roast into a bag with wine and garlic cloves, leave it in the fridge while you're at work, then roast it when you get home and have it ready in time for dinner. It tastes like you spent a long time tweaking the flavors to get it 'just right' but takes a fraction of the effort. I know that I tend to be a bit of a masochist in the kitchen with the difficult preparations, but I can't deny that I have my favorite go-to recipes that are simplicity at its most delicious.
*Marinating more high-quality cuts such as rib-eye or porterhouse is not recommended as it will decrease the quality of the cut. Source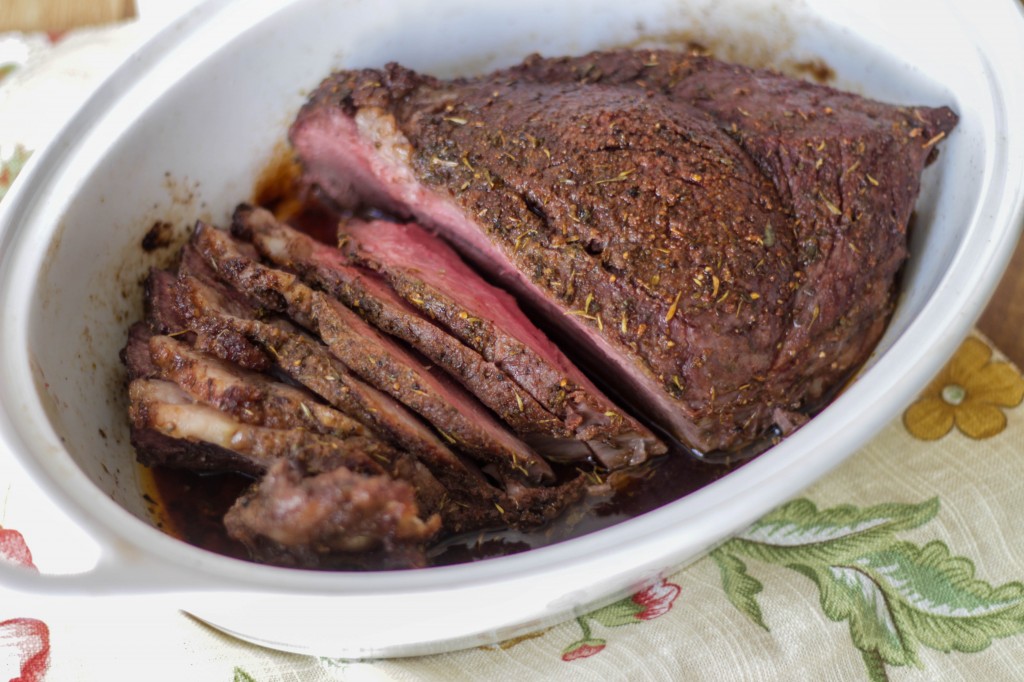 If you love medium-rare beef as much as we do, investing in a meat thermometer is essential. You won't be able to guarantee the consistency of a beef roast on time in the oven alone, as cuts can vary. This is the thermometer that we use; I like it because I can set an alarm to go off when the probe has reached the preferred temperature. But any manual or digital meat thermometer will go a long way in taking the guesswork out of roasting meat!
I also wanted to mention the importance of placing this roast on a rack instead of directly on your baking sheet or tray. The rack keeps the roast from touching direct heat, which assures a more even consistency to your roast. I made the mistake of neglecting this step and paid for it with a much-too-well-done bottom of my roast. Let my errors be your guide.

The herb rub made for an amazing outer crust, and the wine and garlic marinade gave the inner meat of this roast a tender juiciness. This is the perfect recipe for impressing family and friends, and fares just as well as a leftover cold-cut for the next day's sandwiches. Even if beef is not your everyday preference, I promise that this simple recipe warrants a try.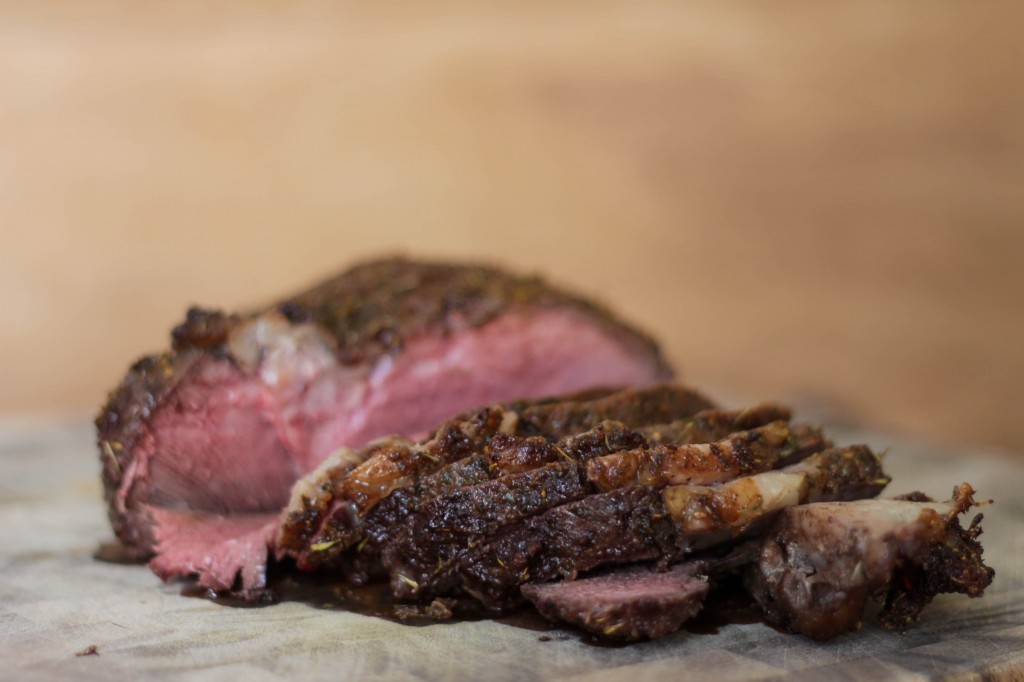 Recipe adapted from About.com.
Sirloin Tip Roast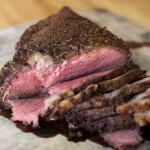 Prep time:
Cook time:
Total time:
Yield:

4-6

Difficulty:

easy

Recipe type:

entree
Ingredients:
2.5-3 lb. sirloin tip roast

½ c. or 4 oz. dry red wine, such as pinot noir

2 garlic cloves, smashed

1½ tsp. sea salt

1 tsp. Old Bay seasoning

1 tsp. dried parsley

½ tsp. garlic powder

½ tsp. smoked paprika (regular paprika will work as well)

½ tsp. black pepper

½ tsp. dried thyme

½ tsp. onion powder

¼ tsp. dried oregano

1 Tbsp. olive oil
Directions:
Combine the sirloin tip roast with the red wine and garlic cloves in a plastic bag that seals and allow the meat to marinate for at least 2 hours in the refrigerator. (The roast can be marinated 8 hours to overnight in advance if easier for your schedule.)
Combine the remaining ingredients (including the olive oil!) in a small bowl and mix thoroughly. This will be the herb rub for the outside of the roast.
Preheat the oven to 350ºF 10-15 minutes before removing the roast from the fridge.
After at least two hours have passed, remove the sirloin tip roast and discard the rest of the bag. Place the roast on a plate and rub the herb seasonings over the entire surface. Make sure to use all of the seasoning!
Line your baking pan with aluminum foil, then place a roasting rack on top. Place the sirloin tip roast on the rack and roast in the oven for ~1½-2 hours, or until the internal temperature of the meat reaches 145ºF on a meat thermometer. (This is for medium-rare texture as seen in my pictures. If you prefer medium, wait for the temperature to reach 160ºF.)
After removing the roast, immediately place on the serving platter and tent with aluminum foil for 10 minutes. Don't cut into it right away or your meat will be dry!
Cut the roast into thin slices and serve with potatoes or rice. Horseradish sauce tastes great with this roast, but it's just as delicious on its own because of its flavorful rub!
Best eaten on the day of roasting if you like your roast hot, but is equally delicious as a leftover cold-cut for roast beef sandwiches.
Published on by admin
Tagged: beef, carb-free, cooking with wine, easy, entree, main dish, roasting