James & I hosted a game night at our place last weekend and had a lot of our friends over–certainly more than I thought would be comfortable in our cozy apartment. But our lack of space brought everyone closer together (literally) and made for a very fun time… or at least I like to think so! We asked people to bring over things to snack on or to drink while we would provide the main meal and dessert. While most opted to bring alcohol–which I could never complain about!–one of our friends brought a few side dishes from a restaurant called lemonade. Everything she brought was delectable, but one dish in particular stood out to me, both in its simplicity and its deliciousness: curried cauliflower with raisins and pecans. What a simple yet tasty combination! Even before I had finished eating the last bite, I was determined to replicate it at home.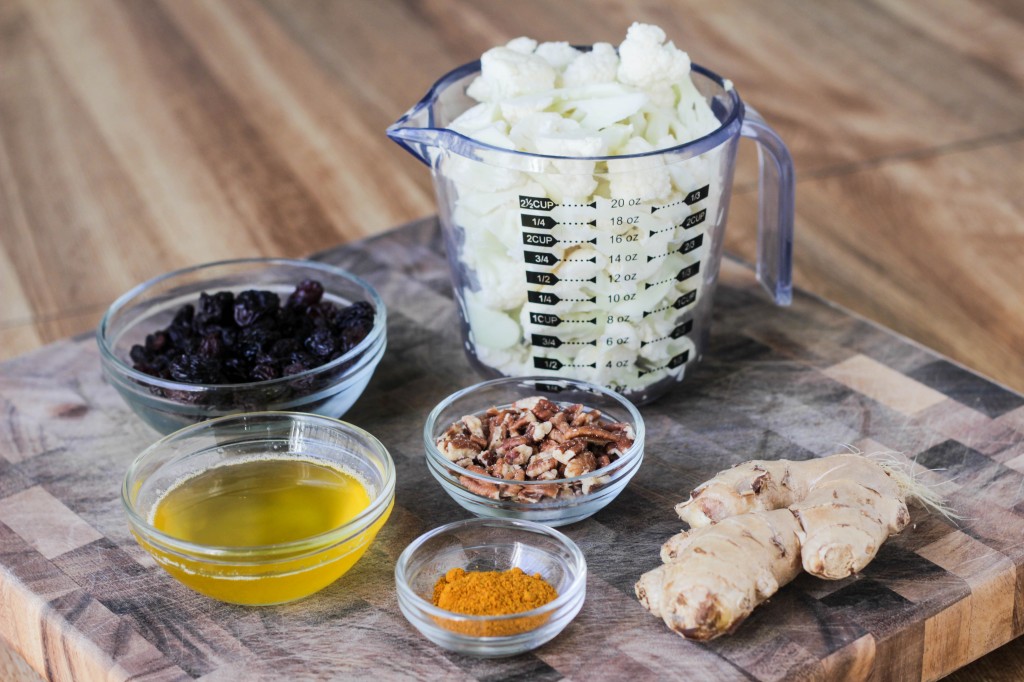 There is one very important component to this recipe that I feel I should address, as everything else in this list of ingredients is very straightforward: ghee, or clarified butter. While you can technically substitute regular butter or even olive oil for this recipe, neither will provide the same subtle sweetness and clarity of flavor that ghee provides this dish. You can obtain ghee by either purchasing it at the grocery store (I would suggest Whole Foods or something more culinary/organic-oriented) or by making it at home–it's really quite easy! I followed Nom Nom Paleo's guide to DIY ghee, which added an additional 10 minutes to my prep time.
Ghee differs from traditional clarified butter because you allow the solids that separate from the butter during the cooking process to brown, creating a nutty, slightly sweet flavor that isn't unlike brown butter. This, coupled with the ginger and raisins, create a sweeter profile for this particular dish and pairs well with the curried cauliflower. Add the pecans for some crunchy texture and you've got a great Indian-influenced side dish that tastes a lot more complex than it actually is!
This is the honest truth–as soon as I put my camera down, I chowed down this entire plate of cauliflower and promptly ate another. If you've never considered the sweeter side of curry, I definitely encourage you to give it a try!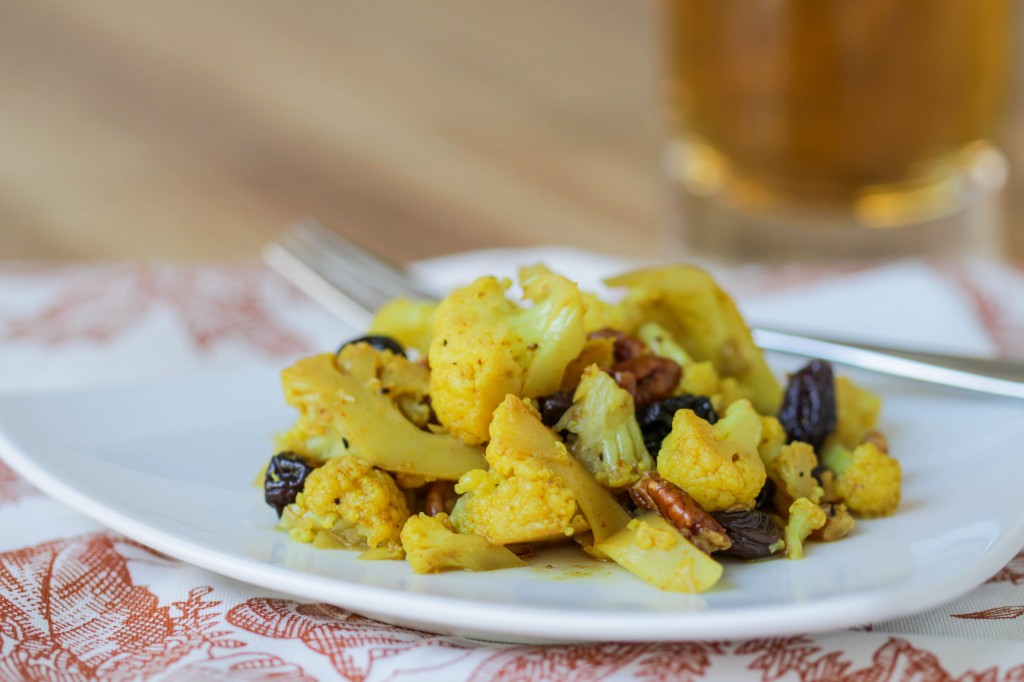 Curried Cauliflower with Raisins and Pecans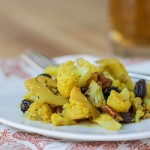 Prep time:
Cook time:
Total time:
Yield:

4

Difficulty:

easy

Recipe type:

side dish
Ingredients:
2 Tbsp. ghee or clarified butter

1 inch fresh ginger, sliced thinly

½ head cauliflower or 2½ c. cauliflower, cut into small florets

1½ tsp. curry powder

1 c. water

¼ c. raisins

4 Tbsp. crushed pecans

salt, to taste
Directions:
Set the heat on medium and put 2 Tbsp. ghee into a sauté or frying pan; allow 1-2 minutes for the ghee to heat evenly.
Add the ginger and stir to distribute evenly across the pan. Sauté for ~1 minute or until the ginger becomes fragrant.
Add the cauliflower and stir to evenly coat the florets with ghee.
Add the curry powder and mix well with the cauliflower.
Pour in 1 cup of water and allow the water to reach a simmer before adding the raisins and covering the pan.
Turn the heat down to medium low and let the water simmer for ~10 minutes.
Uncover the pan, add salt to taste, then turn off the heat.
Add the pecans and stir to distribute evenly.
Can be served hot or cold as a side dish/salad. This dish will keep in the refrigerator for up to a week in an airtight container.
Published on by admin
Tagged: cauliflower, gluten-free, low carb, vegetables, vegetarian