James and I are fortunate enough to live near Little Osaka in West Los Angeles–honestly, we probably patronize restaurants on this street at least twice a week. It is invaluable to have such a great array of places to eat near us, especially because traffic in LA can be so restrictive! It's almost to our detriment that we live so close by; at times, it's hard for me to muster the energy to cook something when I know we can eat delicious food for relatively cheap prices on Sawtelle. Our proximity to Little Osaka has also made me quite content to dine out for a lot of my favorite foods instead of trying to create them at home.
The only time I do try to make some of the dishes I enjoy at home, however, are when I think that the cost of eating out is grossly imbalanced with the effort it takes to make the dish. Corn potage falls into that category quite easily, as the ingredients are easy to obtain and the recipe itself is quite easy to make.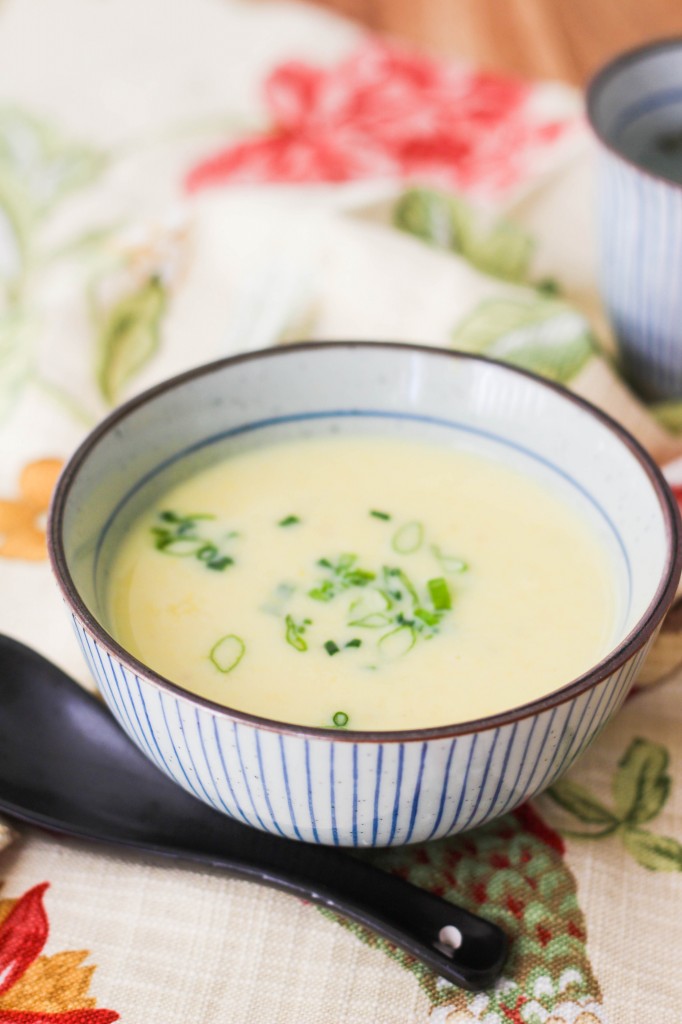 We first encountered corn potage at Curry House on Sawtelle and instantly became enamored with its sweet, creamy flavor and thick texture. Japanese cuisine has embraced corn and tends to highlight it in peculiar ways–yes, I'm talking about corn on pizza and ice cream–but this particular preparation has been lovingly adapted from French cuisine. The word "potage" is an old French term for thick stew (potted dish, literally); as for how potage mades its way to Japan, well… I came up empty in my cursory research. Musings aside, corn potage has become a very popular Western-style food in Japan–but maintains its French origins in its preparation by building its flavor from a basic roux of butter and flour. Blending the corn into the broth creates the mushy consistency that normally takes hours for traditional potage soups, making for a soup that is hearty but altogether different than corn chowder.
I absolutely love corn potage with crusty bread, as a side with katsu curry, or even by itself–but then again, I am nuts about corn in general and love eating it in just about any preparation or style. Even if you don't necessarily feel the same way, I hope you give it a try and enjoy it!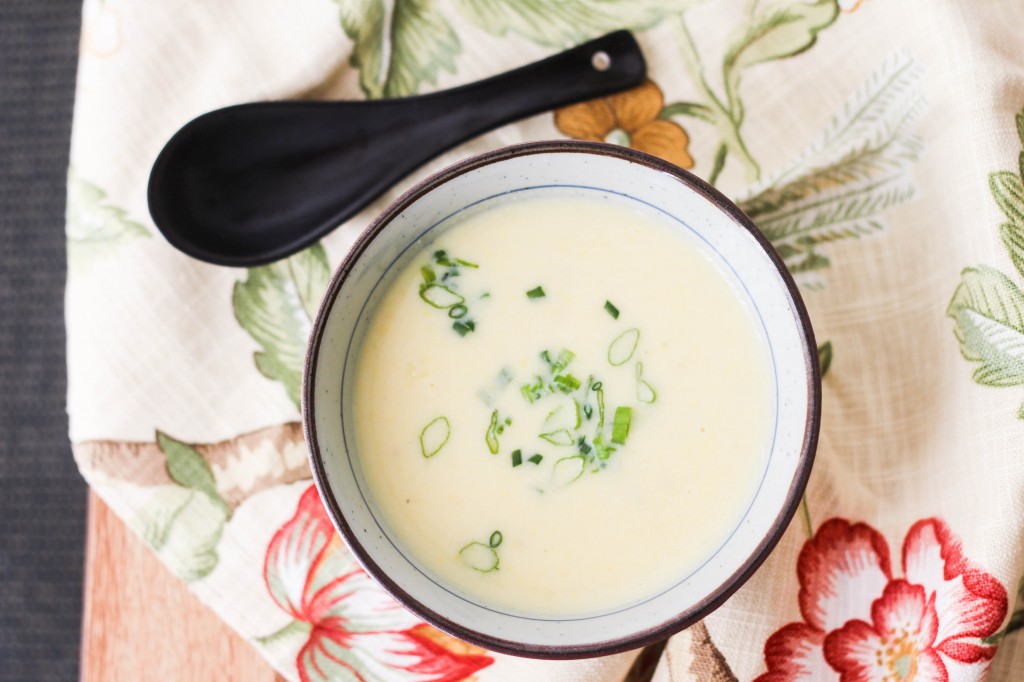 Recipe adapted from Little Japan Mama.
Corn Potage (Japanese Corn Soup)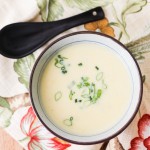 Prep time:
Cook time:
Total time:
Yield:

4

Difficulty:

easy

Recipe type:

soup
Ingredients:
2 Tbsp. unsalted butter

½ medium onion, diced

2 Tbsp. all-purpose flour

2 c. frozen or fresh corn

1½ c. chicken stock

1½ c. milk

salt and pepper, to taste

green onion, for garnish
Directions:
Heat the butter in a pot or large saucepan over medium heat.
When the butter has melted, add the diced onion and stir to distribute the butter. Cook until the onions are translucent, then turn the heat to low.
Add the flour and stir to mix–it will look a bit like paste, which is okay!
Slowly add the chicken stock and stir while adding to prevent lumps.
After all of the stock has been added, turn the heat to medium high and bring to a boil.
Once the broth is boiling, add the frozen or fresh corn and turn the heat down to medium. Allow the corn to simmer for 10 minutes.
After 10 minutes have passed, remove the pot from heat and use a stick blender to purée the soup. You can also wait for the soup to cool a bit, then pour into a blender. Be careful of the heat though–if it's too hot, some blender containers will crack or burst.
Once blended, return to low heat and add the milk. Allow the soup to heat thoroughly, ~5-10 minutes.
Add salt and pepper to taste.
Serve with green onion (the green tips only, sliced) on top.
Soup can be frozen for up to 6 months or kept in the fridge for up to a week.
Published on by admin
Tagged: appetizer, budget, corn, soup, vegetables, vegetarian