It's that time of year again: when the all of your favorite machines at the gym are occupied no matter what time you try to beat the crowds. (Well, let's pretend that we were the ones going to the gym during the holidays, shall we?) Fitness pictures and memes dot your Pinterest page; your fridge is stocked with fresh fruits and veggies, just begging to be blended into a nutritious smoothie. You've waved a tearful goodbye to your holiday leftovers and chips that you love to crunch on whilst watching your favorite show. All is well in January… or so you think.
Then February hits. The gym is looking post-apocalyptic: deserted and with a few determined stragglers. You are sick and tired of disguising kale and spinach with copious amounts of banana and strawberry in your smoothie, and those chips are looking mighty good at the store when you stop by after work. You're back to pinning amazing cupcakes on Pinterest. Where, oh where hast thy resolution gone?
Don't get me wrong–I'm not dissing on resolutions. I think that they're great. But creating one that is realistic seems to be the hardest part. So why don't we start with trying to eat just a bit healthier? But healthier is expensive, is more time-consuming… and those chips…
That's where this spring pea soup comes in.
I first discovered this recipe in Dorie Greenspan's book Around My French Table (which is now becoming dog-eared on my shelf) last year, when I was desperately trying to get fit in time for summer. And even though the other fad no-carb recipes have come and gone, I still make this soup regularly because it really is that good (delicious)–and easy (only 15-20 minutes!)–and most importantly, healthy!
Please give it a try; I think you'll find that even if your resolutions fall by the wayside–as mine inevitably do each year–you will keep this in your recipe box.
Recipe adapted from Dorie Greenspan's Around My French Table.
Healthy Spring Pea Soup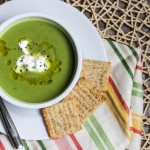 Prep time:
Cook time:
Total time:
Yield:

4

Difficulty:

easy

Recipe type:

soup
Ingredients:
1 small onion or ½ medium onion, diced

2 cloves of garlic, diced or crushed (see instructions)

½ lb. or 8 oz. frozen peas

2 c. or half a head of Romaine/green leaf lettuce, chopped

3 c. water

½ c. non-fat Greek yogurt

olive oil

salt and pepper, to taste
Directions:
Place a saucepan or pot on the stove and heat 1 Tbsp. of olive oil on medium heat.
Toss in garlic and allow to cook until fragrant, ~1 min. If you like garlic, dice it prior to throwing it into the pot and leave it in the pot. If you aren't a huge fan, you can simply crush the garlic then take it out after the oil has absorbed its flavor. Both taste great!
Add the diced onions and cook until softened and slightly translucent, ~3 min. Stir once or twice while cooking and add salt and pepper to taste.
Add the 3 c. water, frozen peas and lettuce. Bring the heat to medium high.
When the water starts boiling, reduce the heat to medium and simmer for another 10 minutes.
After 10 minutes has passed, turn off the heat and remove the pot from the stove. Allow the mixture to cool slightly before using a stick blender to purée the soup. (You can also use a standing blender to purée, but make sure that you either cool the soup down first or that your blender container is heat-resistant.)
If necessary, reheat the soup before serving. I add the dollop (1-2 Tbsp.) of Greek yogurt and a drizzle of olive oil individually for presentation, but you can also stir it into the pot if you like. If you want to indulge, you can sprinkle crispy bacon bits on top of the soup right before serving!
This soup can be frozen for up to 6 mo. without the Greek yogurt; otherwise, it will keep in an airtight container in the fridge for up to a week.
Published on by admin
Tagged: appetizer, carb-free, gluten-free, peas, side dish, soup, vegetables, vegetarian