I've never been a fan of chili. I'm not sure if the Chili Fairy skipped over my taste buds as I was growing up, or whether I have some dark, repressed memory of a chili that caused me to refuse to eat it… either way, I staunchly refused to eat much of it until recently. I think I mentioned a few posts ago that I'm currently experiencing a flavor renaissance; perhaps this is yet another step toward being a well-rounded eater?
It's a damn shame that I didn't give chili a chance when I was living in Denver, and pretty ridiculous that I've become such a fan in more-or-less balmy Los Angeles. Even though I never ate chili when I was living in Colorado, its thick, hearty flavor and consistency instantly take me back to the cozy nights I'd spend at home with friends and family. And I start thinking… how much better would those game nights have been with a nice, hot bowl of chili shared with friends? Or a game day cheering on the Broncos with chili, beer and chips?
These sentiments always bubble up to the surface when I'm getting ready to travel back to Colorado; I love Los Angeles, but Denver is where my heart lies. Maybe these are just the words of a 2 year displaced LA transplant, and it's quite possible these feelings may fade over time. But for now, this chili is for you and for my memories with you, Colorado. (It's okay, Los Angeles… we still cool.)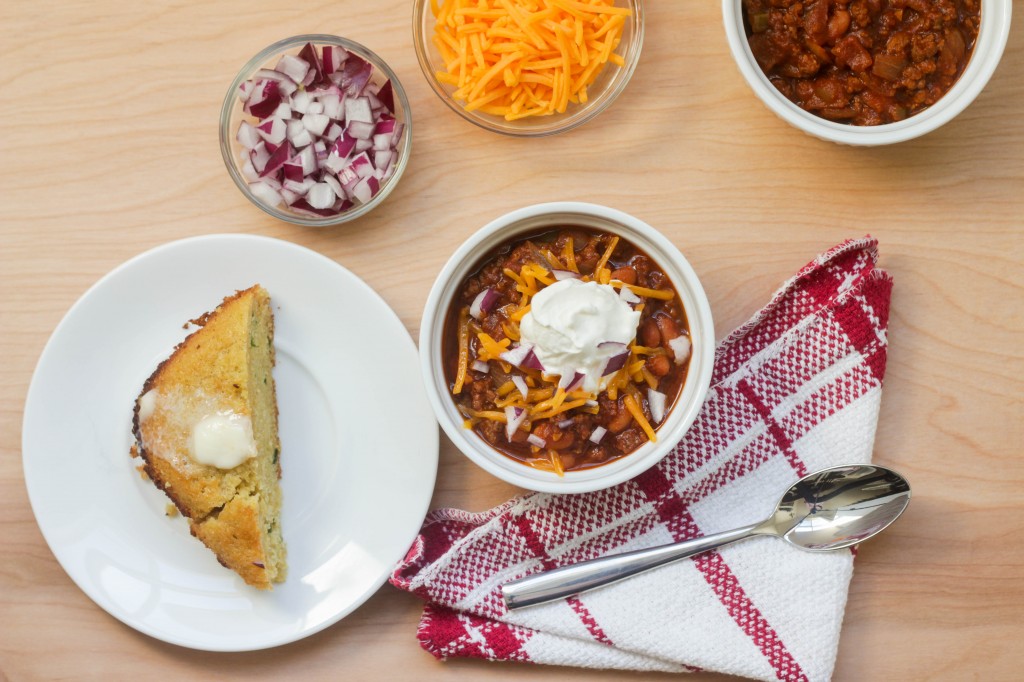 Anyhow, enough of this mushy stuff. The holidays always get me… go figure.
I love the idea of adding beer to chili–alcohol always ups the complexity of a dish and gives it that je ne sais quoi that is hard to put a finger on. You can use whatever beer is in the fridge if you don't want to go out and buy a darker ale, but I would stay away from using sweeter beers. If you can help it, use the smoked paprika instead of regular paprika because it adds that nice, smoky flavor to the broth  that is irresistible! And lastly, if you like your chili spicy you can double the amount of cayenne pepper. (I cut the amount in half for the recipe to make it friendlier to the non-spicy crowd.) I don't know if I'm a masochist or just an enthusiast, but I don't think chili is chili unless it gives you a slow burn on the tongue.
Enjoy in a bowl with cheese, on top of fries, with hot dogs, served with cornbread… however you like! A usual suspect is sour cream–if you're trying to cut down on your fat intake, my friend Brett recommends greek yogurt as a fantastic substitute.
Whatever condiments you choose to use or whom you choose to share your chili with, I highly recommend shaping the recipe with your own additions to make it yours. That's what chili is all about!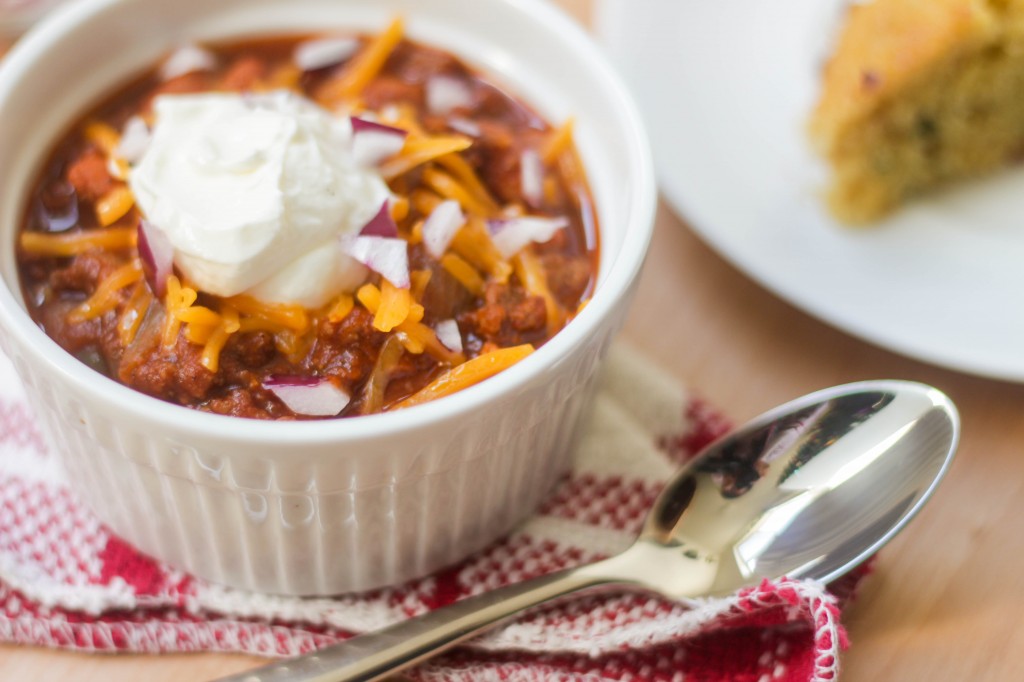 Recipe adapted from My Recipes.
My Mile-High Chili
Prep time:
Cook time:
Total time:
Yield:

4

Difficulty:

easy

Recipe type:

entree
Ingredients:
1 lb. ground beef

1 medium onion, diced

2 Tbsp. garlic, minced

15 oz. (1 can) pinto beans, drained and rinsed

1 green bell pepper, diced

3 oz. tomato paste

8 oz. tomato sauce

12 oz. / 1 ½ c. beef broth

6 oz. dark beer (amber, brown, etc)

1 Tbsp. Worcester sauce

1 Tbsp. chili powder

1 tsp. ground cumin

1 tsp. smoked paprika

1 tsp. Tabasco (or equivalent hot sauce)

½ tsp. ground cayenne pepper

salt & pepper to taste
Directions:
Brown the meat in a Dutch oven or heavy-bottomed pot over medium-high heat.
Turn the heat to medium and drain most of the fat but leave ~1-2 Tbsp. so the meat won't stick.
Add the diced onions and garlic and stir occasionally until the onions are translucent.
Pour in the beer to deglaze the pot–make sure to scrape up browned bits at the bottom!
Turn the heat to medium-low and add the tomato paste and tomato sauce, mix well with the meat.
Add the beef broth.
Add the pinto beans and bell pepper and stir to mix.
Add the rest of the ingredients–Worcester sauce, chili powder, cumin, smoked paprika, Tabasco and cayenne pepper. (We like it hot, so we double the cayenne pepper.)
Allow the chili to stew uncovered for 2-3 hours. Serve with sour cream/greek yogurt, cheddar cheese, and/or diced red onions.
Chili will keep in the fridge for up to a week and in the freezer for up to 6 months.
Published on by admin