I've mentioned before that I'm not the biggest fan of sweets–which, if you follow the pattern of the recipes I post on here, seems pretty hypocritical. I think the biggest word in my tag cloud for this site is "BAKING" as of today (which is very closely followed by "DESSERT" of course.) So why all of the sweets love on this site? James has always joked about how "Baking Holiday" is a more apropos name for what I write about on here–and there is a whole body of evidence on my Recipes page to back up his claim.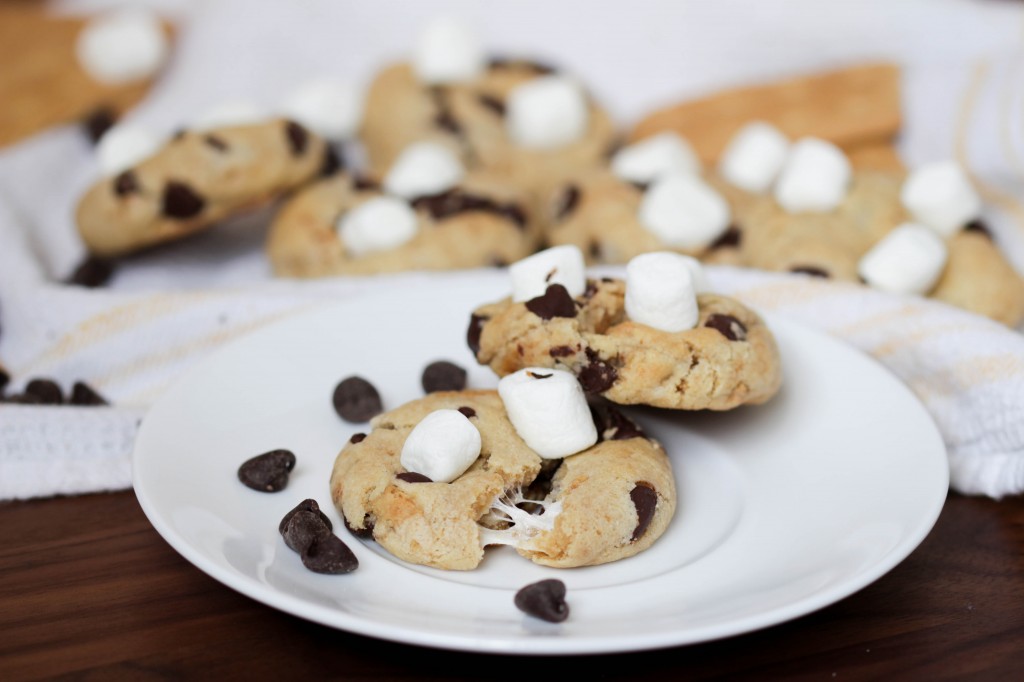 I myself may not eat a lot of sweets or candy, but I do love how other people react to desserts and baked goods. Someone may love cheeseburgers–yet another may prefer quinoa salad. Tastes vary across a wide spectrum when savory foods are involved. Yet desserts seem to transcend these preferences; who doesn't love a sweet note at the end of a meal? Baking to me is really baking for others to enjoy.
Baking is also simple in theory but complicated in practice. To really achieve optimal results, it's important to know your tools, your techniques and your ingredients. Does your oven heat up evenly? When you mix your sugar into the butter, are you watching for total homogeneity? Have you tested your baking soda recently for its continued ability to cause a rising reaction? (Yep, my science geek is showing!) When you cook something and you mess up–you can usually supplement it with something else in order to salvage it from the trash. Once you place your baked good in the oven… well, if you made a mistake in the preparation, it is mostly a lost cause. The intricacy of the steps present a challenge to me, and I love rising to the occasion.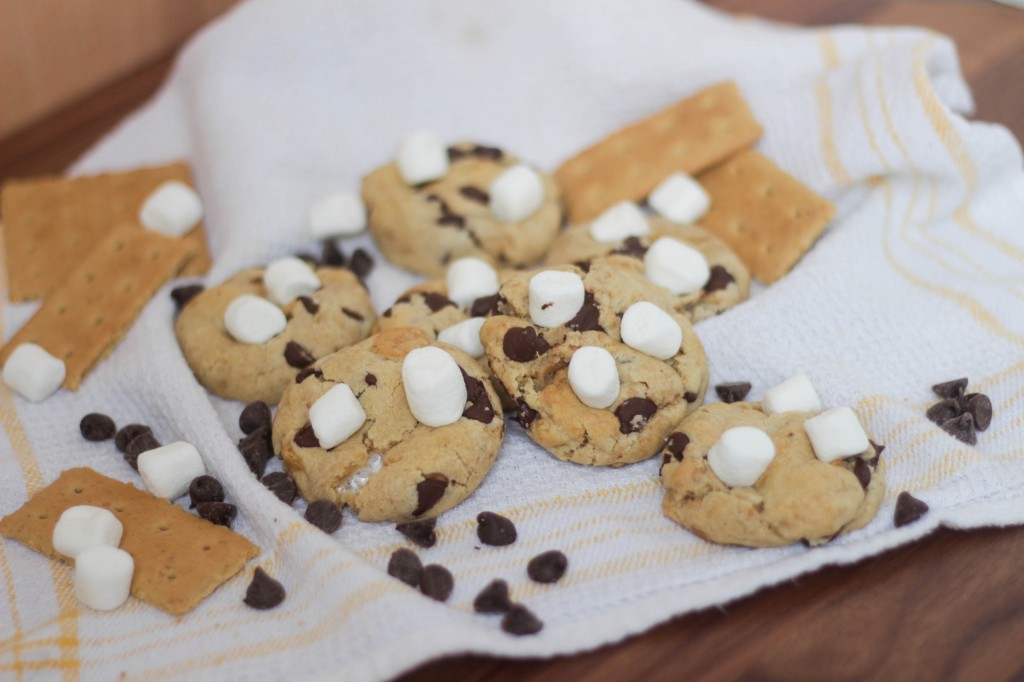 Lastly… and this is probably the most shallow reason I love baking desserts so much… desserts are pretty. So very pretty, and fun to photograph. Honestly, the only reason this isn't a dessert blog (and the only reason my husband and I aren't roly-poly) is because I don't like eating sweets. And hopefully there is some self-preservation ingrained into that preference as well…
These s'mores cookies are a crowd-pleaser. They're chewy on the inside and out. They're liberally mixed with gooey, slightly bitter chocolate and salty-sweet graham cracker crumbles. They're dotted with soft, pillowy marshmallows that are placed on top after baking to imitate the texture of a s'more–instead of meting into the cookie and being ignored. The knowledge of your kitchen and tools is what keeps the cookies chewy, and damn if they aren't picturesque to look at. Baking is amazing, indeed.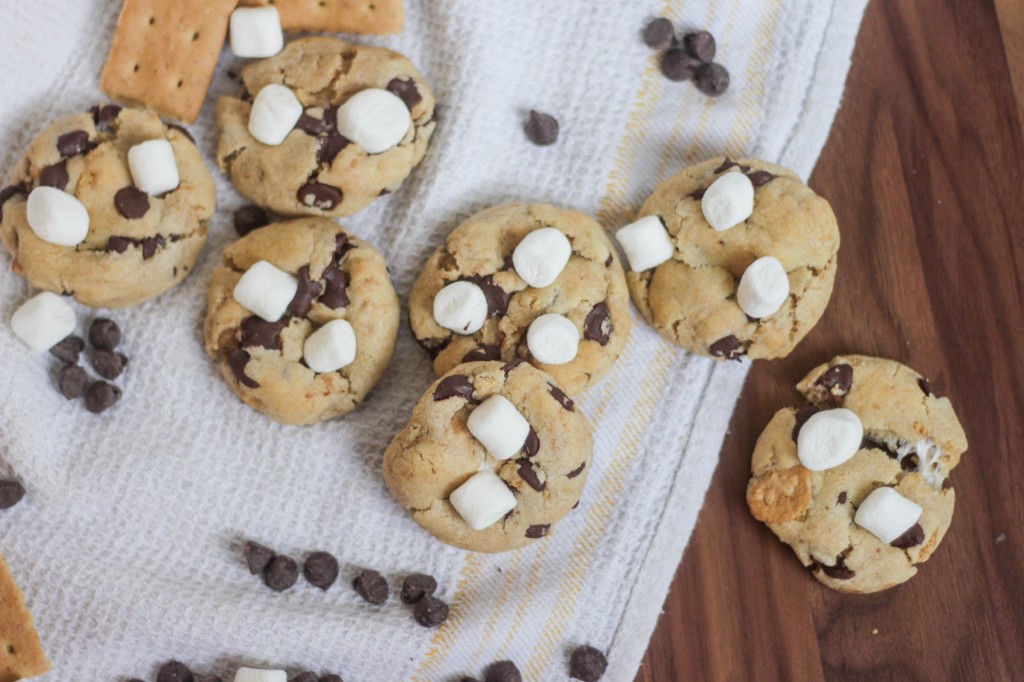 In order to keep the dough easy to work with, make sure you place the bowl in the fridge while the baking sheet is in use–the colder the dough, the easier it is to roll it into pretty dough balls that turn into perfect round cookies when baked. Make sure you check on them 2 minutes before the suggested bake time if you're unfamiliar with how quickly your oven cooks–10 minutes works for my oven, but it may not for yours. And if you're really looking for an authentic campfire s'mores experience, you can eat the cookies after only a few minutes of cooling. I hope you enjoy these cookies as much as my friends do–I doubled this recipe and I still don't think the cookies survived a full day.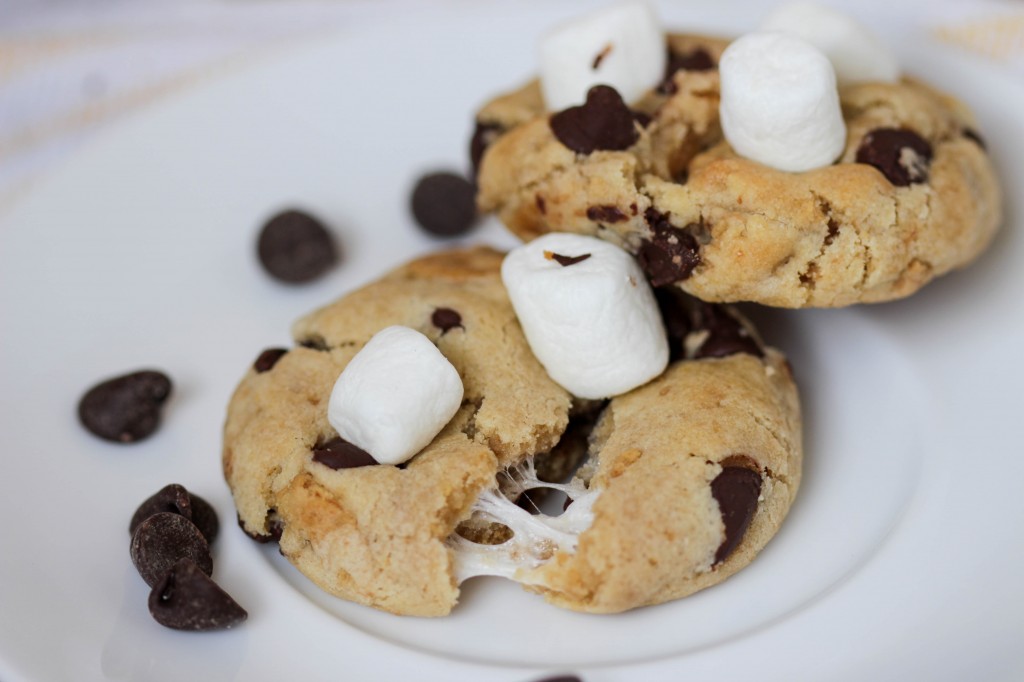 High Altitude Adjustment (for my lovely Colorado friends): Add 2 Tbsp. of AP flour & 2 Tbsp. of water, subtract 1 tsp. of white sugar from the recipe. Set the oven to 365ºF (+15ºF from recipe) and reduce the bake time by 2-3 minutes.
S'mores Cookies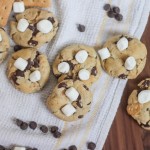 Prep time:
Cook time:
Total time:
Yield:

2 dozen

Difficulty:

easy

Recipe type:

dessert
Ingredients:
1 stick/8 Tbsp. unsalted butter, room temperature

½ c. white sugar

1/3 c. light brown sugar

1 large egg

½ tsp. vanilla extract

1 3/4 c. all-purpose flour

¼ tsp. salt

½ tsp. baking soda

1 c. semi-sweet chocolate chips

1 c. roughly crushed graham crackers

a bag of mini-marshmallows
Directions:
Combine the butter, white sugar and brown sugar in a bowl and mix with the paddle attachment (of your stand mixer) until the texture is creamy and the color has lightened, about 3 minutes. [If you're mixing by hand, you can melt the butter in the microwave until it's softened (~20-30 sec. does the trick) to make it easier to work with. Make sure you allow the mixture to cool for a few minutes before using it in the following steps.]
In a separate bowl, carefully whisk together the flour, salt and baking soda. Set aside.
Add the egg into your butter mixture and mix until fully incorporated into the batter. Pour the vanilla extract in and mix completely as well.
Add your dry ingredients into the wet ingredients in three parts, making sure you mix completely between each addition. You can either do this by hand or with your mixer at its lowest setting.
Stir the crushed graham crackers and chocolate chips into the cookie dough by hand.
Refrigerate the cookie dough for 30 minutes. While the dough is in the fridge, preheat your oven for 350ºF and line your baking sheet with silpat or parchment paper. (If your kitchen doesn't become a furnace like mine, you don't need the cooling time and can bake the dough immediately after mixing.)
Take ~2 Tbsp. of cookie dough from the bowl and press a marshmallow into its center, then roll the dough into a ball between your palms.
Place the cookie dough balls ~2 inches from each other on the baking sheet and bake for 8-10 minutes. The cookies will be done when the bottom edge is a very light brown and the top of the cookie is set.
Remove the cookies from the oven and leave them on the baking sheet while dotting the top of each cookie with marshmallows. I prefer 2-3 marshmallows per cookie, but you may like more! They may not seem to stick at first, but the heat from the cookie will melt enough of the marshmallow to keep it securely on the surface by the time the cookies have cooled.
Once you've finished placing marshmallows on each cookie, place them on a cooling rack to cool before serving.
If kept in an airtight container, cookies will stay chewy and fresh for up to 5 days.
Published on by admin
Tagged: baking, chocolate, cookies, dessert, graham crackers, marshmallows, sweets