Hooray for autumn! Which, in my opinion, is a much more beautiful word to describe this season than fall. I know I live in perpetually 70°F Los Angeles, but I still get excited about the changes in season as much as the next person in New England. (I just don't get the breath-taking view of leaves changing color, which really is a bummer.) Autumn to me is cardigans, and boots, and scarves, and the beginning whispers of the holidays to come. Oh–and with autumn comes autumn produce! Pumpkins, squash, sweet potatoes… and apples.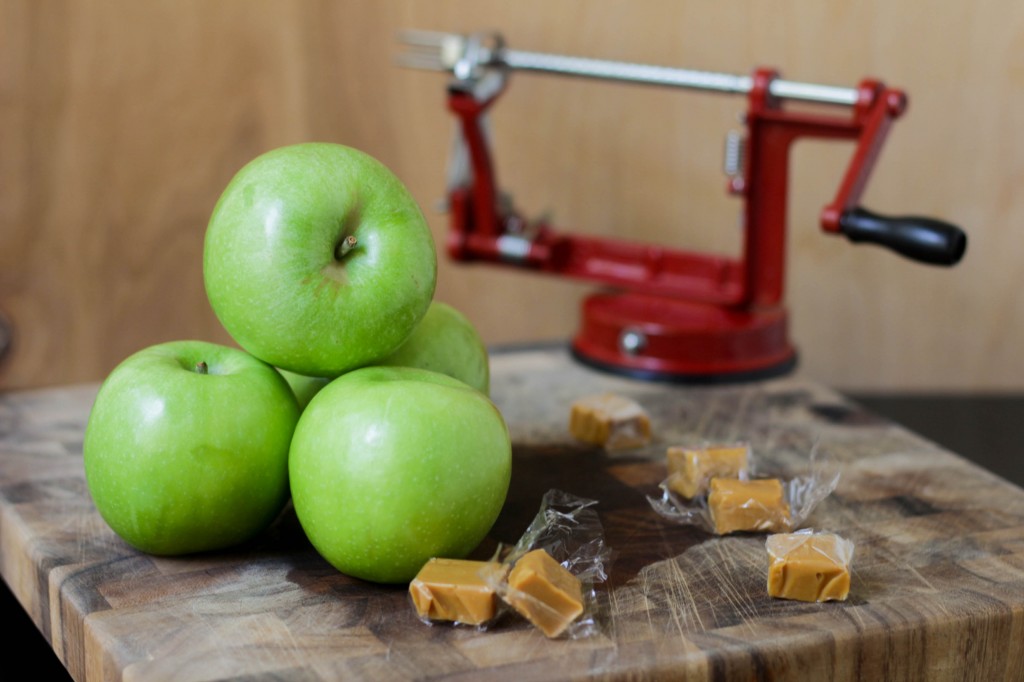 Apples are much less temperamental than berries (alas! berry season, farewell!) which is why they're usually delicious all year round. However, this hardy fruit is especially delicious around this time–and you'll see signs of everyone taking advantage of its ripeness around this time. Apple cider, apple cake, apple pie… you see, something about the mix of apples and cinnamon just screams cozy, and the mixture warms your taste buds. But what if we decided to throw caramel into the mix? What, indeed.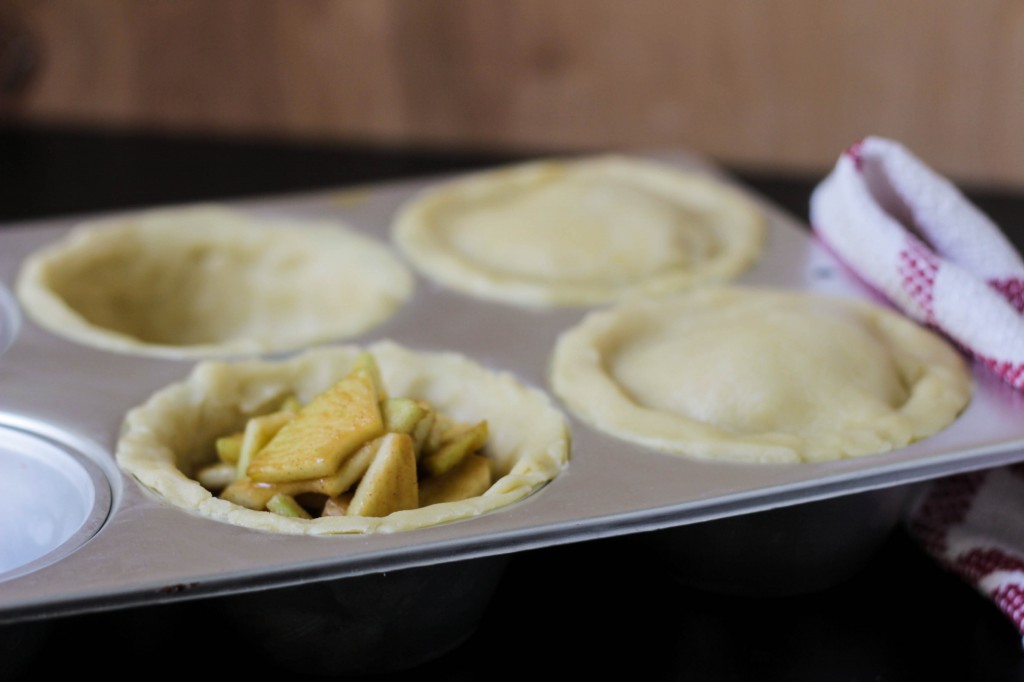 I found a recipe in a recent Saveur issue for caramel apple pie and was intrigued; here was a unique twist on everyone's favorite dessert that should have been obvious! So I made the filling following the recipe and formed them into pastry pockets (think of Pop-Tarts, but with 100% less preservatives) for my friends' housewarming BBQ. It was a hit and I enjoyed the flavor–but when I endeavored to make the recipe again, I decided to make a few changes.
With less sugar, a little more cinnamon and more caramel–of course!–I found the filling that I was looking for; I just needed a 'vessel' for it. Enter the idea of personal pies, or "pot" pies. I always try to give my friends dessert to take home with them, but bringing home pie slices is kind of messy. But who could say no to a personal-sized pie? So I used my large muffin/cupcake pan and the rest is history!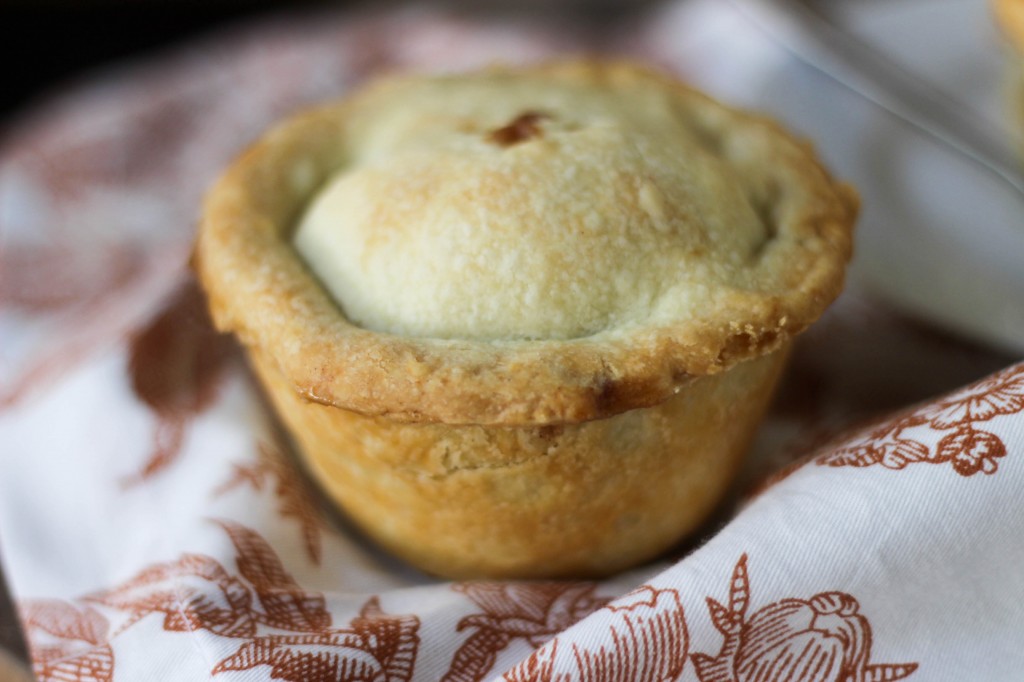 A few things I would change from what is shown in these images: first, I would've stacked the apples instead of pouring them into the pie shell in order to fit more apples into each pie. Next, I would've been more careful about how much sauce I poured into each pie–I went a little overboard with one pie and the sauce ended up everywhere! And lastly, I would've pinched the edges of the pie with more force to seal the filling in. But it still tasted heavenly–which is why I'm still posting this recipe despite my hiccups.
If you don't have muffin pans, you can still use this recipe–just double the amount of pie crust , as this recipe will only make enough for 1 9-inch crust and you need 2 of them. Good luck!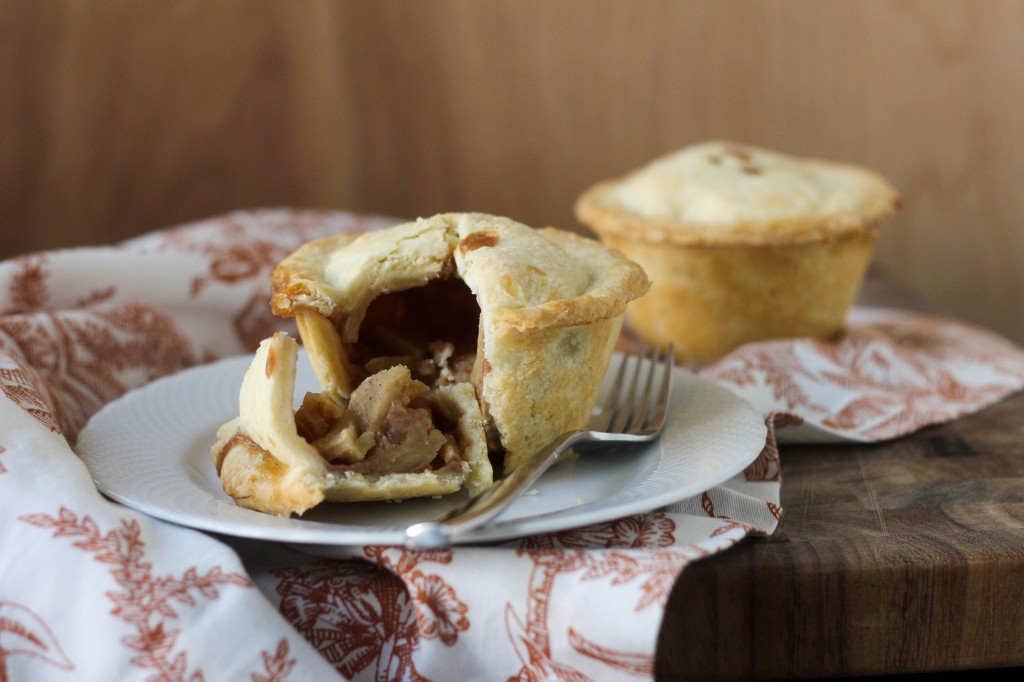 Pie filling adapted from Saveur: Caramel Apple Pie
Pie crust adapted from The Italian Dish
Caramel Apple Pot Pies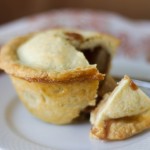 Prep time:
Cook time:
Total time:
Yield:

4

Difficulty:

medium

Recipe type:

dessert
Ingredients:
1 3/4 c. or 9 oz. all-purpose flour

1 Tbsp. sugar

12 Tbsp. of sliced, unsalted butter

3 Tbsp. ice water

6 Tbsp. unsalted butter

1/3 c. packed brown sugar

1/4 c. white sugar

10 soft caramel chews, unwrapped

1 Tbsp. cinnamon

2 Tbsp. cornstarch

5 Granny Smith apples, peeled, cored and sliced thinly
Directions:
Combine the flour and sugar into a food processor and pulse until mixed well.
Add 2 Tbsp. of butter at a time and pulse until integrated into flour. Repeat until all 12 Tbsp. are mixed into the flour and resemble a coarse meal.
Turn the food processor on, then pour the ice water slowly into the mixture until it clumps up and forms a ball of dough that sticks to the wall of the processor. If you live in a drier climate, you may need to add an extra Tbsp. or two of ice water until it clumps well.
Place parchment paper on the counter, sprinkle with flour, then empty the pie dough onto the parchment paper. Sprinkle more flour lightly onto the pie dough, then place plastic wrap over the dough and use a rolling pin to roll the dough out to a 9-inch diameter (1/8 inch thickness).
Place the dough in the fridge while making the filling.
Melt 6 Tbsp. of unsalted butter in a saucepan on medium heat.
After the butter is melted, add the sugars, cinnamon and caramels. It will take about 5-8 minutes of stirring to get the caramels to melt, make sure to stir semi-frequently.
Once the caramel is melted, remove from heat and add the cornstarch.
Heat your oven to 375°F.
Spray your muffin pan with non-stick spray.
Take out the pie dough from the fridge and use a cup similar in diameter to the rounds in your muffin pan to cut out an appropriately-sized crust. Press this crust against the muffin round to form the bottom shell of the pie. Make sure that the edges overlap onto the main body of the muffin pan (this will allow us to pinch the edges and keep the sauce in). Repeat for all four muffin rounds.
Take your sliced apples and form a tight stack of apples that is a little higher than the muffin pan level on top of the pie crust.
Pour the caramel sauce over each pile of apples and into the pie shells.
Use the same cup to cut out 4 more pie crust rounds to fit on top of each pie. (You'll probably have to bunch up the odds and ends of pie crust and roll them out again in order to get every pie covered well.)
Cut 4 half-inch holes into the top pie crust.
Place the muffin pan with your mini-pies in the oven and bake for 25-30 minutes–turn the heat down to 350°F after the first 10 minutes. Just in case the filling bubbles over, place a sheet of aluminum foil below your muffin pan.
When the pies are completed, remove them from the oven and immediately place them on a cooling rack until they are not hot whatsoever.
Wedge a paring knife underneath the pie crust to release the pie from the pan, then carefully lift the pie out. (I found this to be much easier after letting the pies cool overnight.)
The pies will keep in the fridge for up to a week.
Published on by admin