For the past few months, James and I have been religiously watching our intake of carbohydrates. All of the sweets you see posted on here? I usually get rid of them as quickly as I can and pawn them off on friends and family. (Thanks, friends and family!) But now that we've managed to start working out regularly, avoiding carbs is becoming less of an issue.
Enter "buttermilk…ish bread." Why the –ish? Well, I don't use a whole lot of buttermilk in my cooking or baking, apart from pancakes or bread. When I do buy it for the sake of a recipe's posterity, the leftover amount usually wastes away in a corner of my fridge while I sadly try to come up with excuses to use it. (Fried chicken? No, trying not to fry things as often. Buttermilk panna cotta? Too sour. And so on.) Instead, I use the budget-friendly (and waste-free) substitute of whatever milk I have in the fridge plus an acidic agent; in this case, I use white vinegar. Therefore, this bread is a buttermilk recipe but I use a buttermilk-ish substitution!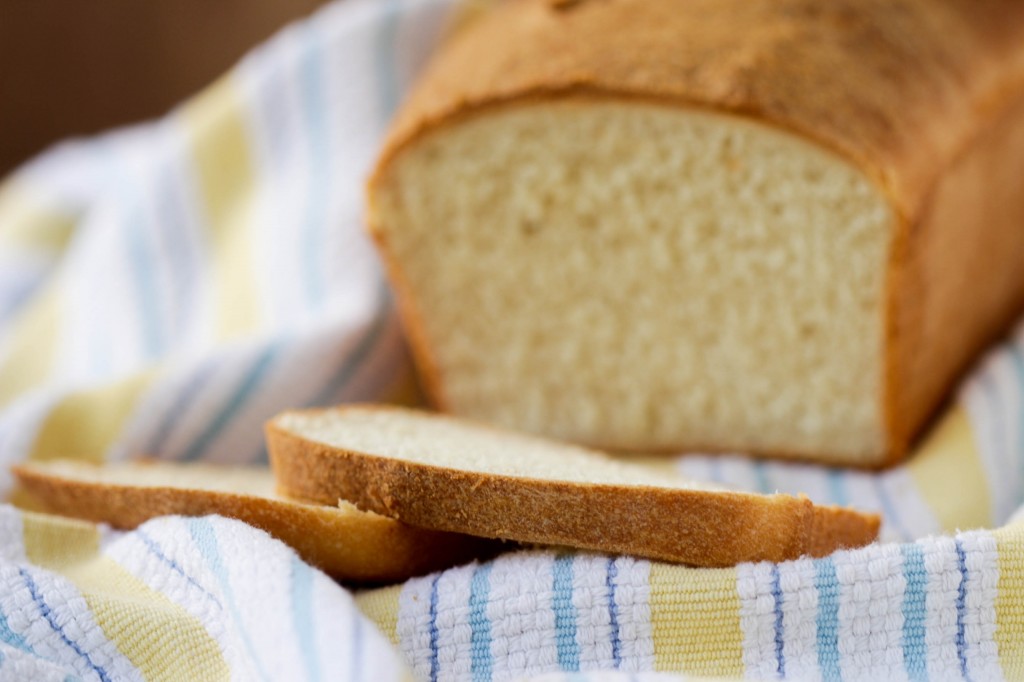 I also reduced the original recipe in half because neither of us eat bread too often—we can usually keep a loaf going for at least 2-3 weeks, if not longer. Bread is very amenable to being frozen if you're not aware of it—I've kept homemade buttermilk bread in the freezer for as long as to 3-4 months at a time. Just microwave it for a few seconds or toast the slice(s) you need in a toaster and you're all set.
I know that the prep time looks kind of daunting, but this recipe is completely worth it. I've tried at least 3 or 4 buttermilk recipes and like this one best. Lastly, I've mentioned before that my oven is completely crazy and often runs  >25°F higher than it indicates—don't take the times listed as absolute truth! Ovens are temperamental and can vastly differ in bake times. You can walk away while it's baking, just don't walk too far!
I know I already said 'lastly,' but here's ONE MORE thing: wait until the loaf is cool to slice it. I like to slice the entire loaf all at once so it's easier to grab individual slices after I freeze it.
Okay, that's it! Happy baking!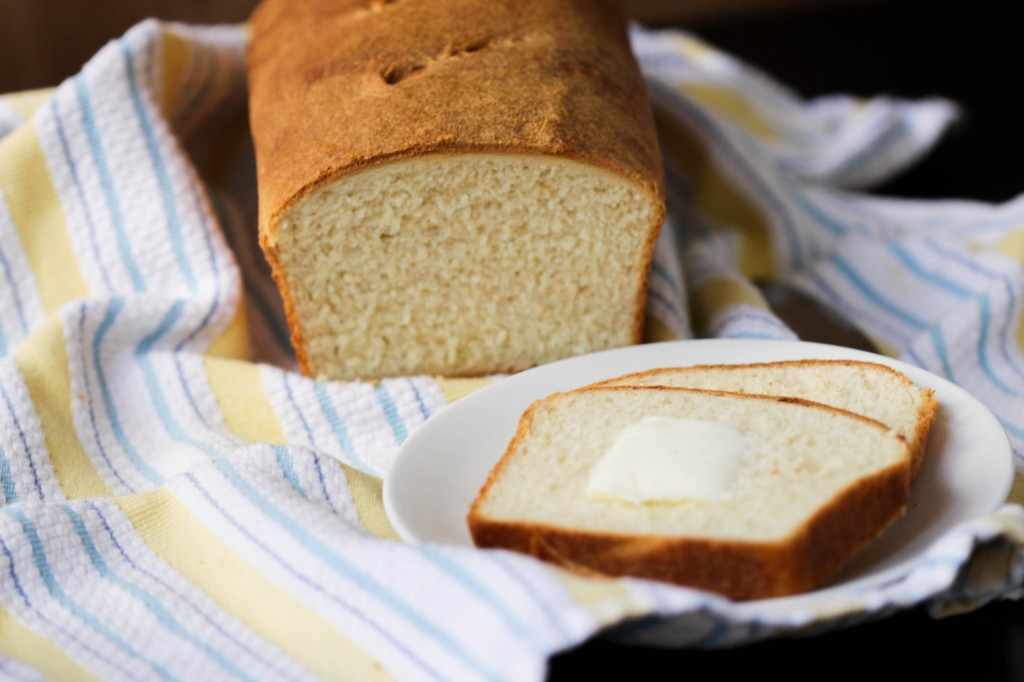 Recipe adapted from About.com – Bread Baking
"Buttermilk" Bread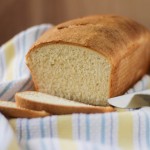 Prep time:
Cook time:
Total time:
Yield:

4

Difficulty:

medium

Recipe type:

bread
Ingredients:
½ c. water

1 ½ tsp. butter

¼ c. warm water

1 rounded tsp. active dry yeast (½ packet of active dry yeast)

½ c. milk + ½ Tbsp. white vinegar

1 Tbsp. honey

½ Tbsp. sugar

½ Tbsp. salt

¼ tsp. apple cider vinegar

3 cups bread flour (don't substitute AP flour!)

1 Tbsp. butter

non-stick spray
Directions:
Place the ½ c. water and 1 ½ tsp. butter and microwave in a microwave-safe bowl for 30 seconds to melt. Stir until the butter is completely melted, then set aside.
In a separate bowl, add the active dry yeast to ¼ c. warm water and allow to sit for 5 minutes or until the water becomes cloudy.
In another bowl, combine ½ c. milkr + ½ Tbsp. white vinegar and stir gently. Let this mixture sit for a few minutes so the vinegar can settle and change the composition of the milk.
In a mixing bowl, combine the honey, sugar, salt and apple cider vinegar. Stir in the buttermilk substitute, then the water + butter combination, then the yeast.
If you have a stand mixer, use the dough hook attachment and pour in all of the flour at once. Then set the speed to "stir" and allow the hook to mix the ingredients for 5 minutes. Turn out the dough onto a floured work surface and knead for another minute or two to verify that the dough is smooth and springy (the consistency we're looking for)
If you do not have a stand mixer, add the bread flour one cup at a time and stir with a wooden spoon. After the dough becomes hard to stir, turn the dough out onto a floured work surface and knead until the dough is smooth and springy, ~ 5-10 minutes. (TIP: Keep the flour nearby and pat a thin layer between your hands every so often to keep the dough from sticking onto your palms.)
Spray a large bowl with non-stick spray, then gather your dough into a ball and place in the bowl. Make sure you roll the dough ball around the bowl to coat the entire surface with oil.
Cover the bowl with a dishrag and place in a warm area for its initial rise. Set a timer for 60 minutes.
After 60 minutes has passed, check the bowl to make sure the dough has doubled in size then punch the dough back down. Press on the dough lightly to poke any air pockets.
Spray a loaf pan with non-stick spray. Elongate the dough ball so it resembles a loaf, then place the loaf inside of the pan with the seam side down.
Cover the pan with a dishrag and place in a warm area for its second rise. Set a timer for 45 minutes.
Set your oven for 375°F and make sure your rack is centered.
After 45 minutes have passed, uncover the loaf pan. The dough should have risen slightly above the top of the pan. If not, try placing it near the pre-heated oven and giving it another 10 minutes.
If the dough has risen sufficiently, melt 1 Tbsp. butter and brush across the top of the dough with a pastry brush.
Place the loaf in the center of the rack and set a timer for 30 minutes. (The original recipe calls for 45, but baking times can vary!)
After 30 minutes, check for a golden-brown crust through the oven window. If the crust is still pale, check back every 5-10 minutes.
When your bread is finished baking, take the loaf pan out of the oven and immediately remove the loaf from the pan onto either a dishtowel or cooling rack.
Your freshly-baked loaf will keep in an air-tight bag or bread box for one week–or you can freeze it after it cools and it will keep for several months!
Published on by admin
Tagged: baking, bread, buttermilk, yeast