I'm not sure why, but I got a hankering for this cake a few weeks before I flew out to Colorado to spend time with my grandmother. Since she was overseas on a cruise at the time, I figured I would find the recipe online with little trouble. Well, you know what they say about when you assume…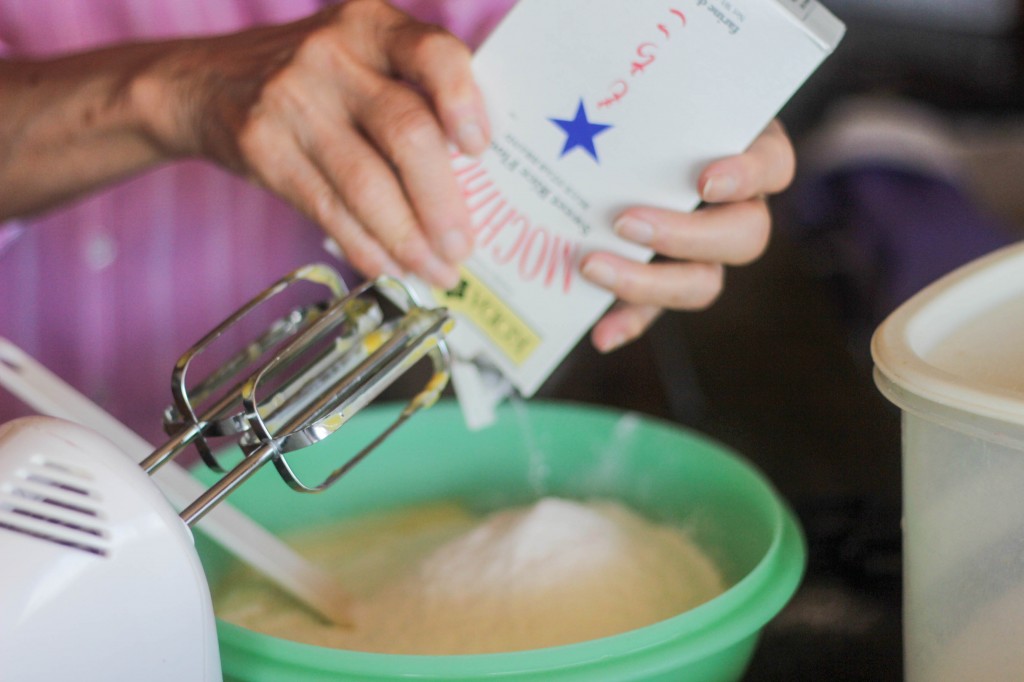 Where was this mystery cake? It has a similar consistency to bibingka (a famous Filipino baked dessert) but was baked in a pan, not in banana leaves. It had condensed milk instead of salted cheese and eggs at the top. It contained dried coconut in the batter, but not young macapuno (young coconut) like most of the other recipes called for. I kept hitting dead ends, and ended up resigning myself to waiting until I visited Colorado so I could have the mastermind herself–my grandmother–show me how to make it.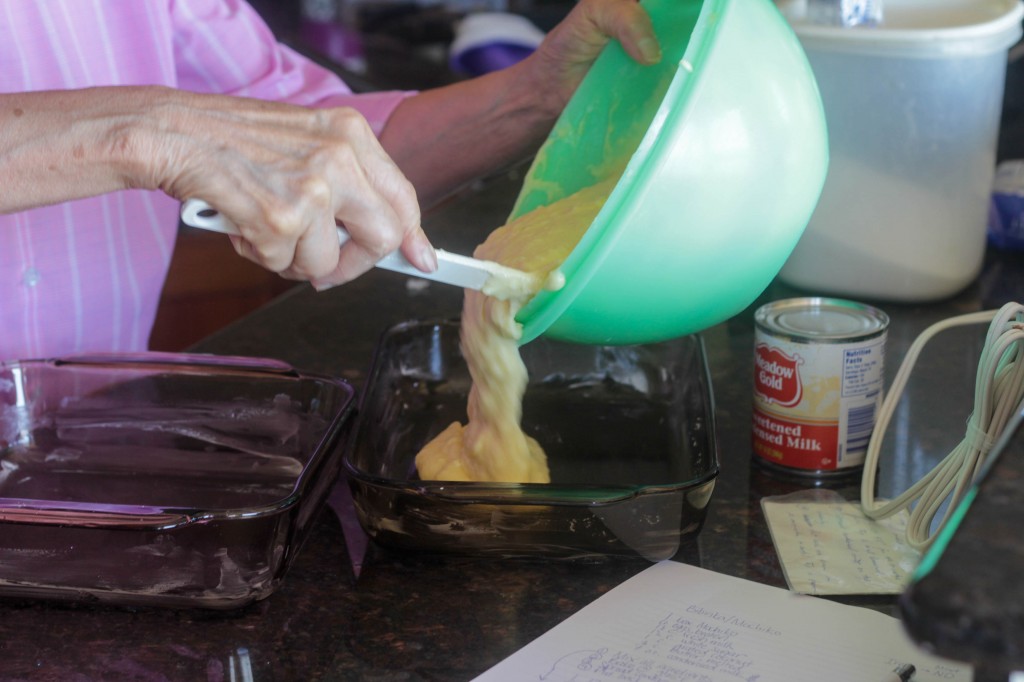 The recipe itself is very easy–but the taste takes me back to my childhood, when my family and I would fight over the chewy corner pieces and pick the condensed milk off our front teeth (then lick our fingers). I always knew that mochiko cake was on the way when I saw the trademark white box and condensed milk sitting on the counter. I remember my grandmother making it for special occasions, for our giant holiday potlucks, or sometimes just because my brother and I begged her to make more (usually because my dad had eaten all of the edges already).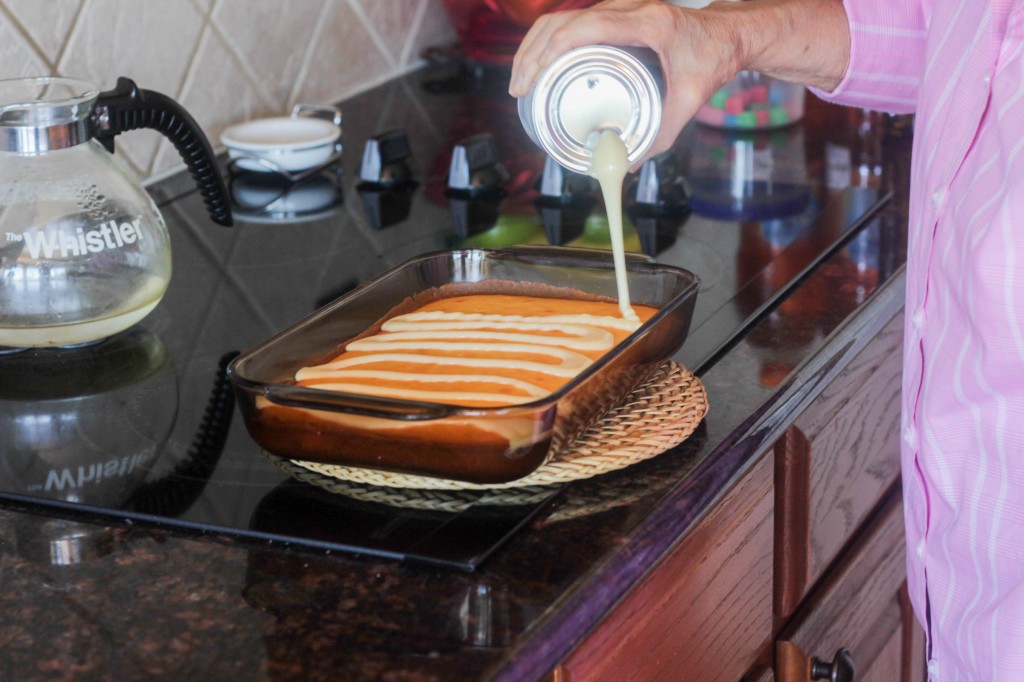 As I grow older and look to start a family of my own, I find myself awash in the nostalgia of my childhood–and as a Filipino woman, the food I grew up with is an instant connection with my past. I'm so grateful that I was able to watch and learn from my grandmother today; I can't wait to share this recipe with my kids when they're old enough to bite through this chewy, sticky cake! (And probably fight with them over the best pieces. You know, because… tradition?)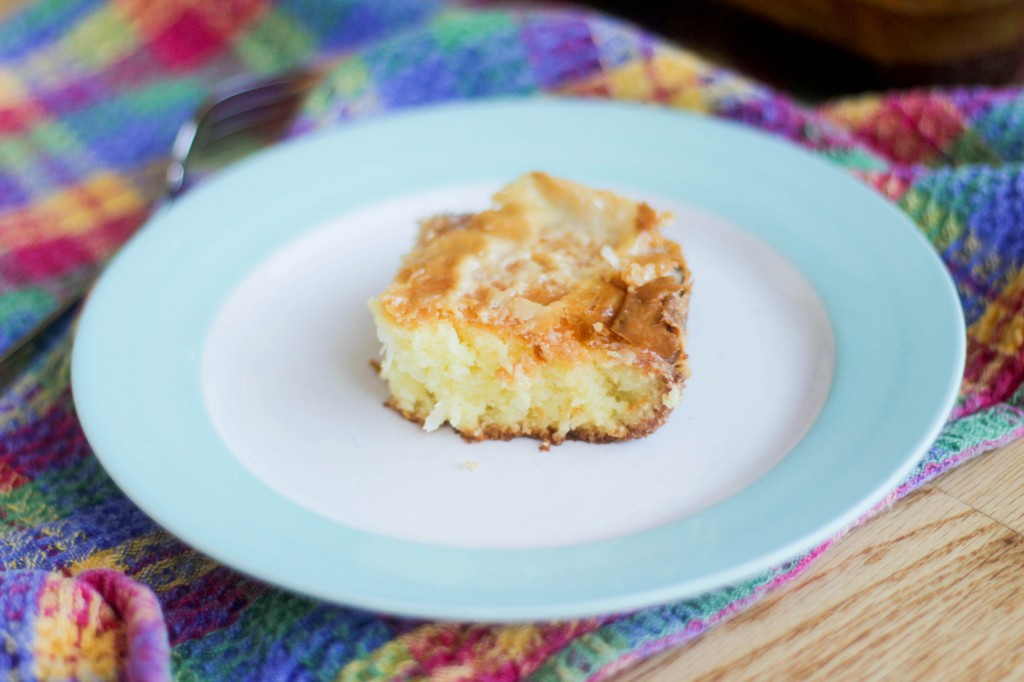 Lastly, I should note that this recipe makes 2 8×8 pans of cake/ 1 13×9 pan of cake. It's a very heavy cake–think brownie-type thickness–and if you're not making it for a party, I would encourage you to halve the recipe.
My Grandmother's Mochiko Cake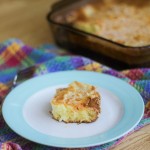 Prep time:
Cook time:
Total time:
Yield:

20

Difficulty:

easy

Recipe type:

dessert
Ingredients:
3 cups Mochiko (rice flour) / 1 box Blue Star Mochiko brand (16 oz)

6 eggs, beaten

1½ c. whole milk

1½ c. white sugar

1 c. grated coconut, sweetened

1/4 c. melted butter

14 oz. condensed milk (for the topping)

butter or non-stick spray for the pans
Directions:
Preheat the oven to 375ºF.
Coat your pan(s) with non-stick spray or butter.
Mix the beaten eggs, milk, white sugar andmelted butter with the paddle attachment of a stand mixer on low.
Add the rice flour and mix again on low until the flour is fully incorporated. The batter should be a light yellow. Be careful not to overmix or the consistency will be much tougher!
Add the grated coconut and set the stand mixer on low, or stir in carefully by hand. Again, be careful not to overmix.
Place in the oven and bake for 40 minutes or until you see the top is smooth and well-browned.
Take the cake(s) out of the oven and spread condensed milk on top evenly–you can either tilt the cake pan until the milk is distributed evenly or use a spatula to spread it by hand.
Place the pan(s) back in the oven for another 10 minutes or until you see that the milk is turning a dark, golden brown in spots.
The cake(s) can be kept for up to a week and should be kept at room temperature–don't refrigerate it or it'll become hard as a rock!
Published on by admin