I have a weird addiction that needs to be confessed.
I… really love food from one culture as interpreted by another.
'What?' you must be thinking. 'What does that even mean? Is she talking about fusion?'
I am–sort of. To clarify, I really love a culture's take on a food that isn't indigenous to their own country. The easiest example is Americanized Chinese food. Sticky-sweet, tangy orange chicken is definitely not authentic; it was created to satiate American palettes. On the flip side, when I was in Taiwan a few years ago I had a burger made with shredded beef and buns made of compacted sticky rice. Every country has its own take on 'international' cuisine, and although I usually prioritize eating the authentic local offerings… I always try something out of left field at least once, just to see how tastes differ around the globe. I've eaten Chinese "spaghetti" in Italy, and 'authentic Chinese' in the Philippines. Burgers in Monaco, lasagna in Mexico. Pizza in Taiwan. Sometimes I love it, and sometimes I want to hurl. (I'm looking at you, 'seafood delight' pizza in Taiwan…) But I think the way a certain dish tastes in a certain country gives away a lot of the popular tastes and preferences in that country–and that's why I ultimately find it fun and rewarding.
Today's recipe is a Japanese take on a very authentic and famous Chinese Szechuan dish–mapo tofu (麻婆豆腐), or as it's known in Japan:  Mabo Tofu (マーボー豆腐). The ingredients are unmistakably Japanese, and yet the flavor is very reminiscent of the original dish–minus the tongue-numbing Szechuan peppercorns, of course. Having made both, I have to admit that I prefer the Japanese take on the dish… but this is primarily because I have a lower tolerance for heat and therefore cannot appreciate the Szechuan version as well. The dish comes together very quickly and easily, as do most stir-fry dishes; the most laborious aspect of this recipe is the prep work involved prior to tossing everything in the wok.
My nesting bowls have been indispensable to me as I've continued to stir-fry more Asian dishes–I simply place each individual ingredient in a small nesting bowl and set it by the stove so that I can toss everything in rather quickly; a 'mis-en-place' if you will. When you are working with a wok cranked up to high heat, having everything you need at your fingertips is the difference between a savory dinner and unidentifiable black stuff stuck to the bottom of the pan (with your smoke alarm screeching in the background).
It sounds like I've speaking from experience, you say? Now what would give you that idea? ….haha.
The pictures I've included here contain ground pork instead of ground turkey, but if you're looking to go a healthier route–I've made this recipe with both and both taste spectacular. (James prefers the turkey, actually, because it is more bland and carries the flavor of the sauce quite well.) I've made a few changes from the recipe linked below; namely, I've added double amounts of ginger and garlic, a larger amount of tobanjan, and a few drizzles of chili sesame oil onto the finished plate for an extra savory kick. This dish tastes delicious as a leftover and can be served over both steamed rice or quinoa–I especially love it with quinoa, which gives this soft dish a neat, grainy crunch with each bite.
One last thing–if this is your first foray into more authentic Japanese/Chinese cuisine, you may not be familiar with tobanjan, or chili bean sauce. This is THE ingredient that must not be substituted and makes mapo tofu what it is, regardless of what take on it you prefer. Most grocery stores have an Asian section that carries Lee Kum Kee brand sauces; if you do not have an Asian grocery store at your dispense I would check this section for tobanjan (looks like this, Amazon link). I think everything else has become mainstream enough for it to be fairly easy to find. Good luck!
Recipe adapted from No Recipes.
Mapo Tofu (Japanese-style)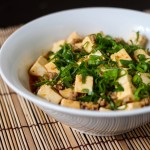 Prep time:
Cook time:
Total time:
Yield:

4

Difficulty:

easy

Recipe type:

entree
Ingredients:
1/3 cup sake

2 Tbsp. oyster sauce

1 Tbsp. red miso

1 tsp. light soy sauce

1 tsp. sesame oil

1 1/2 tsp. tobanjan

1 tsp. sugar

1/2 tsp. cornstarch

2 large/3 small green onions, sliced (keep the white and green parts separate)

2 Tbsp. minced ginger

2 Tbsp. minced garlic

5 oz. ground turkey or pork

1 14 oz. package of soft/silken tofu, drained

chili sesame oil (optional)
Directions:
Drain the tofu, then place the tofu on a paper towel and wrap it loosely with the paper towel. Let it sit for ~30 minutes–the more water drained from the tofu, the better it will hold up when (gently!) stir-frying it with the rest of the ingredients. If you're in a rush, you can place a plate on top of it to encourage more draining! I usually do this first, then complete prep work so I'm all ready to go by the time I heat up the wok.
Combine the sake, oyster sauce, miso, soy sauce, sesame oil, tobanjan, sugar and cornstarch into a bowl and whisk to mix completely. Set aside.
When you're ready to cook, remove the tofu from the paper towels and cut into 1″ cubes.
Set the stove to medium-high heat, then place a tablespoon of sesame oil in the wok/large pan.
After the oil spreads easily across the bottom of the pan, throw in the ginger, garlic and white part of the green onions. Stir until fragrant (~30 seconds).
Place the ground meat in the pan and stir quickly with the other ingredients until fully cooked.
Whisk the bowl containing your sauce one more time so nothing is stuck to the bottom, then pour into the pan and bring to a boil.
Keep the sauce at a boil until the sake is burned off (usually takes me 2-3 minutes). You'll know it's burned off when the fragrance of sake becomes less pronounced.
Place the tofu in the pan and stir very gently to mix with the sauce and other ingredients. Cook until the tofu is warmed, then drizzle with a few thin lines of chili sesame oil.
At this point you can either remove the pan from heat and plate the dish, or you can continue to boil the sauce and stir the ingredients until the sauce because thicker and more concentrated. I've made it both ways and it tastes delicious no matter what–it's up to you and your preferences!
Once you plate the dish, sprinkle the green part of the green onions on top of the tofu in a heap.
Serve over steamed rice or quinoa immediately. If there are leftovers, they will keep for a week if refrigerated.
Published on by admin