James likes to brag tell family and coworkers about my baking prowess. This is obviously a compliment, and I (and my ego) am more than happy to oblige these folks when they inevitably say "well, we can't wait to taste what she has to make!" Cookies, cupcakes, cakes, pies—oh my! And I'll admit that I am much more motivated to bake when I feel like I have to live up to someone's expectations.
So when he mentioned the other day at dinner about how I bake well, my mother-in-law exclaimed: "Oh, I love apple pie! You know, the Sara Lee kind?" I smiled in recognition and said in return that "I will bake you a pie while you're visiting Los Angeles, then!" I don't think she knew that I was being serious, but who would pass up the chance to score some extra brownie points with the in-laws? I was fired up! We stopped by the grocery store for some Granny Smith apples and I went home in a blaze of determination, ready to prove myself.
Full disclosure: I've baked apple pie for her twice before, but both times there was something missing—the first was a wee sour, the second a bit boring and bland. I got the equivalent of a pat on the head and a "great job" for both efforts, but it wasn't enough. I was in it to win it, baby. This was my time to shine.
…except that, in my haste, I didn't buy enough tart apples and didn't have enough butter for both the pie filling and the pie crust. By the time I realized that I was woefully lacking ingredients, it was already 10pm. The idea of a late-night trip to buy more groceries wasn't appealing to me or to James. So I improvised, and heavily at that. And you know what? It turned out well. Extremely well. So much so that when my mother-in-law took a bite, she said it was far better than the 'Sara Lee box.' And hearing those words made all of my late-night substitutions completely worth it. Not only that, but I created a recipe all my own using elements from other pie recipes! Sure, it was out of desperation—but sometimes necessity is the mother of invention! Or so I hear. Either way, hooray!
Some candid notes:
This recipe is fit for a 9-10 inch pie pan.
The brandy listed for the filling is optional, but you'll find that it gives a complexity to the sweetness and elevates the flavor of the apples. Brandy and apples are good bedfellows, after all.
The best way to mix the crumble topping is with your hands. It's greasy, and messy, and sticky—yes, I know. But it's also the best way to test if you need to add more flour or not. The amount I've listed is what I used, but you might find you need more (or less).
I had a smaller pie crust to work with, so my crust did not rise above the level of the pan's lip. This is not preferable! Make sure you have crust to spare so that you can roll the excess over the lip and underneath itself—this ensures that the pie filling won't bubble over your crust and underneath the pie itself, making the crust soggy.
Speaking of crust, I normally use a recipe for an all-butter pâte brisée–but was forced to make do with a vegetable shortening-based crust instead via The Pioneer Woman. I'll try to make a post about the alterations I made to the recipe sometime soon!
Apple Crumble Pie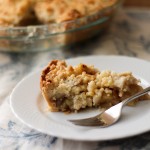 Prep time:
Cook time:
Total time:
Yield:

8 slices

Difficulty:

easy

Recipe type:

dessert
Ingredients:
1 10-inch pie crust

2 lbs of tart apples (I used 4 Granny Smith and 1 Braeburn), peeled, cored and sliced

2/3 cups white sugar

2 Tablespoons flour

1/8 teaspoon nutmeg

1/2 teaspoon cinnamon

1 Tablespoon brandy (optional)

1 teaspoon vanilla extract

1/2 cup white sugar

1 cup all-purpose flour

1/2 cup (1 stick) unsalted butter at room temperature
Directions:
Preheat the oven to 400°F.
Mix the white sugar (2/3 cup), nutmeg, cinnamon and flour in a large bowl.
Place the peeled and cored apple slices in the same bowl and mix with your hands until they are evenly coated.
Pour brandy and vanilla extract into bowl and mix again. Set aside.
In a separate bowl, place the butter with 1/2 cup white sugar and 1/2 cup flour. Squeeze the butter with your hands as you mix it into the sugar and flour. You are looking for pea-sized crumbs that don't readily stick to one another. If you find that 1/2 cup of flour is not enough, continue to add a little more each time until you reach the pea-sized, non-sticking crumb consistency. (For reference, I used the full cup.) Set aside.
Place pie dough onto the pie pan and gently form the dough to the contours of the pan. Tuck the leftover crust under itself to form the crust edges and press firmly against the pan. (You can leave it as is or decorate it—press fork prongs against the crust along the edges, for example).
Pour the filling into the pan and on top of the dough. Even out the filling as best as you can.
Top the filling with your crumbs from a separate bowl, making sure to fill in the gaps between different levels of apples until your pie is completely covered with crumbs.
Bake at 400°F for 10 minutes before reducing the temperature to 375°F and baking for another 35-45 minutes, or until the crumbs on top are golden-brown. (My pie took about 40 minutes.)
Place pie on a cooling rack for at least 30 minutes before serving.
This apple pie can be refrigerated and saved for a week. If you would like to reheat the pie, simply set the oven to 200 F and cover the pie pan with tin foil. Ten minutes in the oven made the pie taste freshly baked (and made the kitchen smell fantastic as well). That's all, folks!
Published on by admin