James is a bona-fide coffee addict. I'm not sure if this particular aspect of his personality originated during his undergraduate studies at Cornell or earlier. I do know that by the time we started dating, he was already in charge of the coffee maker at his job while doing research with National Jewish Hospital. When he started medical school in 2007, he earned the Starbucks Gold card in less than a year. And now that he is finishing up his second year of surgical residency, he starts his days with two shots of espresso and keeps his buzz going with habitual cups of coffee from the hospital cafeteria.
I have to admit, I've probably enabled his addiction instead of curbed it as I should—over the course of the Christmases we've spent together, I've gotten him:
A coffee maker
A coffee bean grinder
A coffee bean roaster
A French press
A coffee syphon vacuum pot and burner
And after our wedding last year, he convinced me that he needed a Nespresso machine. Yeah, I think you're getting the picture—we could probably keep the Westside caffeinated for a week.
The funny part is that I'm not really big on coffee drinking myself; I much prefer a cup of English breakfast tea (PG Tips and a dollop of milk!) in the morning and throughout the day. I dislike the jittery feeling I get when I drink coffee or espresso and resent the way its caffeine can keep me up for hours. I know, I know—tea has caffeine as well. But for some reason, I am much more susceptible to the effects of caffeine from coffee. I've never been able to distinguish whether it's a placebo effect or an actual reaction. (Perhaps a double-blind test using tea and decaffeinated coffee? You can take the girl out of her Biology major, but…)
Anyhow, buying the Nespresso machine was what finally converted me to the dark side. Not only did it more or less reduce James' visits to Starbucks by a substantial amount, but it also made me a fan of different roasts and blends. This, along with the deluge of coffee products that we've stockpiled over the years, has made me truly appreciate how much I love coffee after all. I will always prefer breakfast tea in the morning, but I love a good cup of coffee in the afternoon or early evening.
Now that the weather is finally getting warmer, I've found myself buying iced coffee at the local Coffee Beans and Starbucks stores when out and about. But with all of the coffee gear we have at home, it seems ridiculous that I spend so much money on cold coffee when I don't buy coffee hot anywhere else. After digging around the interwebs for helpful information, I found a quick tutorial on Pioneer Woman about making iced coffee and decided to run with it!
I feel silly calling this a recipe—all that you're doing is steeping the coffee grounds longer in cold water. It's only time consuming because you have to let it steep for at least 8 hours or overnight. But it requires so little effort, and is so cost-effective, that I would recommend this to everyone that loves coffee like we do.  As always, a few tips:
Choose a rich roast with citrus notes for coffee that is refreshing and goes with anything—breakfast, dessert, you name it.
Don't buy your coffee pre-grounded, buy the coffee beans whole! Just about every store that sells coffee also has a coffee grinder in the same section. Freshly-ground coffee imparts a much stronger, complex flavor than pre-grounded coffee that has been sitting on the shelf (and getting stale in stagnant air).
You don't have to spend a lot on the coffee beans in order for the iced coffee to be good—just make sure you freshly grind them the same day you make a batch. James & I bought a 1-lb. canister of whole Peabody coffee beans from Columbia for $6.00 and the results were delicious.
And now, for my "look at how much money you'll save /Thrifty Housewife" schpiel:
One pound of coffee beans = $6.00.
The recipe calls for ½ lb. coffee beans = $3.00.
1 gallon of coffee = 4 quarts = 16 cups. 1 cup = 8 oz. of iced coffee = $0.19!
One grande iced coffee at Starbucks  = $2.50 (give or take)
Equivalent amount (16 oz.) made by you = $0.38!
I just made 8 grande iced coffees all at once for about the same cost of one with sales tax. If that isn't incentive to make this recipe, then what is? (Other than the fact that this is delicious, of course!)
Recipe adapted from The Pioneer Woman.
Home-brewed Iced Coffee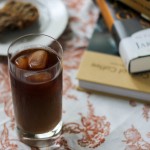 Prep time:
Cook time:
Total time:
Yield:

10

Difficulty:

easy

Recipe type:

drink
Ingredients:
½ lb. rich roast coffee, freshly and coarsely ground

1 gallon (4 quarts, or 3 ½ Liters) cold water
Directions:
Pour water into a large container (I used a stockpot)
Pour grinds into the water and stir until combined.
Cover the container, either with a lid or plastic wrap, and let sit 8 hours to overnight. It does not need to be refrigerated during this time.
When you're ready to separate the grounds, place a fine-mesh sieve over another pot or the pitcher you will be using. (I only had a small sieve so I placed it over my pitcher—it is much less time-consuming to use a pot as opposed to a pitcher, however, and much easier to handle.)
Place a double-layered cheesecloth on top of the mesh sieve. If you don't have cheesecloth on hand, the fine-mesh sieve will be ok on its own—you might find a few more grounds toward the bottom of your pitcher however. Nothing that will ruin the coffee by any means!
Carefully and slowly pour the coffee water through the sieve. Make sure you don't go too quickly—there are a lot of coffee grounds in the water and too many grounds in the sieve at once will make it harder for the water to drain.
If you're using cheesecloth, squeeze the grounds gently against the sieve to extract more water. If you are not using cheesecloth, use a wooden spoon to press the grounds against the sieve.
After you have transferred the water completely, throw away the leftover grounds (and cheesecloth, if you used one). Ta-dah, you're done! Now you can put the pitcher in the fridge for a few hours and have delicious iced coffee at your convenience.
Extra tip: To avoid watery iced coffee on especially hot days, pour some of the coffee liquid into an empty ice tray for coffee ice cubes. They'll keep your coffee nice and cool without diluting that delicious flavor.
To serve, simply pour into a glass and add however much milk/half-and-half/sugar you prefer. I like my iced coffee at a 4:1 ratio of coffee to skim milk with no sugar.
Published on by admin