Once upon a blue moon (or, two years ago when I lived in Denver), I borrowed a few cookbooks about Korean and Japanese cuisine from my sister-in-law. A miso glaze caught my eye while flipping through the Japanese cookbook—I used it on some salmon steaks and it got rave reviews from a close friend and my husband. And normally, when I obtain recipes online, I usually bookmark them so I can access them or credit them later. But since I used a physical book and not the internet, I figured that I would have the book around, just in case I wanted to make the glaze again.
Unfortunately, when I moved to Los Angeles I completely forgot about the recipe—I gave the books back to my sister-in-law without a second thought. And when I was finally ready to make the glaze again, I kept drawing a blank. I couldn't remember the name or the ingredients, other than miso (duh), an egg yolk, and sugar. I tried replicating it a few times with minimal success. I looked it up online and only found recipes for miso marinades or recommendations to slather the miso onto the filets straight from the container. It was extremely frustrating!
Finally, I decided to try looking the recipe up by listing a few ingredients in Japanese and I hit the jackpot; I found not only the recipe, but the cover of the book staring at me from the screen. So I hope you enjoy this recipe as much as I do—it isn't restricted to salmon filets, but can be used on other grilled/broiled vegetables as well. (I highly suggest eggplant—in fact, tama-miso glazed eggplant is a popular izakaya dish.)
So, before I get into the nitty-gritty—I should note that this recipe is a little persnickety. I have tried dumping all of the ingredients in together before double-boiling as well as gone step by step, and in order to get the silky-soft consistency that we're looking for in the glaze, you need to follow the directions in order. Also, be warned that you will be standing over the double-boiler continuously stirring the glaze for at least 6-8 minutes. This isn't something you can walk away from. But the resulting consistency and flavor are well worth it: a lightly-caramelized glaze, with the flavor but not the normal grainy texture of miso—with a hint of sake, just enough to heighten the umami of the bite. Paired with a flaky, juicy salmon filet with a lightly salted crisp skin and you're smiling after each bite.
Tama-miso recipe adapted from The Japanese Kitchen by Hiroko Shimbo.
Broiled Salmon with Tama-Miso Glaze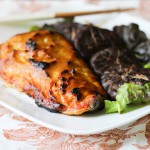 Prep time:
Cook time:
Total time:
Yield:

2

Difficulty:

medium

Recipe type:

entree
Ingredients:
3 Tbsp. white miso

1 egg yolk

1 Tbsp. sake (rice wine)

½ tsp. shoyu (soy sauce—light soy sauce if possible

½ Tbsp. sugar

Salt, enough for your salmon filet

Salmon filet with skin still attached (I used an 8 oz. filet)
Directions:
Put your cast-iron skillet (or if you don't have one, a pot that is tempered for use in the oven) in the oven and set the heat to 500F. Make sure you don't have any residue or bits of food on the oven floor or stuck on the oven trays, as this high temperature will cause anything in the oven to burn and smoke (and set off your fire alarm—trust me, I'm speaking from experience).
Flip your salmon filet so that it is skin side up and lightly salt. Set aside for now.
Place your miso paste, sugar and egg yolk in a bowl and mix until uniform and smooth.
Combine your sake and soy sauce, then pour a little at a time into the miso mixture while continuously stirring.
Bring the water in your double-boiler or pot to a simmer. Make sure the water level is reasonably low—with at least enough to simmer over the next 10 minutes.
Prepare an ice bath that will fit your bowl.
Place your mixture in a double-boiler (or your bowl in a colander situated above a pot of boiling water). DO NOT place the bowl directly into the pot if you do not have a double-boiler—it can and will break unless it's tempered for high heat! (Again, speaking from experience.) And if you are using the colander-above-the-pot trick, please secure the colander so that it does not fall off and you get scalding-hot miso or water all over yourself.
Stir the miso mixture continuously for at least 6-8 minutes. Indirectly heating the mixture this way will temper the egg yolk and create the silky consistency this glaze is known for. If you introduce the egg component of the mix to heat too quickly, it will coagulate and scramble.
When your glaze starts forming soft peaks, remove from heat and immediately place in a prepared ice bath to cool.
Open the oven door, take out the cast-iron skillet (careful! Very hot and can easily burn your hand through the mitt if you're not careful) and place the salmon filet skin side down onto the skillet. You will hear an audible sizzle—don't worry, it won't burn! It might splatter though, so be careful.
Carefully spoon the cooled miso glaze into the salmon filet. This particular amount of glaze will cover an 8 oz. salmon filet comfortably.
Place the skillet back in the oven and let the salmon cook for at least 5-7 minutes. The glazed salmon is done when the color of the glaze darkens and even blackens in a few spots (see pictures).
Remove the salmon from the skillet and serve with your choice of sides (rice and grilled shiitake mushrooms are a good start).
Published on by admin
Tagged: japanese, main dish, miso, persnickety, salmon