I have very fond memories of my grandmother making snickerdoodles for my family when I was little. She used the same cookbook that she had been using for years—the Betty Crocker Cookbook, published in the 1960's. The cover was worn and the binding a little tattered, so she covered it with one of our elementary book covers—a picture of Mickey Mouse, books in hand and schoolhouse in the distance. Whenever I saw that book on the counter, I knew that in time the kitchen would be filled with the delicious smell of cinnamon, sugar and butter.
When I became older, she allowed me to assist her with the basics—rolling the dough into balls, tossing them with cinnamon-sugar, and placing the dough balls on the baking sheet. I would hop around with impatience and glance through the oven glass for the next 10-15 torturous minutes as the smell of cookies wafted throughout the entire house. I could barely contain myself when my grandmother pulled them out of the oven and shooed me away as she placed them on a cooling rack. And when I finally got to bite into each cookie, armed with a tall glass of whole milk… the memory still makes me smile, no matter where I am or how I'm doing.
I stole (borrowed?) that Betty Crocker cookbook from my house my junior year of college, determined to bring that happiness to fellow parishioners at my parish's bake sale. Hoo boy—that did not go well. It was probably a combination of my ineptitude, the 30-year old oven at my apartment, and the fact that I didn't adjust the recipe to high altitude (which ties into the first reason). Being in a pinch, I ended up "baking" a brownie mix from a box instead. I tried a few more times to recapture the magic that my grandmother had woven with her snickerdoodles, but even after I made altitude adjustments to the recipe I was still at an impasse.
I started trying recipes that I found online, desperate to figure out where I went wrong and what would work best. And after a few tries, I finally found this recipe on Simply Recipes—and it was perfect. Crispy on the edges, soft on the inside, with just enough cinnamon kick to tickle the taste buds. I've made this recipe for my closest friends, for my lovely coworkers, and everyone in between. Out of all the cookie batches I've made in the past, this one seems to have the most positive response. And although my taste has moved on (my favorite is oatmeal raisin nowadays), the act of making and baking snickerdoodles will always make me nostalgic for those long-ago days in the kitchen where I'm ten years old again–giggling and rolling dough in cinnamon sugar with my grandmother's sharp-eyed supervision.
Someday, though… someday I'm going to tackle that dang Better Crocker recipe again, and I'll finally master it! (I still have the book sitting in my bookshelf… no, I never gave it back. What a bad granddaughter I am!)
Recipe modified from Simply Recipes.
Snickerdoodles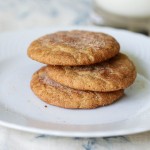 Prep time:
Cook time:
Total time:
Yield:

2 dozen

Difficulty:

easy

Recipe type:

dessert, cookies
Ingredients:
4 Tbsp. unsalted butter, room temperature

1/3 cup brown sugar, packed

1/3 cup white sugar

1 egg, room temperature

1 cup all-purpose flour

1 Tbsp. cornstarch

½ tsp baking soda

¼ tsp Kosher salt (table salt is fine, too)

1 Tbsp. ground cinnamon

¼ cup white sugar
Directions:
Preheat oven to 350 F. Line a baking sheet with parchment paper.
Using the paddle attachment, beat the butter at a medium-low setting for 3 minutes or until soft and creamy.
Add the brown and white sugar and mix for 5 minutes at medium-low, until the color of the batter lightens.
Add the egg and mix until fully incorporated.
Sift the flour, cornstarch, baking soda, and salt together in a separate bowl, then fold into the batter as three separate additions (for a more uniform batter).
Mix the cinnamon and white sugar into a small bowl.
Take a tablespoon amount of the dough, roll into a ball, then drop into the bowl of cinnamon sugar and roll until completely covered.
Place the cookie ball onto the sheet. Keep the cookie balls 2 inches apart from each other.
After filling the tray with cookie balls, take a small spoon and press down gently on each ball to flatten the top. This will create that nice cracked look on the top of the baked cookie.
Spoon a small amount (about ¼ tsp or less) of the cinnamon-sugar mixture on top of each flattened cookie.
Place in the oven to bake for five minutes.
After five minutes, take the tray out and flip it around so that the back is now facing front. Now place the flipped baking sheet back in the oven and close the door.
This next part is tricky—my oven is kind of wonky, so I can only keep the cookies in for another 2-3 minutes before they are finished. The original recipe calls for 7 minutes for each side. I would advise you set a timer for 3 minutes and check to see how the cookies are doing. If the center looks solid and you see VERY slight browning at the edges, you're done! Don't let it get golden-brown or the cookies will over-bake and the entire cookie will be crunchy.
Take the baking sheet out of the oven and allow the cookies to cool for a minute before transferring to a cooling rack.
After a few minutes, they're ready to eat! Definitely best when right out of the oven, but if you keep them in an airtight container, they will maintain their chewiness. I've never been able to hold onto these for more than a night, so I couldn't vouch for how long they keep. Enjoy!
Published on by admin
Tagged: baking, cinnamon, cookies, dessert, finger food, sweets