My first memorable experience with scallion pancakes (蔥油餅, cōng yóu bǐng) was with James at his family's restaurant six years ago. I remember being initially enchanted by the aroma of sesame oil and the scallion-flecked surface of its golden crust. Once I took a big, crispy bite, the crunch was then followed by chewy layers of green onion and dough. Whether I chose to dip each slice into the sauce provided or not, I was in heaven. Delicious, fried doughy heaven.
We've since moved to Los Angeles and have a veritable gold mine of authentic Chinese/Taiwanese food at our fingertips (hello, San Gabriel Valley!) but whenever we feel too lazy to make the drive out east, we make whatever we feel like eating at home. I've slowly increased my repertoire to include three-cup chicken (三杯雞, sān bēi jī) and mapo tofu (麻婆豆腐, má pó dòu fu), but only recently tried my hand at scallion pancakes. I'll be honest—the first few attempts were less than fruitful. Too crispy, not enough layers, not enough flavor, not enough scallions… I was especially frustrated at my inability to capture the crispiness of the outside compared to the doughy, chewy layers on the inside.
Eventually I found a way to make scallion pancakes that satisfied my cravings and earned a thumbs-up from James (which meant a lot to me since he grew up making them after all!). It's a little more time-consuming because it involves brushing layers of sesame oil and re-rolling the dough for each individual pancake—but getting the consistency just right was a triumph in itself for me.  I would never claim that these could trump the restaurants here in Los Angeles that have been doing their amazing scallion pancake thing for years– I'm looking at you, Sin Bala and Earthen Restaurant—but you'll be pretty darn close for a first-time attempt. And for those of you that don't have the convenience of living 20 minutes away from Chinatown—this will be a delicious, authentic discovery.
A few notes (as always):
Do you like onions? I do, so I included the white part of the green onions in the recipe. If you would prefer a more subtle flavor, just use the green part of the onions and compensate by using 4 stalks instead of 3.
Boiling water is necessary for the initial mixture of flour, salt and scallions because it encourages the dough to stick together much faster than cold water.
Be careful after your dough comes together! Poke it first after you initially turn it onto a work surface to knead. If it's too hot, give it a minute to cool and try again.
The dough will be extremely sticky to work with, but try to be as sparing with flour as possible. Using too much flour will dry out the dough and will make the final product more like a cracker than chewy.
If you want to try for more flaky, chewy layers you can add more layers of sesame oil after the initial two that I list in the recipe—I found that two was sufficient enough to get the consistency I wanted.
Scallion pancakes are oily. I know, I sound like Captain Obvious, but seriously—you can place them on paper towels after pan frying, but don't press the oil out of them or blot them of oil. Otherwise, you'll get scallion crackers.  Yes, I am (unfortunately) speaking from experience.
Isn't this great? I make the mistakes so you don't have to! May your scallion pancakes be crispy, chewy and delectable…
Scallion Pancakes (蔥油餅)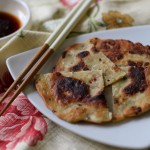 Prep time:
Cook time:
Total time:
Yield:

8 pancakes

Difficulty:

easy

Recipe type:

appetizer
Ingredients:
1 ½ cups all-purpose flour (with extra for rolling/kneading)

1 ¼ teaspoons fine grain sea salt

3 green onions (or 4 if not using white part of onion), chopped to ¼ inch

½ cup water (boiling)

2 Tbsp. sesame oil (for brushing)

vegetable oil for pan-frying
Directions:
Whisk the flour and salt together in a bowl, then add the chopped onions and mix until onions are distributed evenly.
Add boiling water and mix with a wooden spoon until dough comes together. [Toward the end of mixing, there were a few clumps of flour not incorporating into the ball of dough. I used my hand to press the dough into the dry flour in a kneading motion and it did the trick.]
Empty the bowl onto a lightly floured work surface and carefully knead the dough for ~5 minutes. Dough will be sticky, so try to use a minimal amount of force–we're just trying to make sure that there are no dry pockets of flour that will ruin the consistency later.
Gather into a ball and place in a lightly-oiled bowl, then cover with plastic wrap for at least 1 hour (and up to overnight in the fridge).
When ready, take the ball of dough and separate it into 8 smaller balls. Keep the rest of the dough in the bowl and under wrap until ready to use.
Use a rolling pin to roll the small ball of dough into a 5-6 in. circle. Don't worry about making the shape perfectly round yet, as we will be re-rolling twice!
Dip the tip of a brush in the sesame oil, then lightly brush the surface of the dough. Be light-handed with the brush, as not a lot of oil is necessary.
Take the edge of the dough furthest from you and roll it toward you, creating a cigar-like shape.
Now take the dough cigar and create a spiral, seam-side down. One end of the cigar will be in the center and as you wrap the cigar around the end in a circle, the other end of the cigar will be on the outside of your circle. When you reach the other end of the dough, tuck it underneath the spiral and place onto the work surface.
Press down on the dough to flatten, then roll to a 5-6 in. diameter again.
Repeat the steps with sesame oil, rolling, and pressing. This will give you two inner layers of sesame oil mixed with layers of dough, keeping it chewy and soft on the inside.
To create a perfect circle for your pancake, roll the dough from the center to the top, then from the center to the bottom. Pick up the dough and rotate it 90 degrees (so that the top is now the right side of the dough and the bottom is now the left side). Repeat this movement until you reach a 5-6 in. diameter.
Follow the same steps for the other 7 balls of dough. Make sure that you keep the uncooked pancakes separated by plastic wrap or parchment paper so they don't stick to each other if stacked on top of each other–or better yet, lay them out next to each other and cover with plastic wrap.
Coat your frying pan with vegetable oil and turn the heat to medium-high. To make sure your oil is at the appropriate heat, sprinkle a little bit of flour into the oil. If it bubbles, you're good to go!
Place the pancake into the frying pan and let it fry for ~2 minutes or until the edges are golden before flipping. If the dough bubbles up, it's okay.
Flip the pancake and let it fry for another minute or two before taking it off the heat and onto a plate lined with paper towels. Eat immediately!
Most restaurants serve scallion pancakes with a dipping sauce. James & I keep it simple and combine 2 Tbsp. of soy sauce and 1 Tbsp. of white vinegar and mix–if you have spicy chili oil on hand, a few drops are recommended.
Published on by admin
Tagged: appetizer, chinese, finger food, onions, taiwanese, vegetarian