It sounds absolutely ridiculous to long for summer when I live in Southern California… yes, I recognize that I sound spoiled. Springtime in Los Angeles is a temperate paradise compared to the bipolar craziness that is Denver—"Oh, were you expecting May flowers? Surprise! Here's a snowstorm instead!"
But as I have continued to bake more frequently over the years, I have also grown to eagerly anticipate what I like to call "berry season."
Strawberries, raspberries, blueberries, blackberries… oh my! So juicy, sweet, and tender… and really, just begging to be baked into a pie or cake. They never taste as good when you buy them out of season, even if you're over-saturating your recipe with sugar. And of course, that takes away the fun of munching on a few berries while you're preparing the batter or crust… or waiting for the cake or pie to come out of the oven…  I digress. (I'm a glutton for them, if that wasn't obvious.)
When strawberries dropped drastically in price at the store a few weeks ago, I knew my "berry season" had begun. Lucky for me, Smitten Kitchen had just the recipe I was looking for—strawberry and cream biscuits! Could anything in biscuit form be nothing less than delicious?
The short answer, of course, is no—I mean, can anything with butter ever be wrong?—but I did alter a few things from the recipe, both while I was making the biscuits and adjustments afterward in hindsight. There are a few things that I'd like to stress before we get down to the nitty-gritty:
Make sure that your strawberries are almost too ripe. Since there is a very small amount of additional sugar in the recipe, the sweetness of the biscuits is determined by the ripeness of the fruit. I made sure mine were dark red and almost dull in color before using them. If you don't feel like waiting, I would increase the amount of sugar in the dough to ½ cup.
This is really silly on my part, but I didn't realize my baking powder was expired until these came out of the oven with nary a rise to be seen (hence my jokingly labeling them as scones). Super important to make sure your leavening agents are still chemically active, especially when you're relying on one and not both (baking powder and baking soda).
If you don't have a biscuit cutter/round cookie cutter, use a short drinking glass. Necessity is the mother of invention, after all!
I gobbled up a few of these as soon as they were cool enough to touch… which is to say, I could barely hold them but ate them anyway. Buttery and flaky, but with the added one-two punch of velvety cream and juicy strawberries—berry season forever! (Please…?)
Original recipe: Smitten Kitchen
Strawberry & Cream "Scones"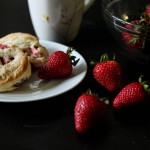 Prep time:
Cook time:
Total time:
Yield:

15 scones

Difficulty:

easy

Recipe type:

dessert
Ingredients:
2 ¼ cups all-purpose flour

1 tablespoon aluminum-free baking powder

1/4 cup granulated sugar

1/2 teaspoon table salt

6 tablespoons cold, unsalted butter

1 ¼ cups chopped strawberries

1 cup heavy cream
Directions:
Preheat the oven to 425 degrees Fahrenheit and prepare a baking sheet with parchment paper or Silpat.
Wash and cut off the stems of the strawberries, then quarter them. I had a few mutant (gigantic) strawberries in the pack, so I cut them into 6 pieces instead of just 4. Set aside.
Whisk all of the dry ingredients together (flour, baking powder, sugar and salt).
Combine the cold butter with the dough. I chose to do this by hand—I cut the butter into 6 1-Tbsp. amounts then slowly worked each slice into the dough with my fingers. If you use your hands, it is essential that you keep the butter in the fridge and cold until you need to combine it with the dough. You can also use a pastry blender or two knives—whatever works best for you! Mix the butter into the dough until the mixture has pea-sized granules and the consistency of wet sand.
Gently stir in the strawberries, then heavy cream. Mix until the ingredients are just combined—too much mixing will break up the butter in the dough and subsequently make very hard biscuits.
Generously flour a cool surface and place the dough on top. Flatten the dough to a width of ¾ inches—you can use a well-floured rolling pin or your hands. Again, be careful and make sure you do not let your palms linger too long on the dough or you'll cause the butter to melt!
Use a 2-3 inch diameter biscuit/cookie cutter to cut out the individual scones. Be sure to press straight down and not twist—this will ensure visible flaky layers.
Carefully remove the unbaked scone from the surface and place on the baking sheet, leaving 2-3 inches between each scone. (My dough was pretty sticky, so the dough usually came off within the biscuit cutter when I cut into it—I just poked the dough out of the cutter and onto the sheet.)
When re-rolling leftover dough in order to cut more scones, make sure you re-flour the surface before you press down. The dough gets increasingly wet as the strawberries release more juice (just a side effect of working with fruit with high water content!), and will stick.
Bake for 12-15 minutes, or whenever you see the juice oozing out of the berries and the corners golden-brown.
Allow the scones to cool for a minute before placing on a cooling rack.
These scones can be stored in an airtight container in the fridge for up to 5 days. Definitely do not eat these cold–to reheat, simply place in a toaster oven for 5 minutes at 400 degrees Fahrenheit. Make sure to place it on top of aluminum foil to catch the juice from the strawberries and save yourself the annoyance of cleaning burned juice on your oven surface!
Published on by admin
Tagged: baking, berry season, scones, strawberries, summer, sweets